What we did: About 2 1/2 weeks in Spain split as follows: 1 night in Bilbao , 8 days in Madrid , 10 days in Barcelona .
Would we do it the same way? As always, we needed much more time.  We would have loved to spend a full 2 weeks in Madrid and 2 weeks in Barcelona so that we could do more day trips outside the cities.
Mercat de Barceloneta
Best food: For Patrick, jamon iberico .  For Akila, pintxos with goat cheese and membrillo.  And flan.  And pimientos de padron.  And tortilla espanola.  And paella.  And churros con chocolate.  And we could go on and on.
Worst food: Ahhh, I can already feel the rotten tomatoes being pelted at me but . . . sangria.  I remember LOVING sangria when I came to Spain in college but, this time, I found the sangria served to be insipid and cloying.  It's not the sangria, but me, I think.  I've spent the last decade cultivating my wine habits and now find that the extra liquid and fruit in sangria ruins the wine.  Patrick has the same difficulty when people add lime or oranges to beer; if the maker intended it to have fruit, I assume that they would have put fruit into it.
Saturday at the Parque del Oeste in Madrid
Our favorite part of Spain: The culture.  I know that this is an ambiguous word --- how do you define Spanish culture, Italian culture, American culture, and so on --- but, generally, we found three things to be true wherever we went: friendly people , laid-back attitude , and a constant and intense focus on food .  Yes, we like that.
Least favorite part of Spain: The culture.  The wonderful laid back attitude that makes any time of the day a good time to snack and siesta , also means that it can be quite difficult to get anything done.  When we told our landlord that we would meet her at 2:00 p.m., she took that to mean 2:30 p.m.  When we needed to buy a SIM card, we waited in line for almost 45 minutes because only one register was open though there were two cashiers.  Lunch takes at least two hours and dinner can take even longer.  On the balance, though the slow pace made for a difficult transition from our American mindsets, in a few days, we learned to adapt to "Spanish time" and began to relax and take our time in eating and living.

Indispensable item: An adventurous appetite (even if you're vegetarian).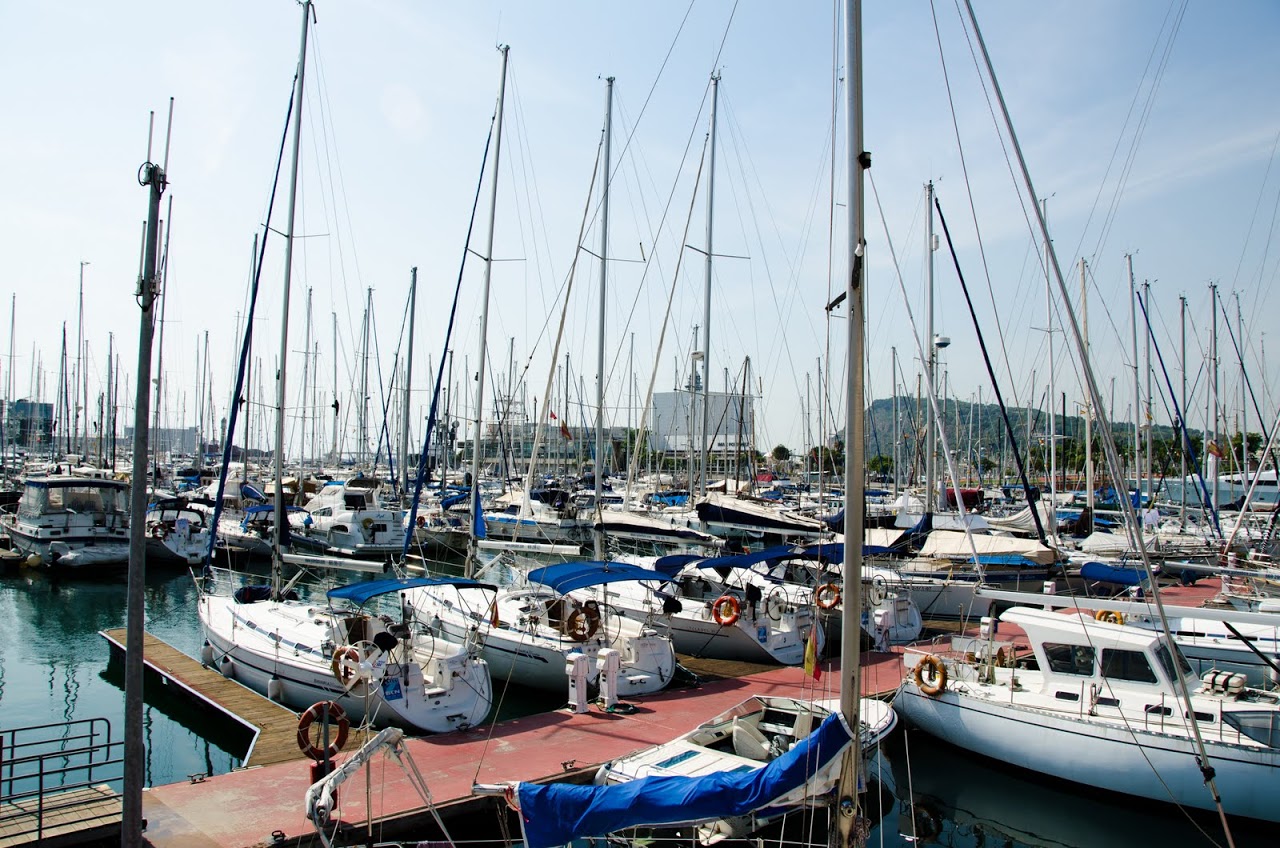 The port at Barceloneta
The best deal: The completely free and extraordinary Fonta Magica in Barcelona .

The biggest rip off: Restaurants on the Barceloneta beach.  All of the restaurants on the beach are hugely overpriced with mediocre food quality.  We went one night for tapas to experience eating on the beach and vowed never to return.
Barcelona streets
Best new experience: Bar/tapas hopping. We adored aimlessly wandering through the winding cobblestone streets, filling our belly with a few tapas, and then jumping to the next spot to find some more food and wine.
Worst new experience: Paying parking fees in Barcelona.  Barcelona has the most expensive parking rates of any city we've visited: around 40 Euros per day.  We found one place with a "deal" at 23 Euros/day and left our car there most of the time.
Favorite city: Madrid .  We loved the abundant greenspace, the beautiful traditional buildings, and the narrow cobblestone streets filled with tables and chairs in the evenings.  It also felt less touristy than Barcelona because few people spoke English outside the immediate proximity of Plaza Mayor.

Least favorite city: Bilbao. We didn't spend a lot of time in Bilbao but weren't particularly impressed.  Much of the city felt industrial and the old town isn't very large and doesn't have much greenspace, unlike the other Spanish cities we visited.  We liked the area around the Guggenheim best and would stay in that area if we were back in Bilbao.  (That being said, we had the best churros con chocolate of our trip in Bilbao at Cafe del Arenal, with perfect smooth slightly bitter chocolate and crispy fried churros that make my mouth water even now.)
Casa Mila facade and roof
The must see attraction: Sagrada Familia .  Stunning, stunning, stunning.
Most overhyped attraction: Casa Mila.  Considered Gaudi's most ambitious and impressive house, we expected a lot especially after seeing Casa Batllo , but none of us were particularly impressed by the interior.  Yes, the exterior is stunning and the roof is magical, but the interior isn't all that unusual or interesting.
Best surprise: How much Spanish I remembered.  I haven't studied Spanish in 14 years and assumed that I would struggle but that little ball of language jumped right out of my memory after a few days.  In Madrid, especially, we found that many people did not speak English and I was able to negotiate the purchase of a SIM card, deal with our landlord, and order food at many restaurants with my remembered skills.  Several waiters assumed that I was a student studying in Madrid which was flattering all around to 32-year-old me.  Even better, my newly-remembered Spanish helped jump start my Italian, which was essential for the two months we spent in Italy and the month we spent in Croatia.
Santa Maria del Mar
Second best surprise: How easy it is to travel in the country.  The highways are fantastic (especially after spending a month in England) --- fast, well-maintained, with clear signage, and few tolls.  We found it to be similar to driving in the United States but even faster (the speed limit is 130 kmh, which is about 83 mph, and most people drove at around 140 kmh.)  Driving in Madrid and Barcelona was much easier than driving in Atlanta, Washington DC, or Los Angeles, so if you are used to driving in American cities, you'll have no problems in Madrid.  Barcelona is a bit trickier because parking is so expensive, but the metro system is excellent there.
Biggest disappointment: I know that this sounds strange but we had no disappointments.  None.  Zero.  We are always disappointed by something or another but our time in Spain was idyllic: beautiful sunny skies, temperate weather, amazing food, not overly expensive and comfortable accommodations, fantastic sites, and wonderful pet-friendly parks and areas.  We loved Spain.
Language lesson: aqua sin gas = still water; tapas = individual serving of a small plate of food versus raciones = family size serving of that same type of food (at bars, you will see the pricing listed as t. and r.); vino rosso/blanco = red white/white wine; Catalan = language spoken in Barcelona and Catalunya (signs will often be posted in Catalan and Espanol); Espanol = language spoken through most (though not all) the rest of the country;
The big test, would we go back: Yes.  Absolutely.  100% yes.  We seriously considered heading back to Spain this summer but weren't able to work out the logistics.  Next time, we want to spend more time in Madrid and head south to Andalucia.
And, next on the travel plans: Immediately after we left Spain, we headed to the south of France for a few weeks and then to Italy for 2 months, but I'm going to be blogging about countries slightly out of order so that I can write about our wintertime destinations (Switzerland, Croatia, and Budapest) while it's still winter.  After that, expect many, many posts about Italy and delicious Italian food!