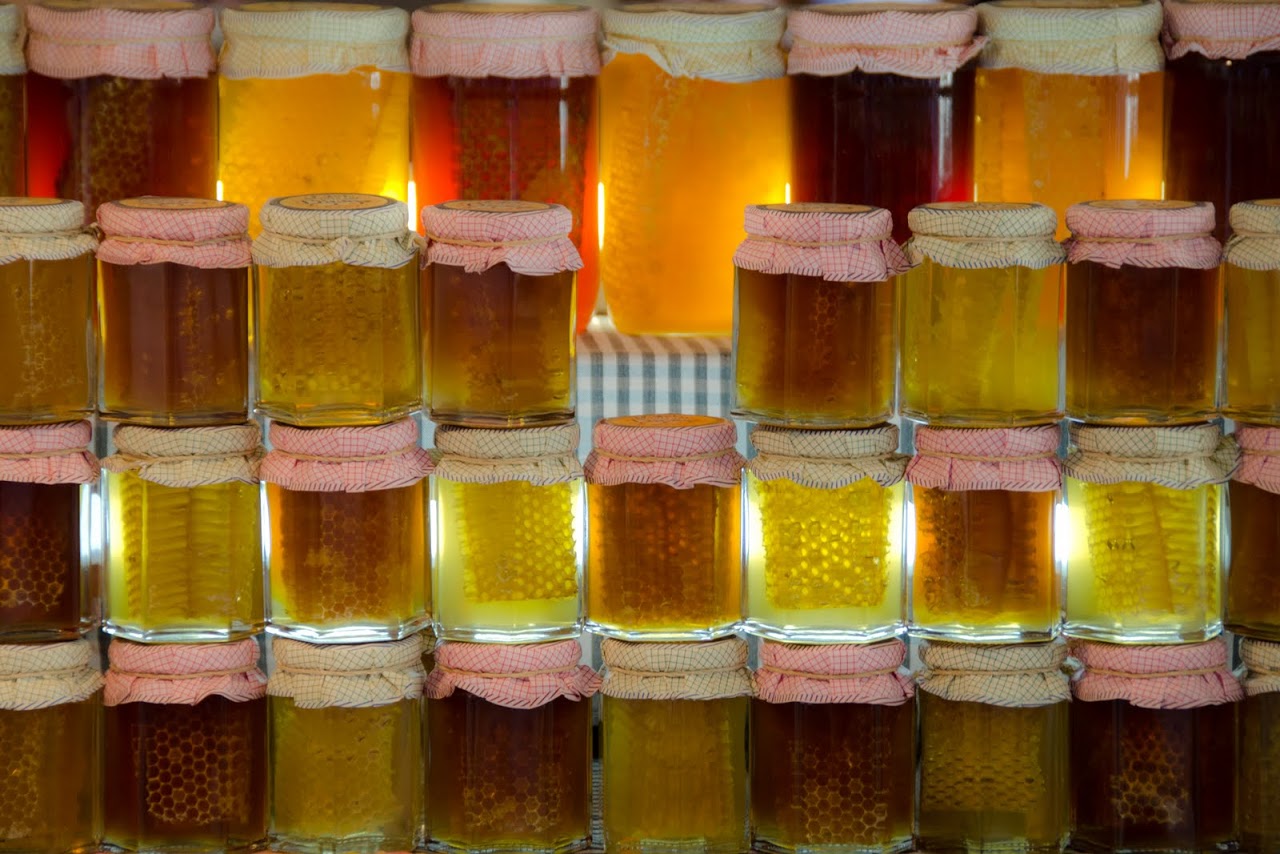 Honey for sale at the Mercat de la Boqueria
If you've hung around here for a while, you'll know that Patrick and I have a market obsession.  Let's see . . . we've talked about Zambian , Thai , Japanese , Chinese , Australian , South Korean , and Costa Rican markets.  So, of course, the world-famous Mercato de la Boqueria was high on our list of places to see in Barcelona.  The Boqueria was first established in the 13th century as simple tables upon which produce and fresh fish were sold.  In 1840, an official structure was built and, in 1914, the metal roof was put in place.

Scenes from the market
The market is set up differently than most markets we have visited.  Most markets separate the seafood area toward the back so that the seafood does not contaminate the produce.  At the Boqueria, on the other hand, the seafood is kept in the center of the market and the produce and meats ring the seafood.  The reason the seafood is at the center, our guide Ignacio from Cook and Taste explained, is because the seafood area is the newest part of the market, added in 1911, with drainage for water from the seafood to get out of the market.

Catalan specialties at Mercato de la Boqueria
Aside from generally beautiful produce and meats, the Boqueria also provides an abundance of Catalan specialties.  Notably, it sells the famed jamon iberico, ham from small black Iberian pigs who feed strictly on acorns from oak trees.  We also found Catalan-pressed olive oil, salted cod made over three days by the owner of that stall, gorgeous mushrooms, grapes, and figs from the mountains, and the small green peppers used in making the popular tapa pimientos de Padron .
We were happy that the Boqueria lived up to its reputation and is definitely a must-see for any market lover.