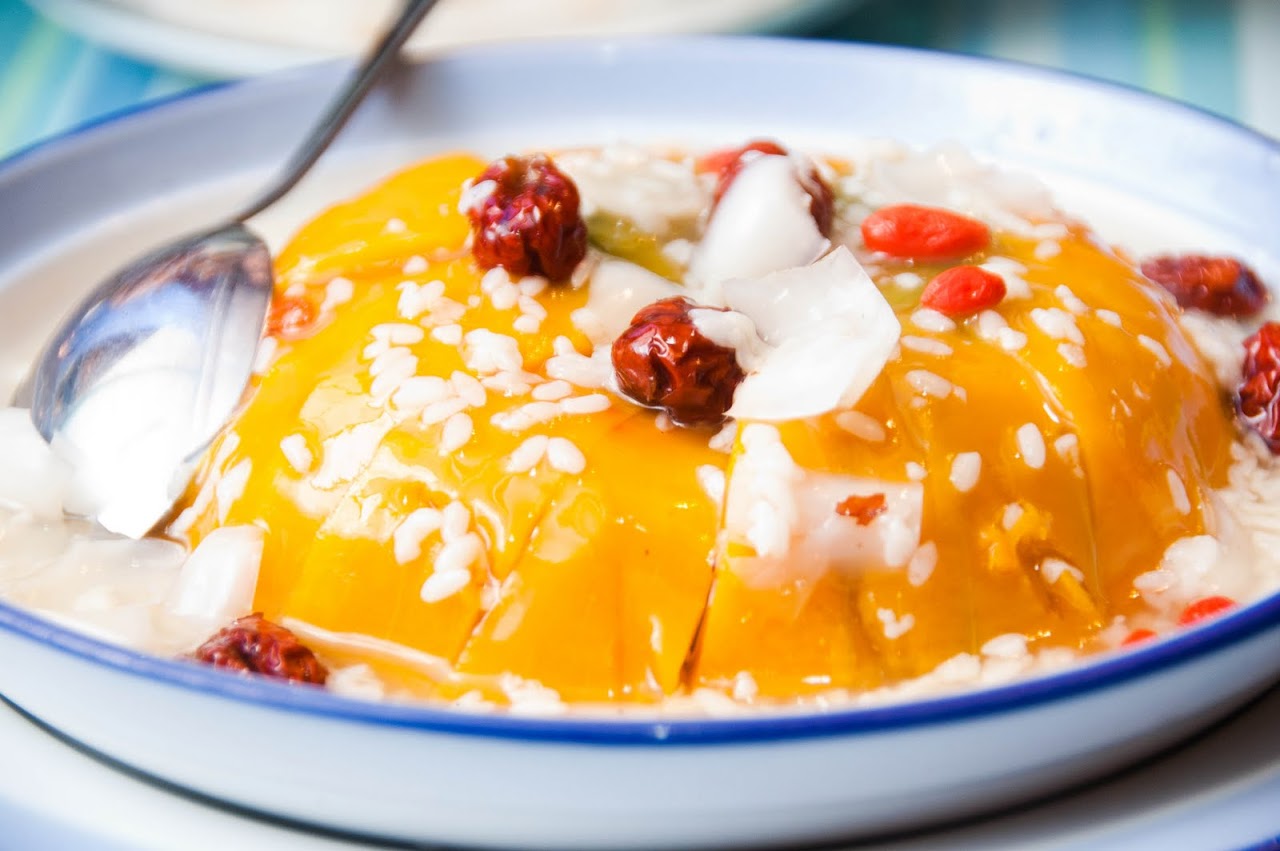 Pumpkin with sour cherries and coconut
When Patrick was a kid, his family used to eat at Chinese buffets every few weeks, feasting on sweet and sour chicken and cashew pork; my family, on the other hand, never ate Chinese food because my parents and brother hated the greasy brown sauce that coated the vegetables.  So, Patrick and I weren't sure what to expect when we landed in China.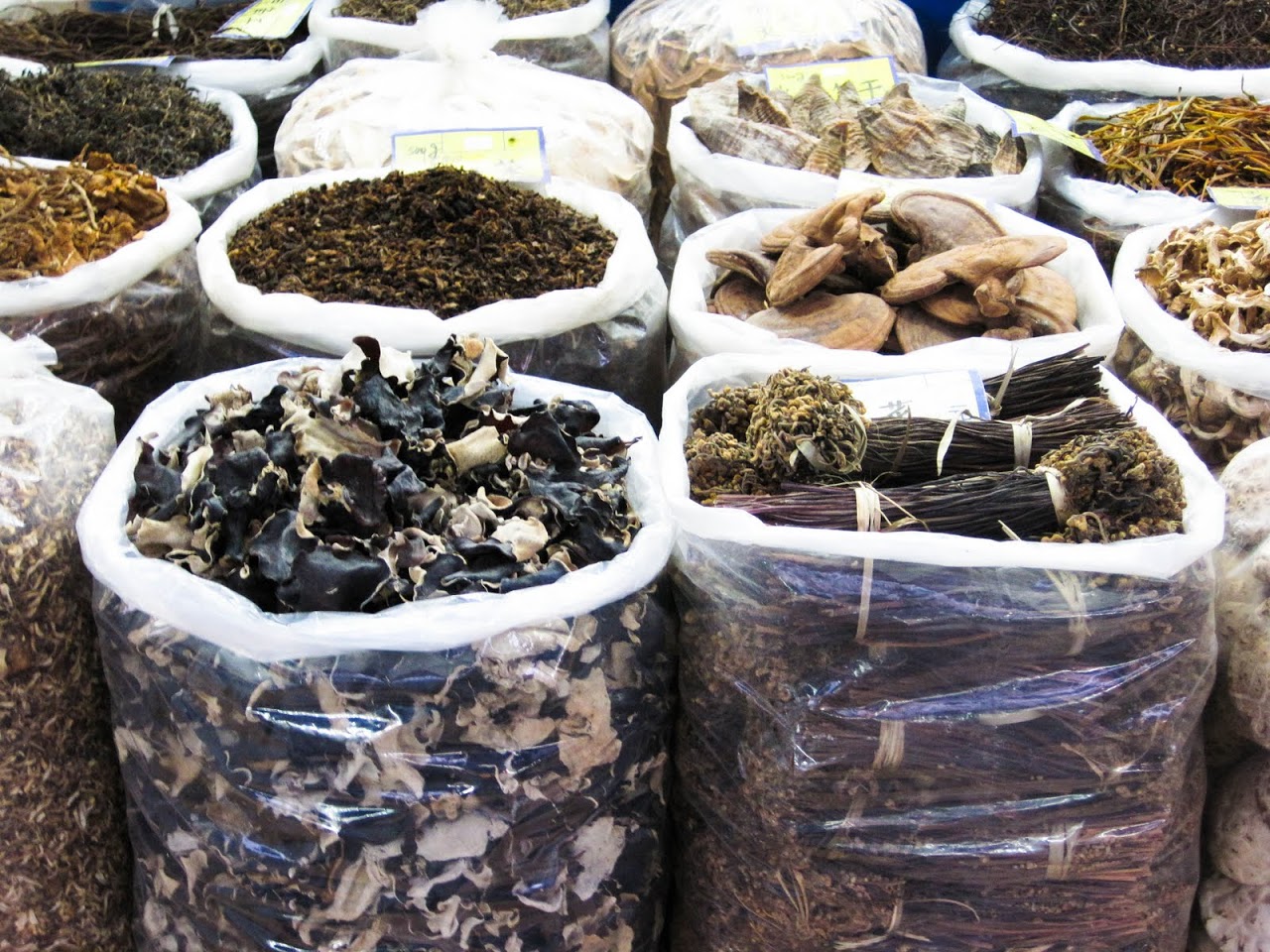 Spices and seasonings at Chinese market
We quickly realized a singular truth: you haven't eaten Chinese food until you have eaten Chinese food in China.
Chinese radish sliced
In a way, defining "Chinese food" is kind of like defining "European food"; just as Italian food is starkly dissimilar from German food, Sichuan is a far step from Beijing cuisine.  The simplest distinction is between the primarily wheat-driven diet in the North and the rice-focused diet of the South.  Ancient culinary scholars (and, yes, apparently there were culinary scholars in China) identified Eight Great Culinary Traditions, depending on the regional area.  We tried many varieties of Chinese food and loved them all.  We never went hungry in China.
Shandong (Lu) Cuisine /Beijing Cuisine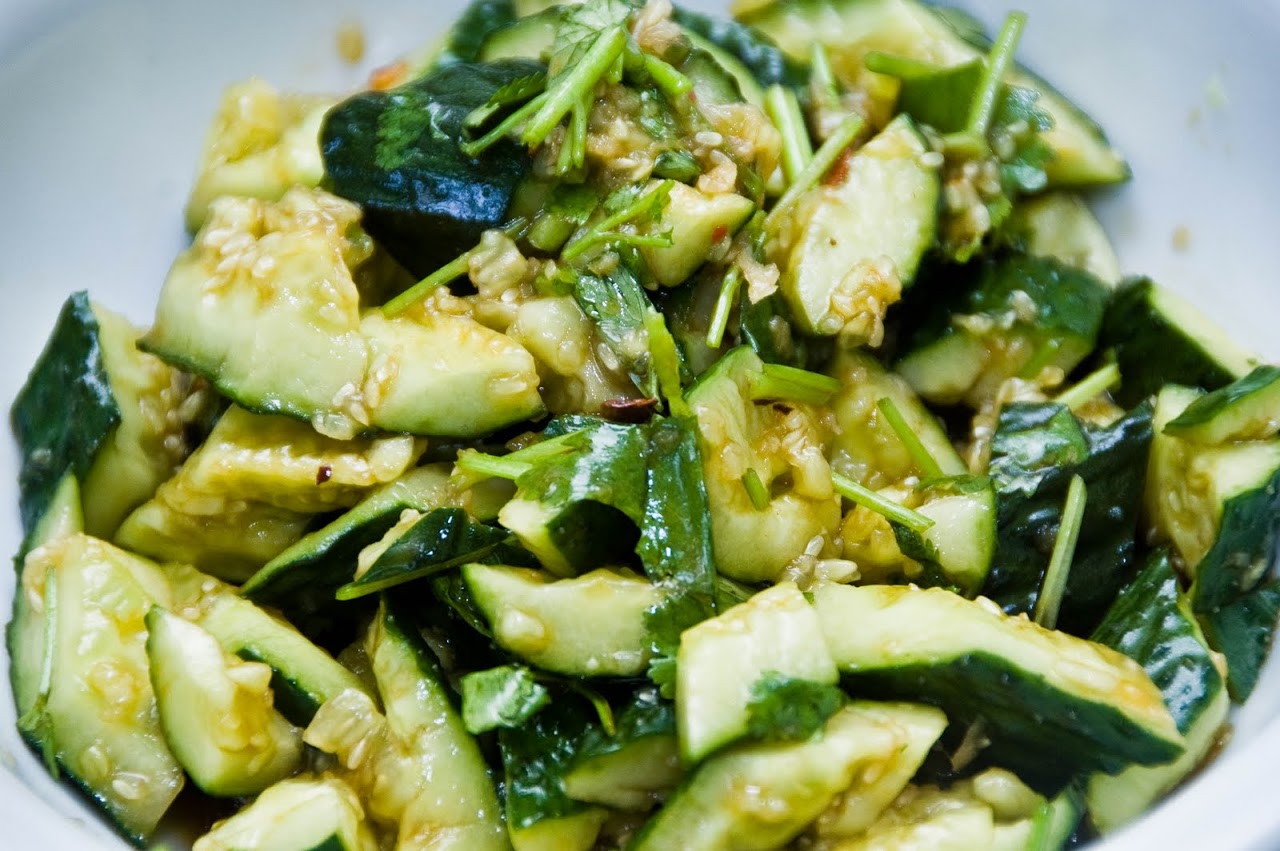 Cucumber vinegar salad
Shandong cuisine is most commonly found throughout the North and includes Beijing/Mandarin cuisine and Shanxi cuisine.  Typically, dishes utilize vinegar and peanuts, and vegetables are often mixed with vinegar and garlic to make a salad.
Jiaozi from the best dumpling shop ever (and I can't remember the name - ack!)
I think I've spent enough time in the last couple of weeks talking about dumplings so, let it be mentioned one final time that Beijing is the place to find the fantastically addictive jiaozi and other flour-based buns and doughy goods.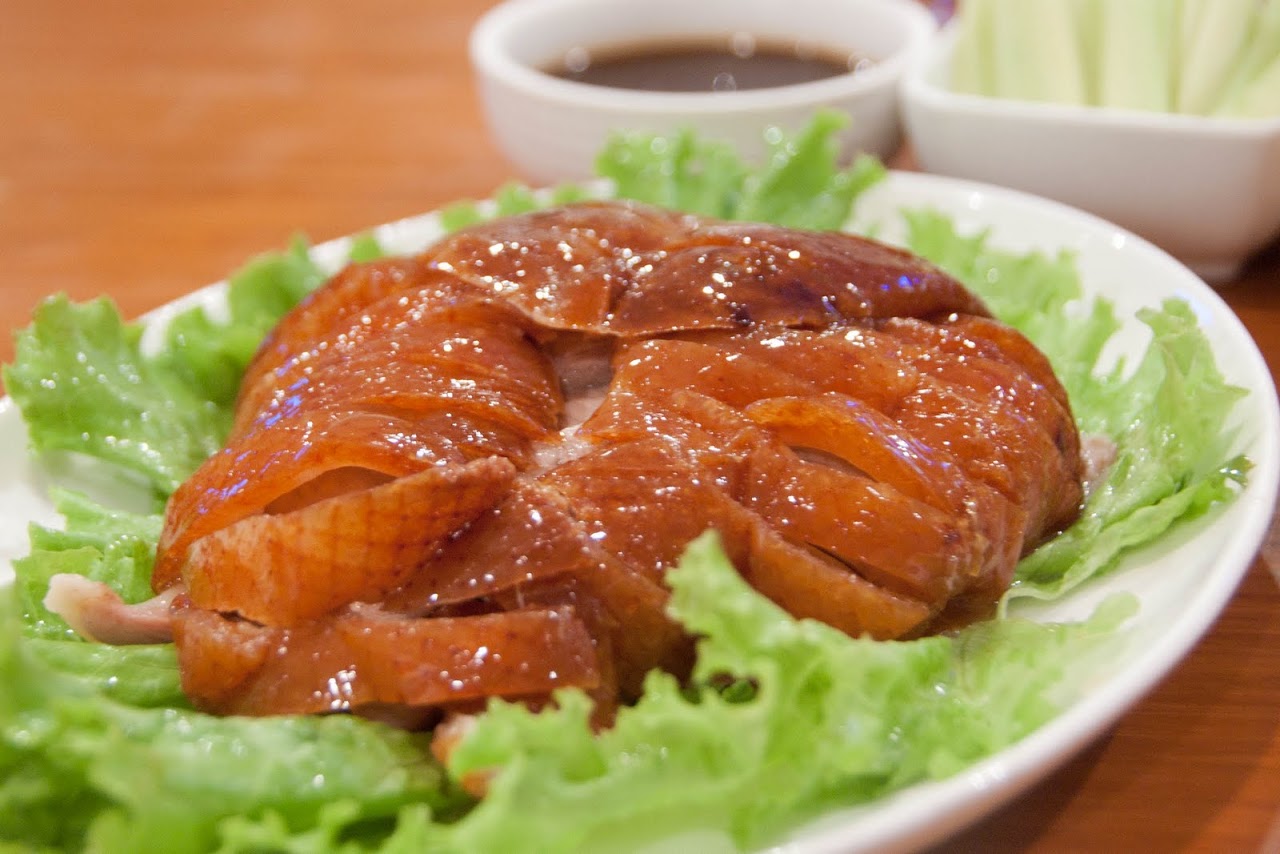 Peking duck
The most famous Beijing dish is, of course, Peking duck.  The ducks are specially raised and fattened for 65 days, then slaughtered, then air is pumped into the skin to separate the skin from the meat, and then after being coated with a syrup, it is roasted in a high heat oven for about an hour.  Peking duck is traditionally served with thin flour pancakes and hoisin sauce.
Egg pancake, Watermelon juice, strawberry and mango ice
And, on nearly every street corner in Beijing, you will find people selling drinkable yogurt in ceramic containers, egg pancakes, chicken skewers, watermelon juice, or strawberry and mango ices.
Szechwan (Sichuan) Cuisine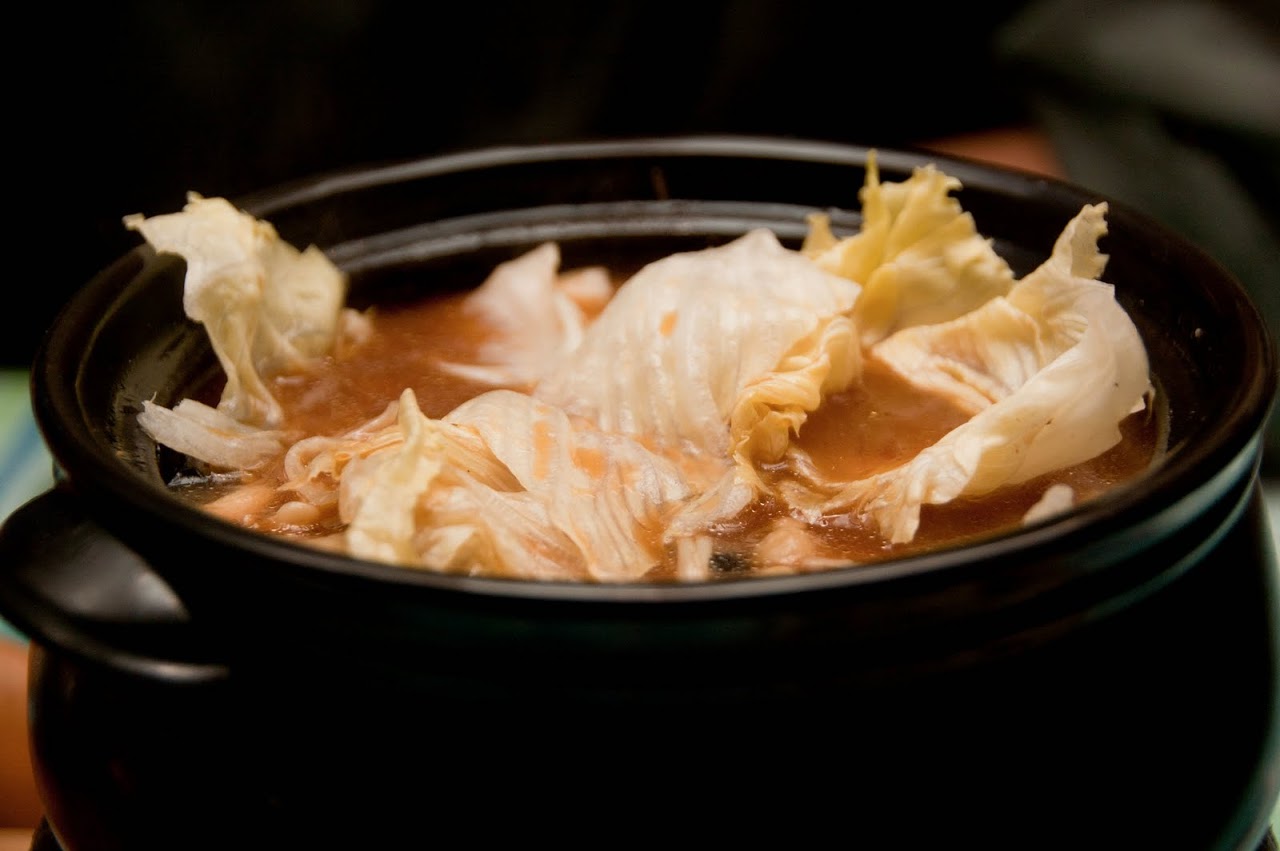 Sichuanese hotpot
The name of the game in Sichuan cuisine is spice.  Renowned for its mouth-blazing, eye-watering cuisine, the Sichuan region (in which Chengdu is located) are famed for their spicy hot pots, Dan Dan noodles coated in a red chili broth, and Kung Pao chicken.  In traditional Sichuan cuisine, the Sichuan peppercorn is used to create spice; interestingly, the peppercorn produces a numbing effect on the mouth which counteracts the spice factor.  We never visited the Sichuan region but we enjoyed their food throughout China.
Anhui Cuisine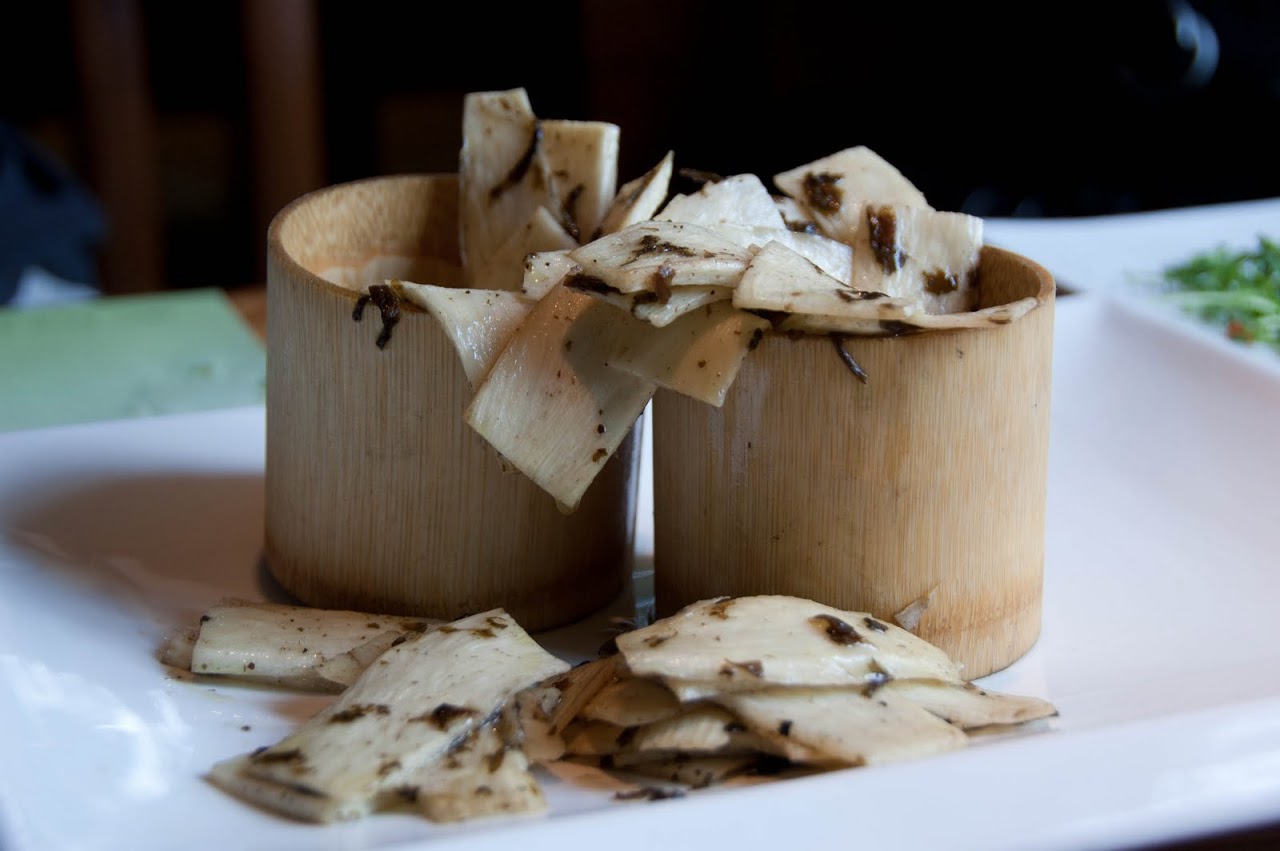 Bamboo shoots with wild herbs
The stunning Huang Shan mountains are located in the Anhui region and, like the beautiful serenity of Huang Shan , Anhui cuisine is simple and focuses on wild herbs and greens.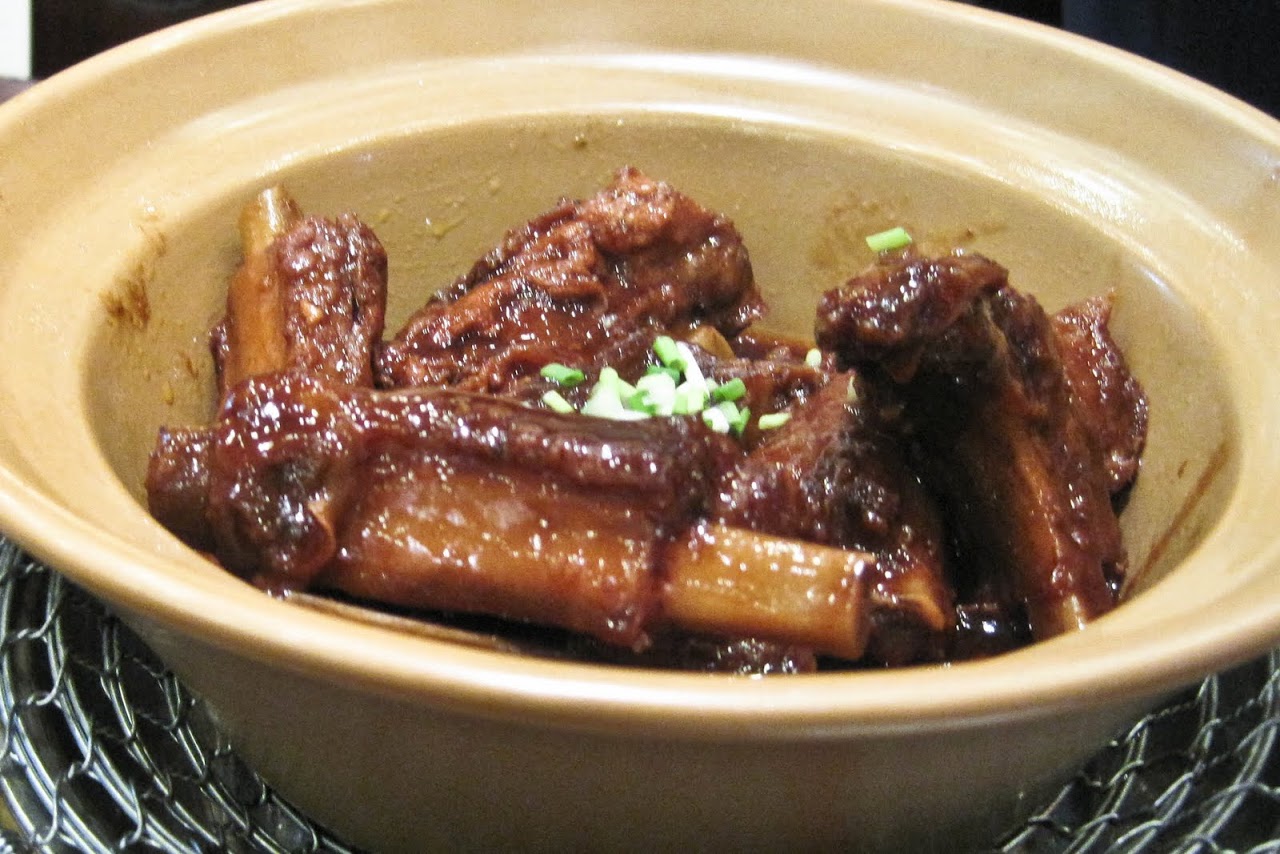 Braised short ribs
These braised short ribs are a typical preparation, because they don't utilize much spice or flavorings other than a mild sauce.
Cantonese Cuisine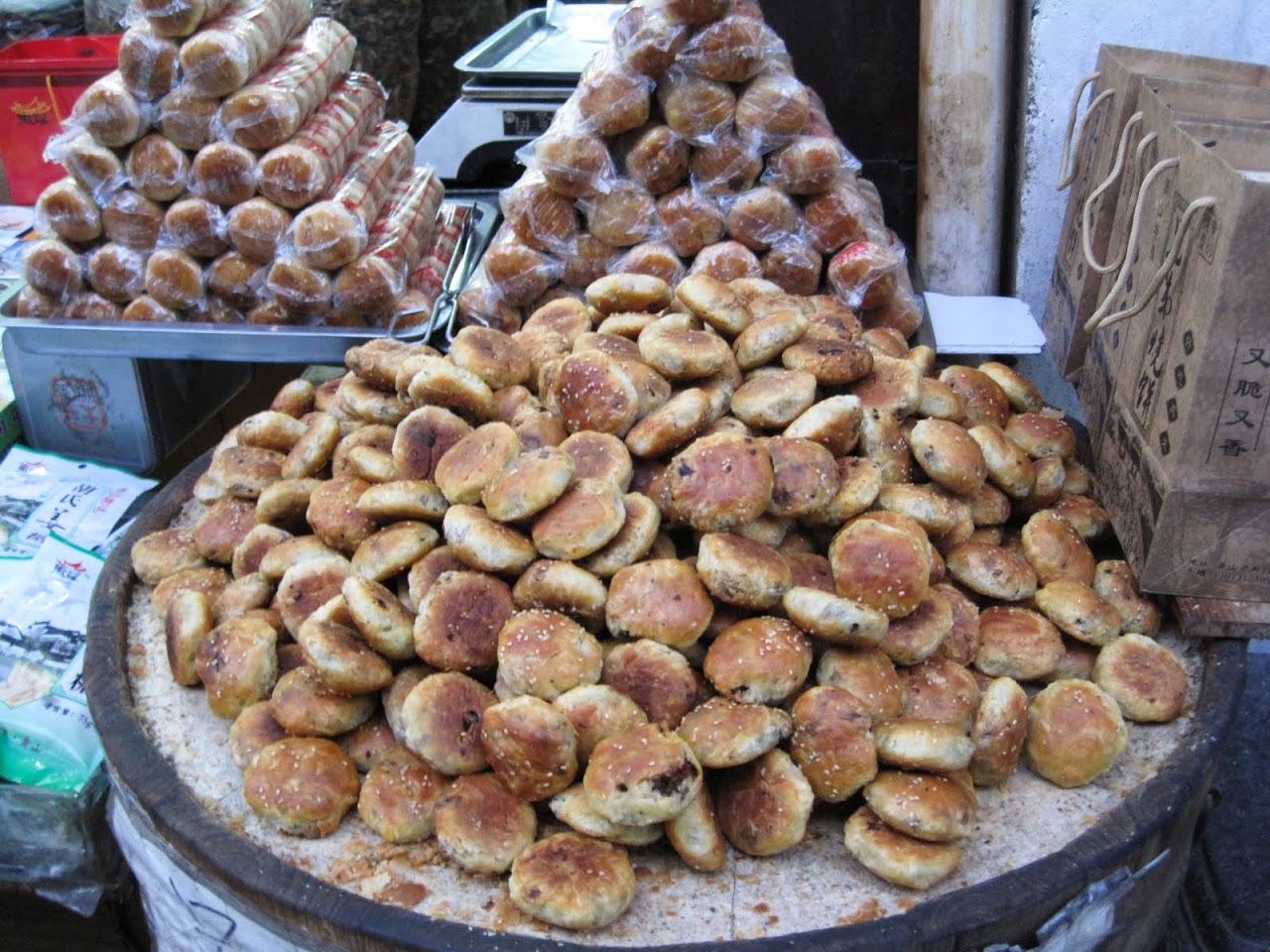 Sweet buns
When Americans think of Chinese food, we usually are thinking of Cantonese cuisine because most immigrants to the United States are of Cantonese descent.  Sweet and sour sauce, oyster sauce, and black bean sauces with vegetables and meats are typical Cantonese dishes.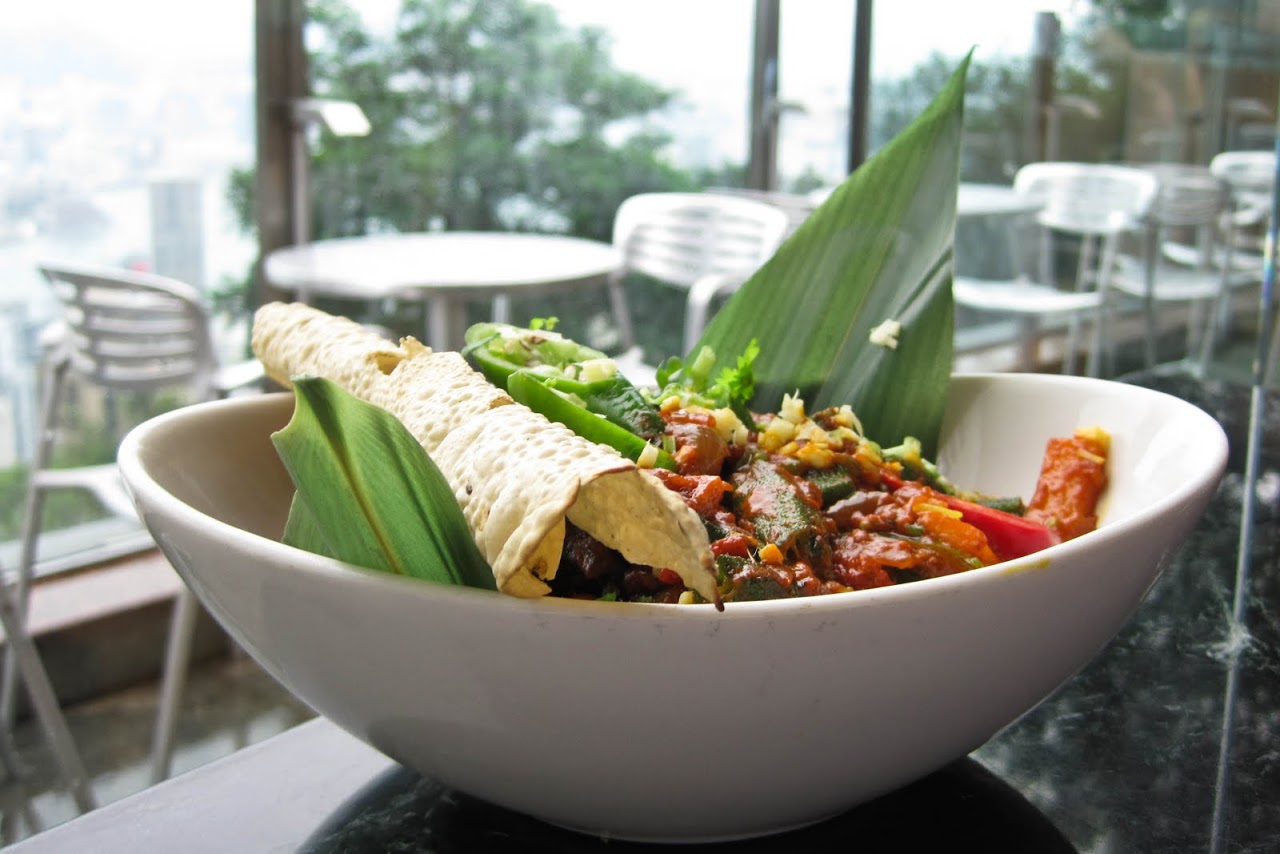 Okra curry
We had the most amazing dim sum meal at Dragon-I in Hong Kong and we had our cameras all ready to take pictures when we realized that we didn't have an SD card with us.  Doh!  So, instead, I am posting this picture of a spicy tomato and okra curry that I had at one of the restaurants at Victoria Peak, overlooking the entire Hong Kong skyline.
Manchu (Mongolian) Cuisine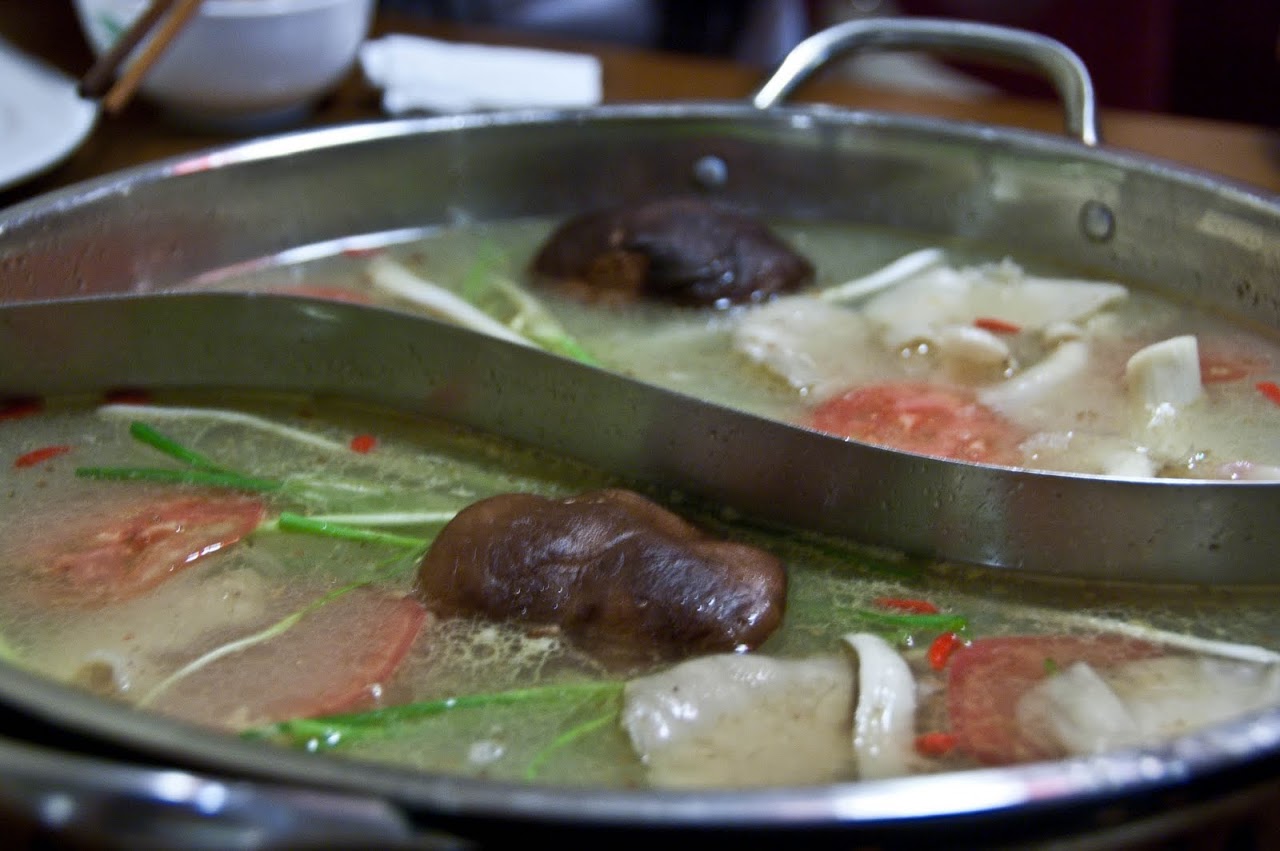 Hotpot
Though not technically considered one of China's Great Culinary Traditions, Manchurian cuisine plays a huge role in the northeast where China borders Mongolia and much of the population are minority tribal members or Mongols.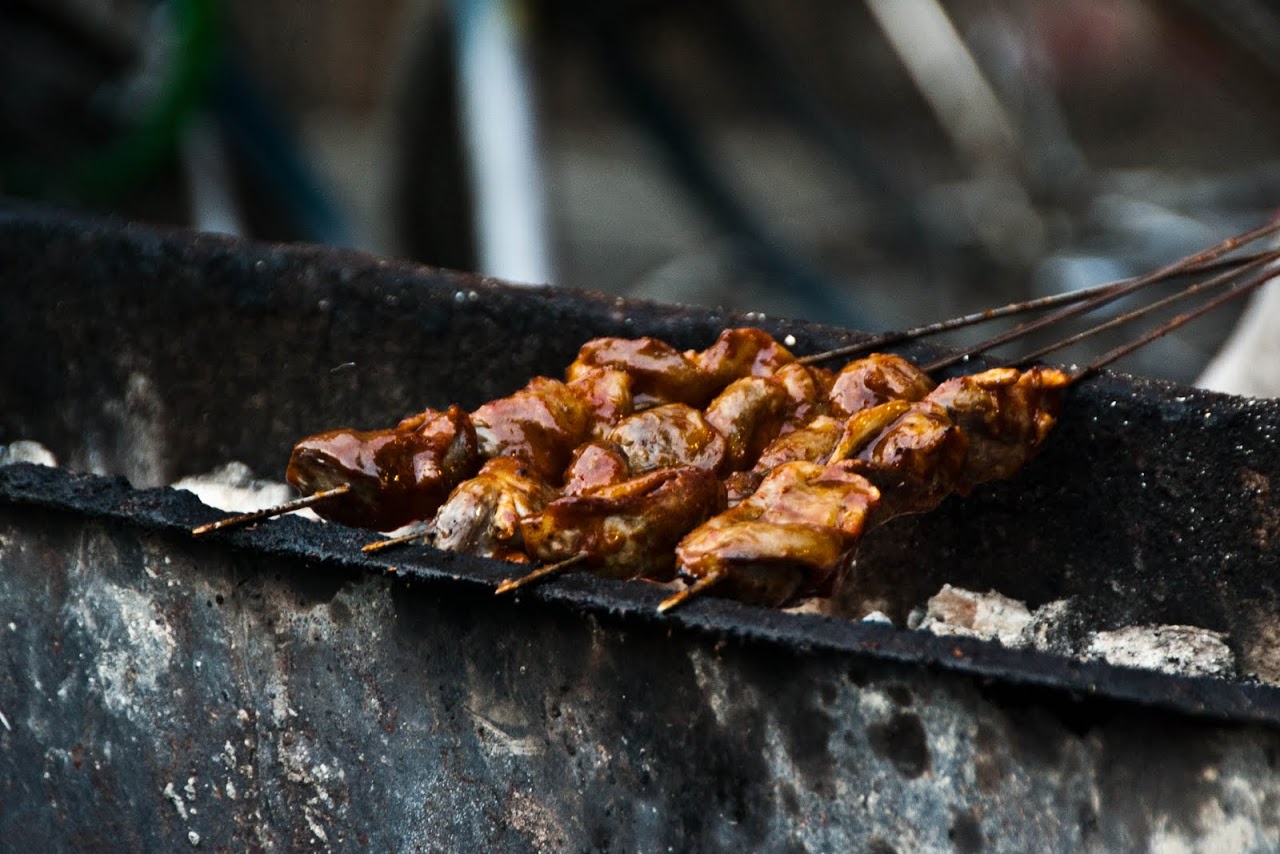 Mongolian barbeque, donuts served with yak's milk tea, and stew
Because the Manchurians lived nomadically, they used and cooked food quickly, leading to the use of hot pots and barbeques.  We also tried yaks' milk tea, a concoction that tasted like someone dropped a cup of melted Velveeta cheese into a cup of tea and then thoroughly stirred the two together.
Xhaocai (Vegetarian) Cuisine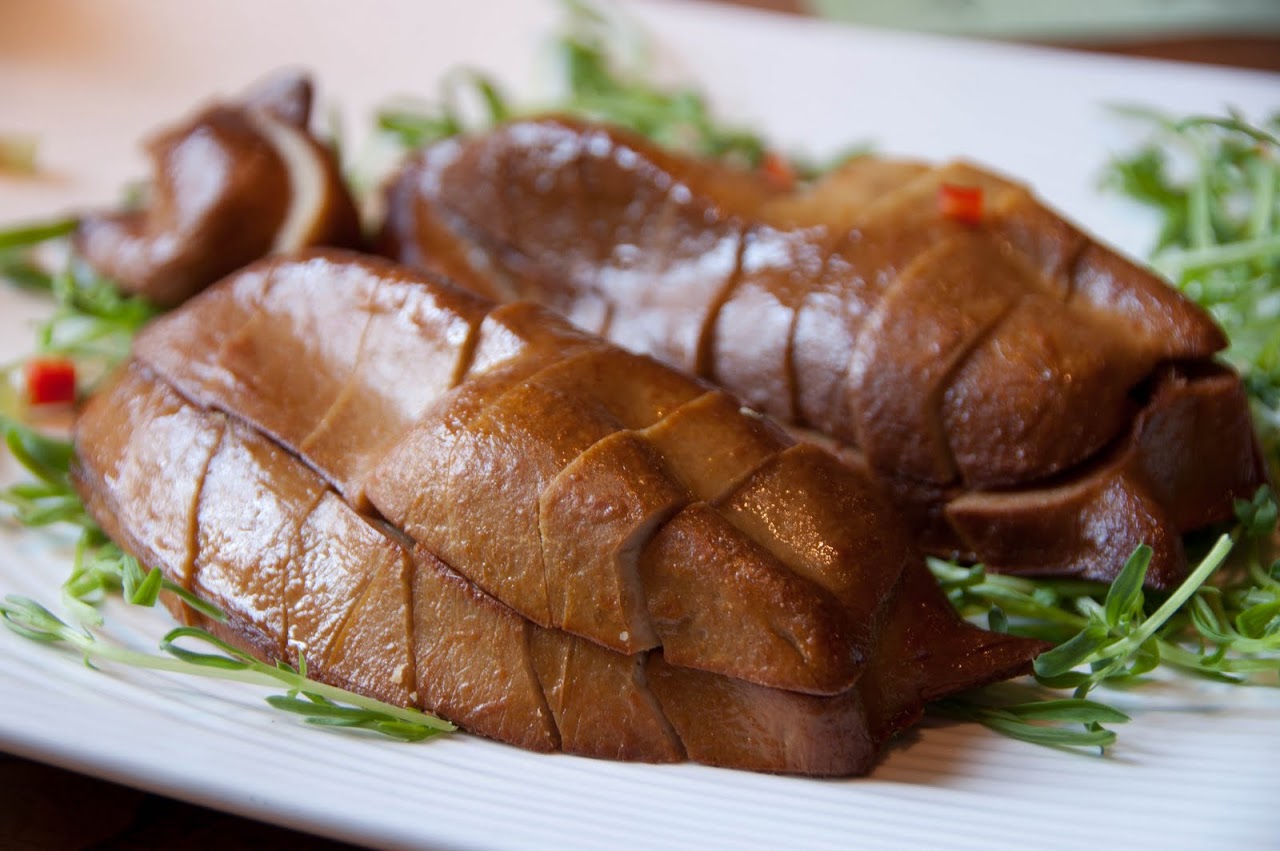 Vegetarian roasted chicken

Vegetarian restaurants abound in Beijing, Shanghai, and other large cities.  In ancient times, the emperors often abstained from meat for several months or during certain holidays to purify their minds and spirits.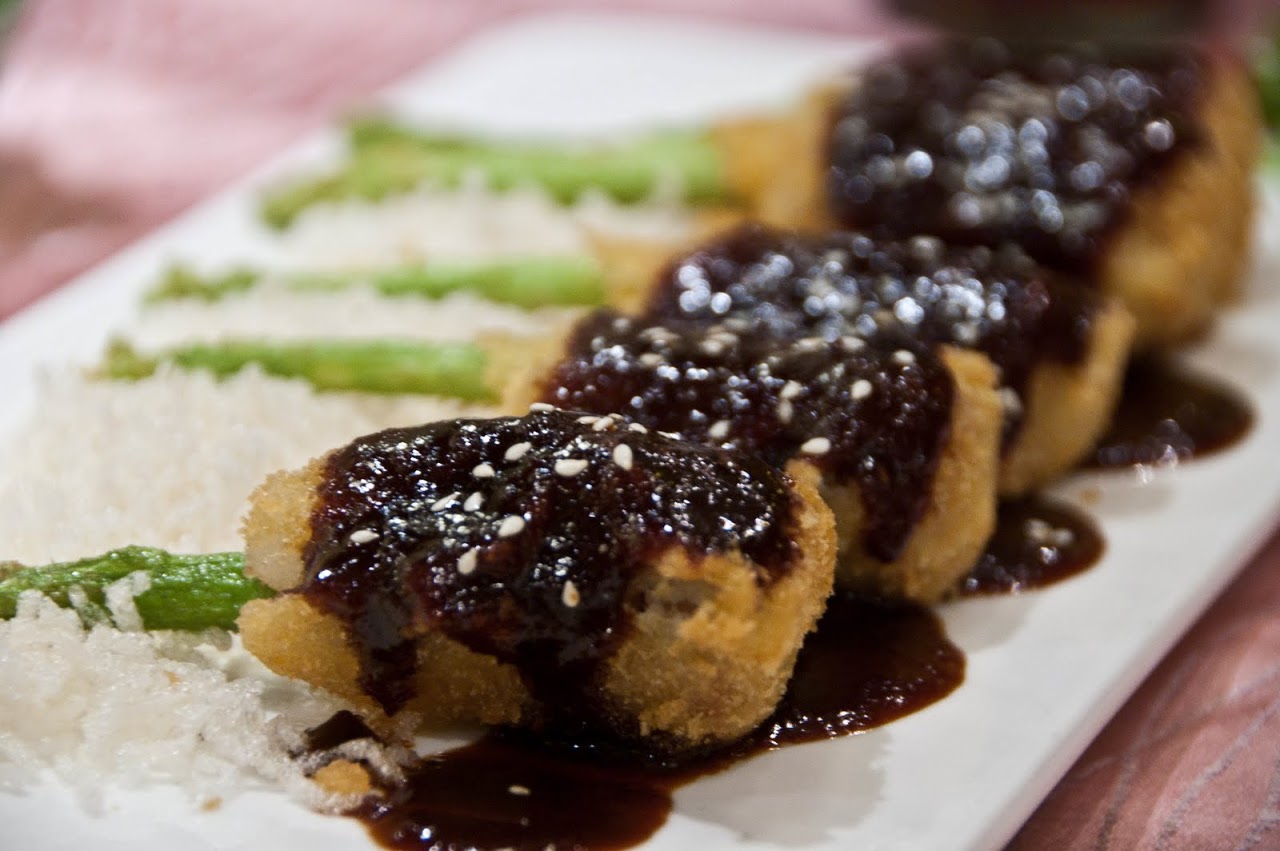 Vegetable "short ribs" (don't you just love that an asparagus is the bone?)
Because these emperors had plenty of slaves and money, they ordered their cooks to create mock meats and, eventually, Chinese vegetarianism became an elite form of cookery.  We were surprised by how popular these vegetarian restaurants were and how good the mock meats tasted.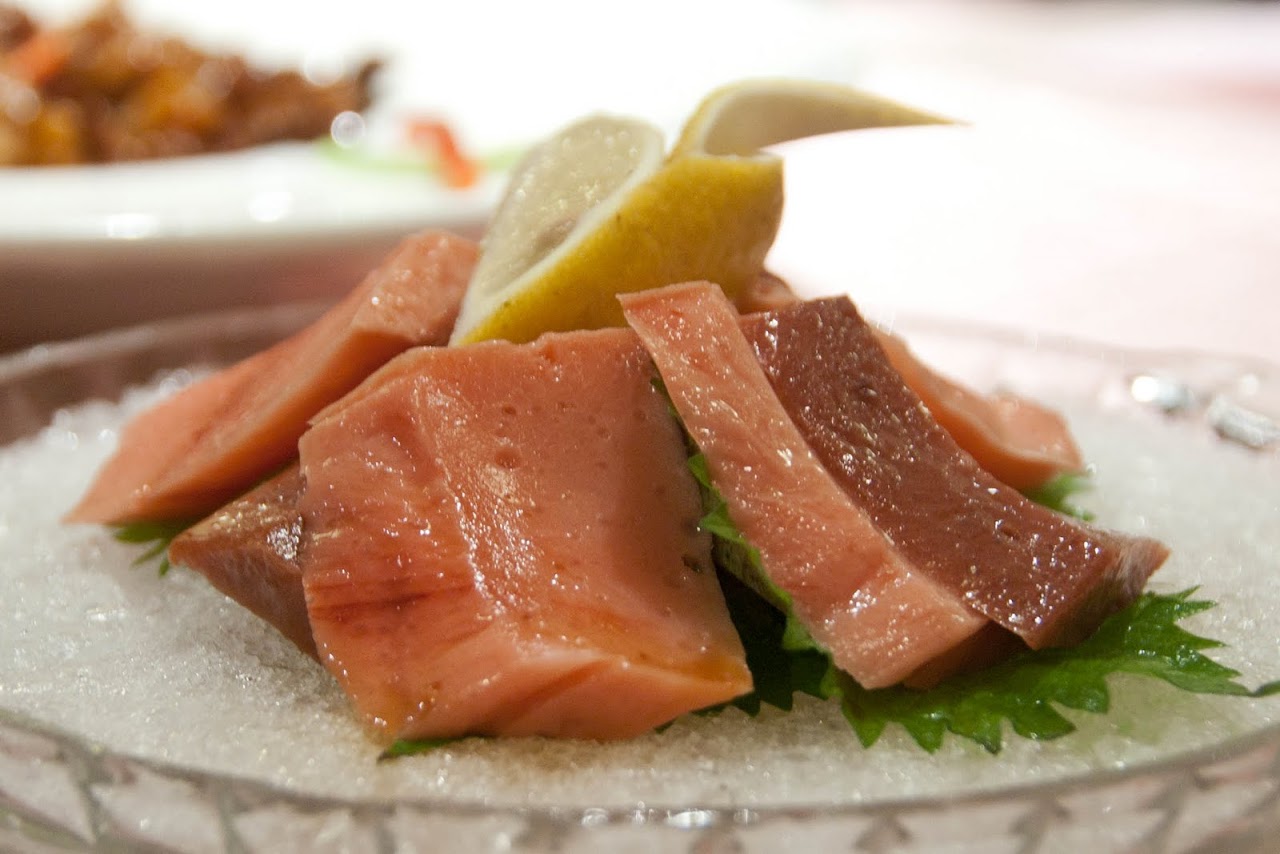 Vegetarian tuna sashimi
Of course, the mock meats don't taste exactly like meat but, sometimes, they are a close approximation. At one restaurant, Patrick swore that the vegetarian chicken tasted just like deli meat roast chicken sold in the U.S.  Other vegetarian mock meats didn't taste anything like the real meat but we liked them for the pure flavor of the tofu and the cleverness of the design (like the "marbling" in the "tuna").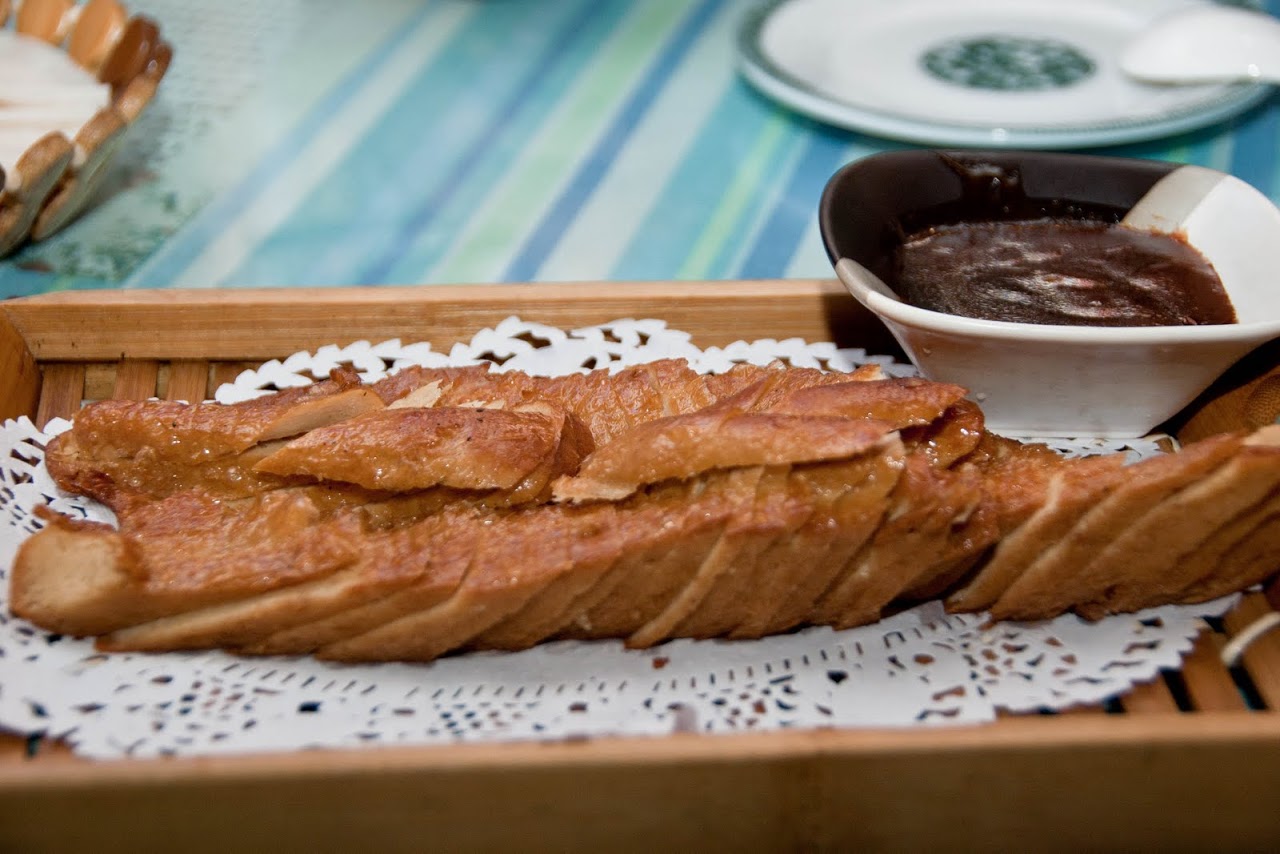 Behai Peking duck
My favorite vegetarian mock meat was the Peking duck at Behai, a vegetarian restaurant built into a lovely garden setting in Beijing.  Even if you are not vegetarian, I highly recommend visiting one vegetarian restaurant while in China to experience this unique cuisine.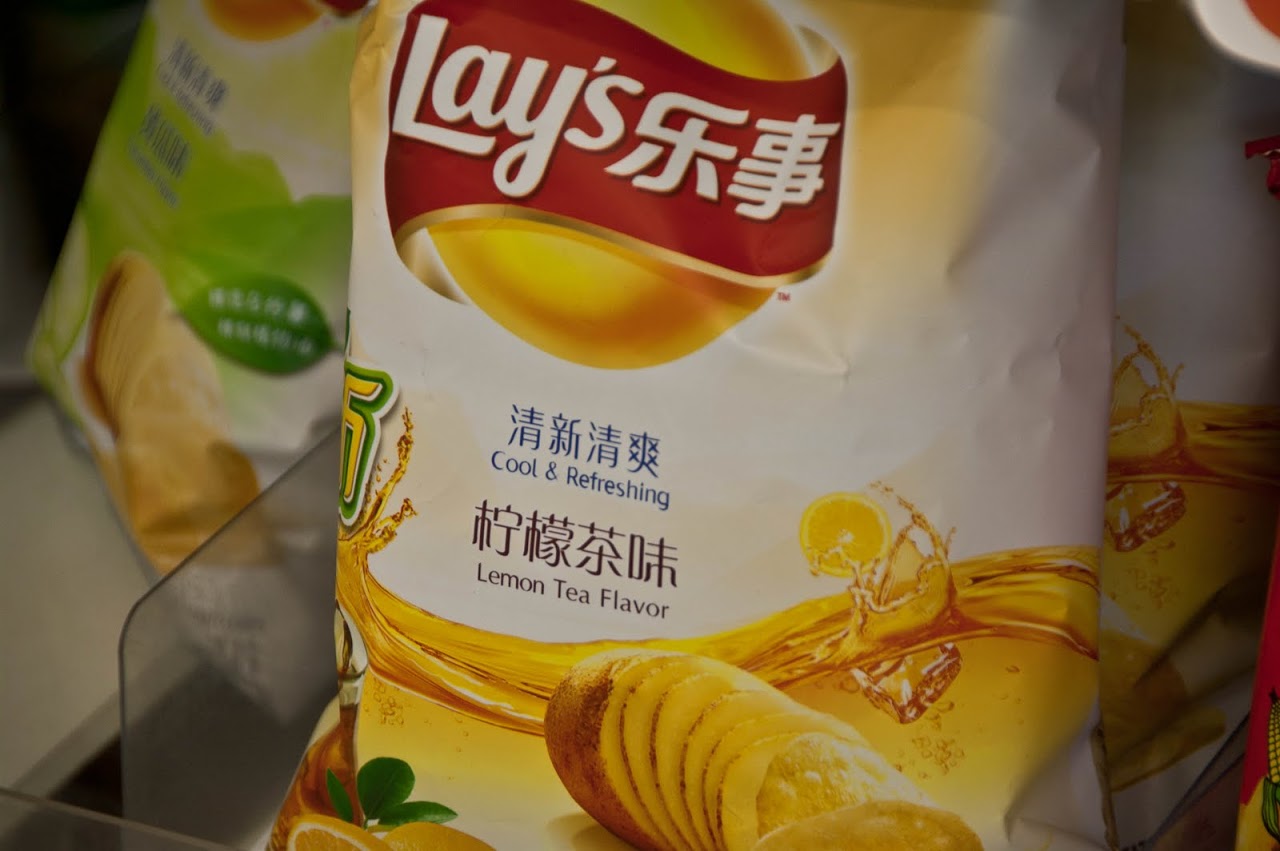 Lemon tea Lays . . . worst potato chip flavor ever
Regardless of the type of cuisine you choose in China, I doubt that you will be disappointed . . . unless you opt for the lemon tea flavored Lays Potato Chips.  And, if you are as foolish as we were and buy said package, don't say that I didn't warn you.