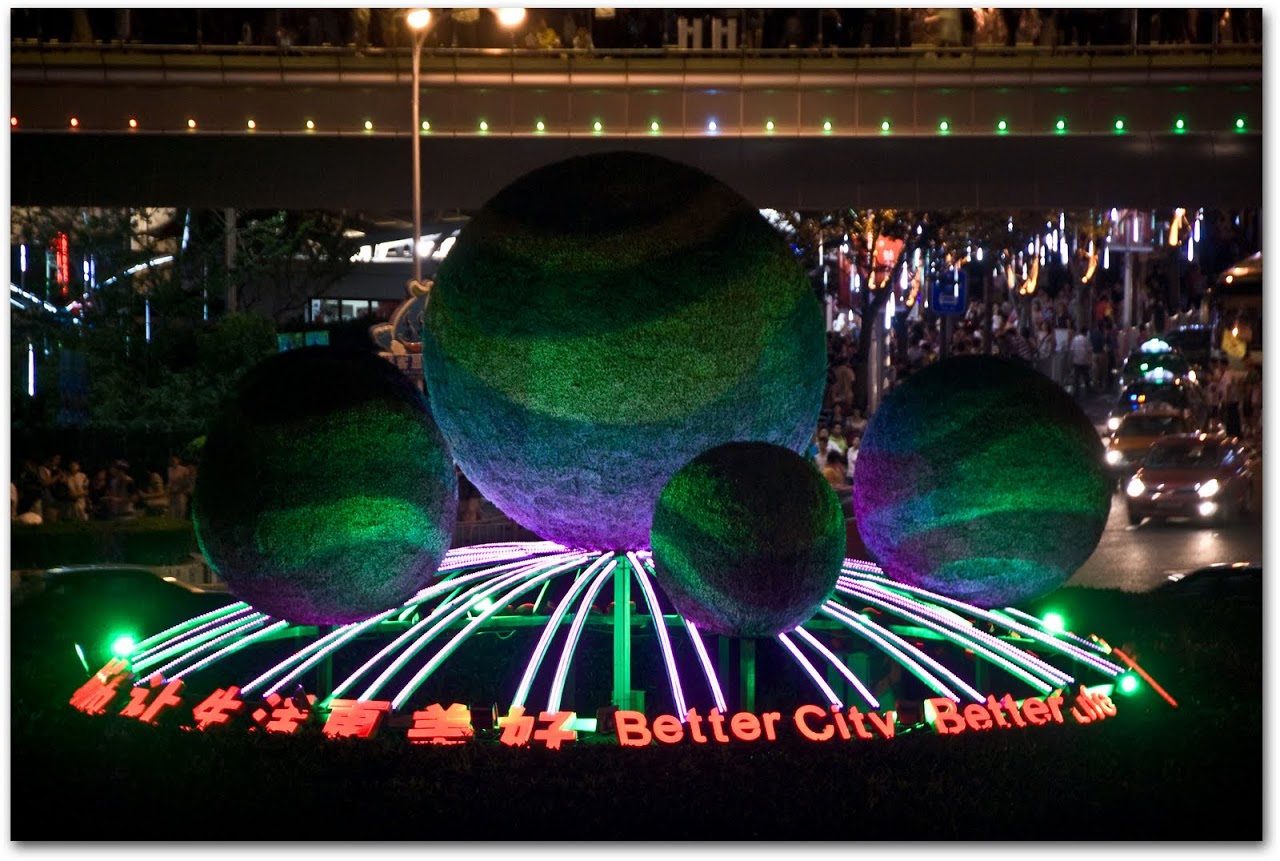 World Expo 2010 slogan
A century ago, the World's Fair was the premiere worldwide event, an arena for inventors to show off their best products, cities to take center stage, and countries to showcase their achievements.  The World Expo helped define Chicago's skyline and was the impetus for St. Louis's famous arch.  Unfortunately, things change.  For years now, the World Expo has been a mundane event, in which countries half-heartedly participate to show their continued support of an aging tradition.  I went to the 1998 World Expo in Lisbon and remember it being a sorry affair with a bunch of disparate buildings strewn across a massive parking lot.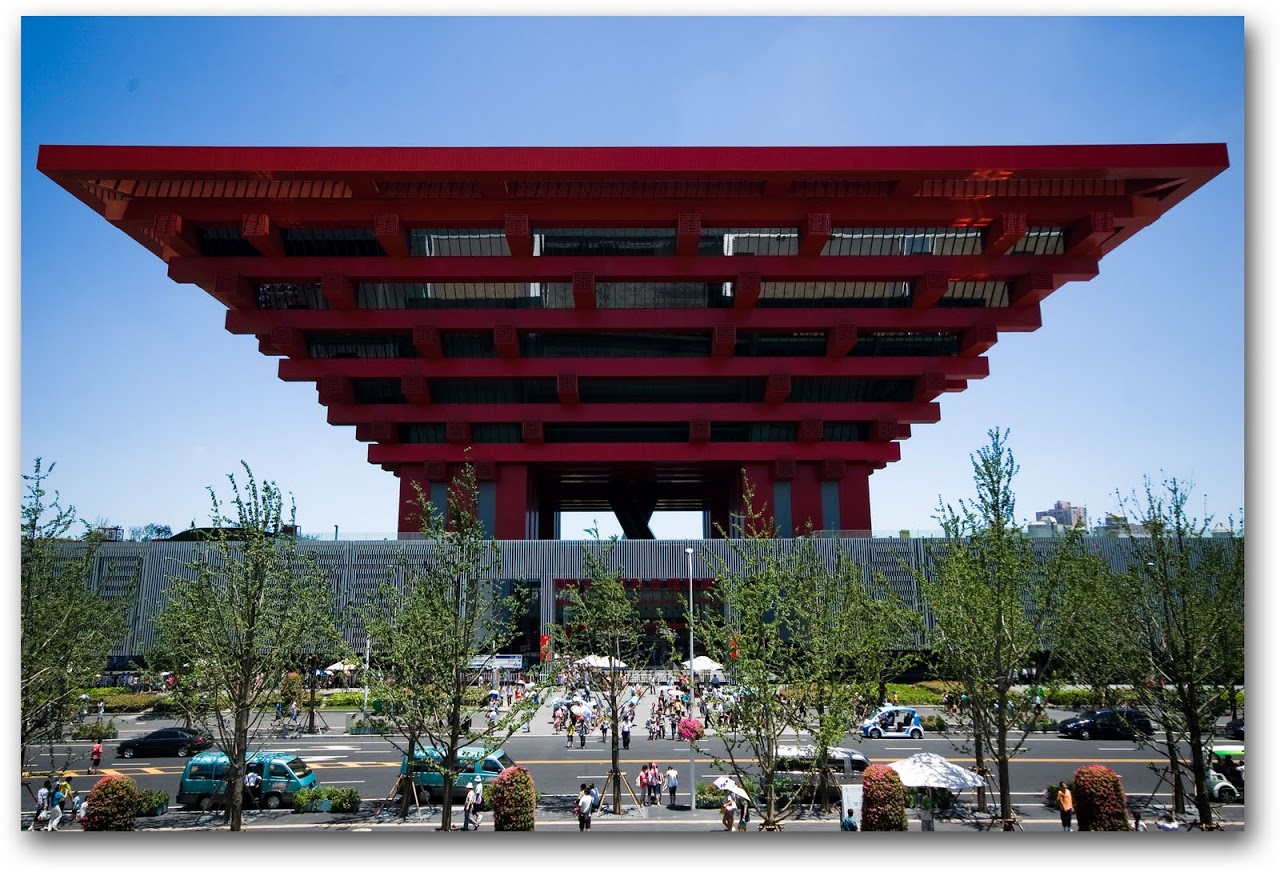 China pavilion, World Expo 2010
Shanghai planned to change all that and, boy, it sure has.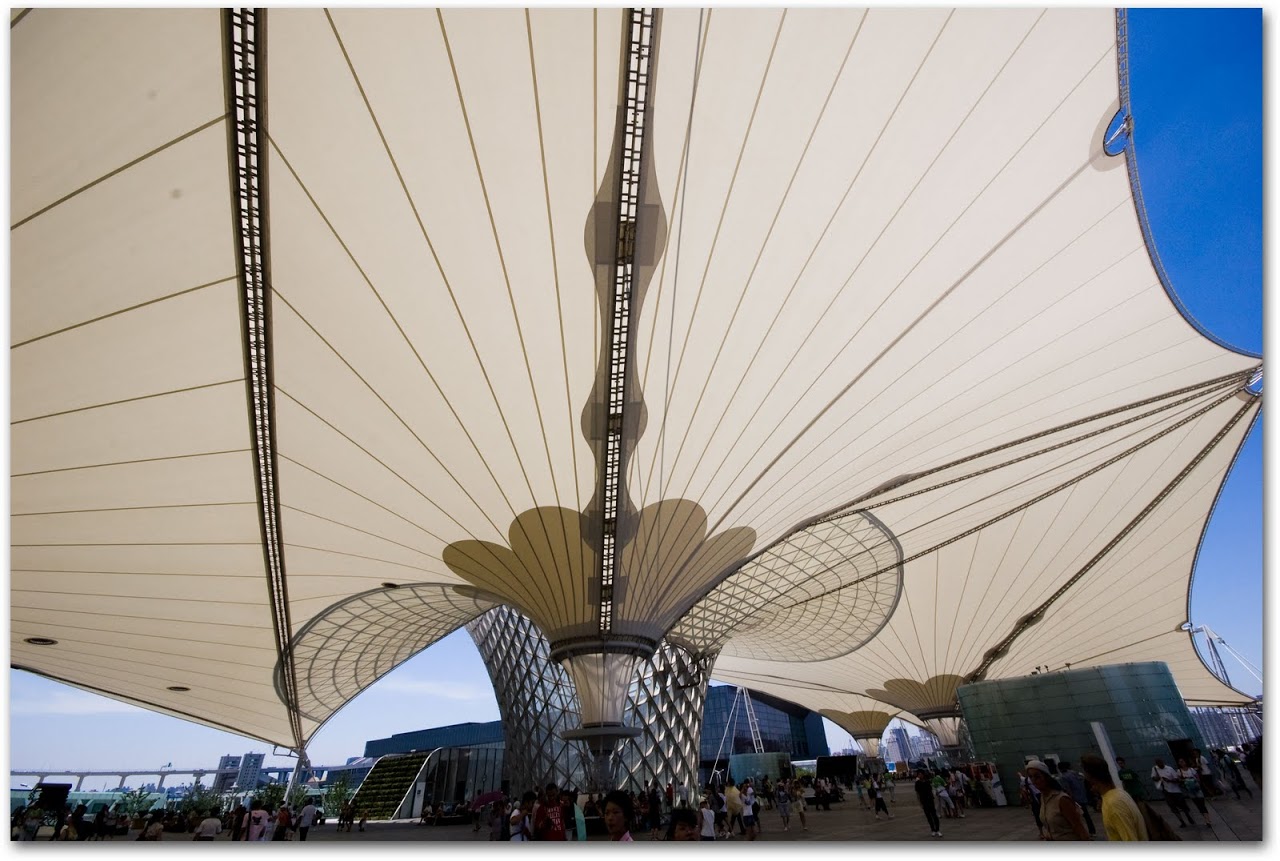 Walkway at Expo
What is the World Expo? The World Expo is a six-month long event hosted by one city every 5 years.  Every country is supposed to build a "pavilion" that showcases specific achievements, based around a central theme.  The theme for the 2010 World Expo is "Better City, Better Life," focusing on sustainability, green products, and urban planning.  (And, yes, the irony of Shanghai --- one of the most polluted cities on the planet --- hosting this event did not escape us.)
Views of Expo buildings and of Shanghai from Expo
Why should I go? First of all, Shanghai is doing this Expo in a big way.  It is the most expensive World's Fair ever put together, the largest World's Fair site, and has the greatest participation of any World's Fair with over 190 countries creating pavilions.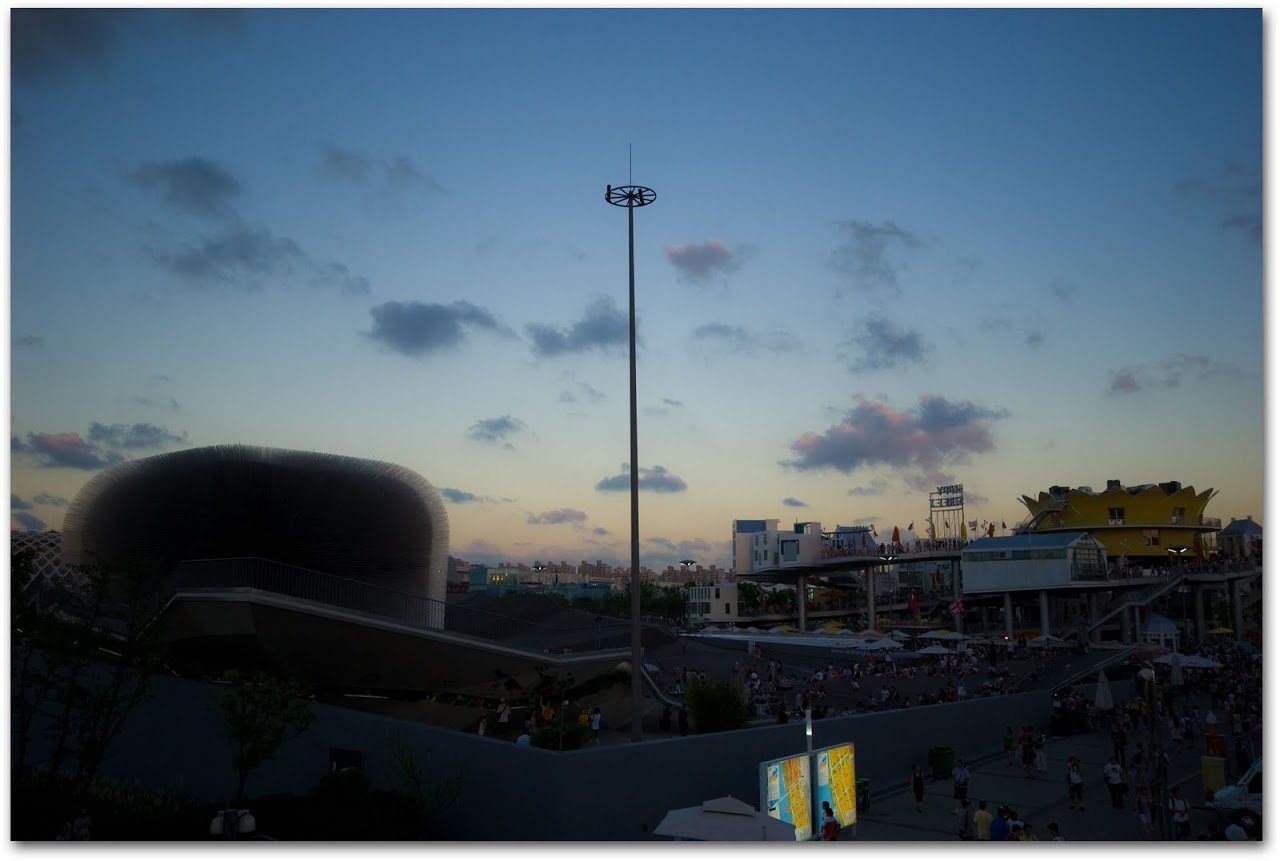 View of Zone C, England pavilion in the front and Netherlands pavilion behind
But, the best reason to visit the Expo is because it is currently the largest modern architecture exhibition in the world.  Shanghai has estimated that it will spend about $58 billion USD on building stunning pavilions, walkways, and providing workers to manage the sites.  Many countries have responded by upping their game.  England's jaw-dropping koosh ball-like pavilion and the United Arab Emirates' gold dunes were only two in the many fanciful and creative designs.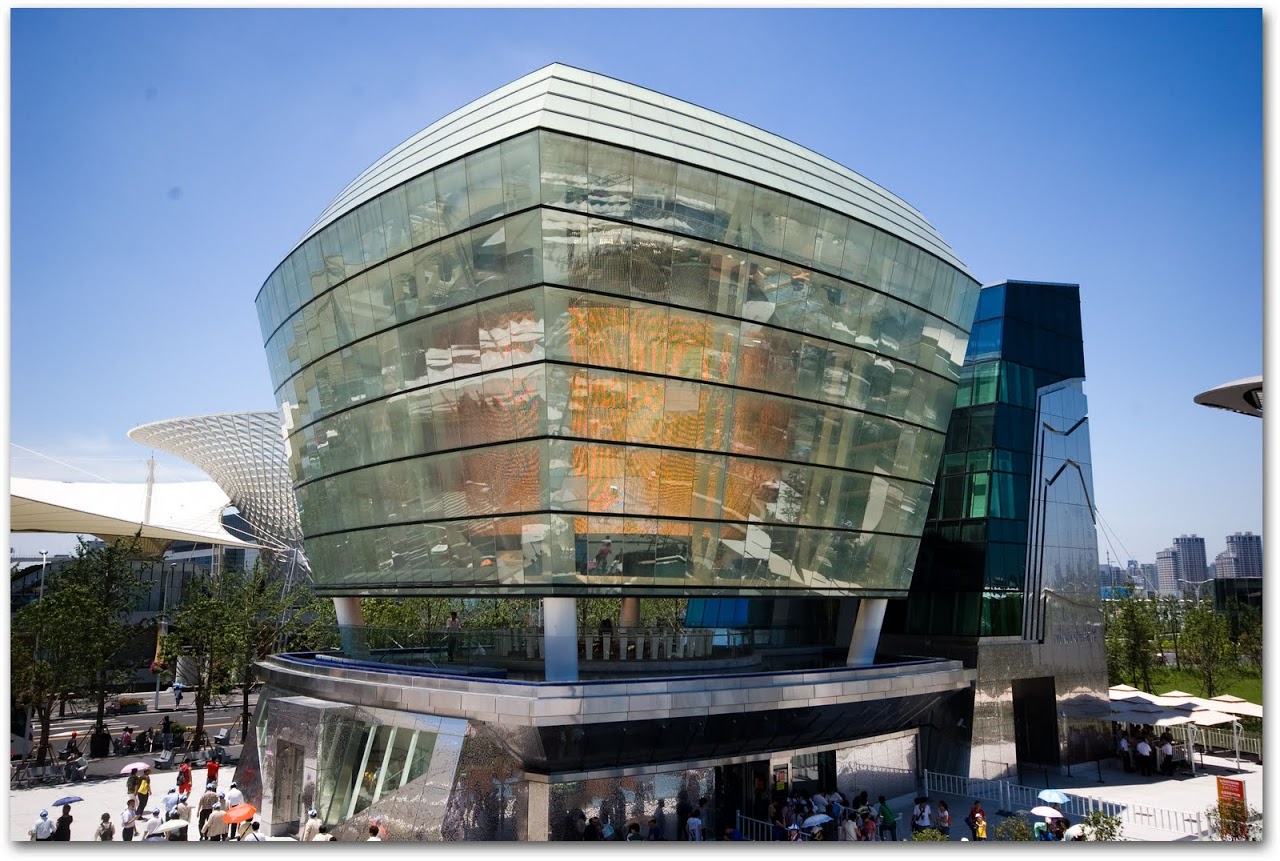 Taiwan pavilion
The reason most Chinese are visiting the Expo is because it offers a glimpse of many countries without the expense of plane tickets and hotel rooms abroad.  For us, we found that it provided a unique perspective on how China views itself within the world economy and its future.  The Expo pushed sustainability and green products but seemed to believe that those could coexist with coal mining and limited emission controls.
Portion of Africa pavilion; Cambodia, Vietnam, and Middle East pavilion
What are the pavilions like? The pavilions are as varied as the countries themselves.  Some countries, such as those in Africa and the Middle East, have banded together to form one giant pavilion with individual areas for each country, almost like booths in a conference.  Other countries, like Vietnam and Cambodia, simply decorated the outside of a pre-built square structure.  Others, like Taiwan and Japan created architectural masterpieces (that's what you call the pink blob like structure the Japanese designed, right?).
Japan pavilion, interior of Borneo pavilion, India and Pakistan pavilions

The Pavilions' interiors are equally diverse.  We went into the Pakistan pavilion expecting to be wowed because the exterior looks like a giant sandcastle; instead, the Pavilion was a boring regurgitation of facts of Pakistan and some blow ups of poorly taken pictures.  On the other hand, the Bahrain pavilion, a tiny room filled with glowing round orbs delighted us because they described the history of Bahrain as a pearl diving destination.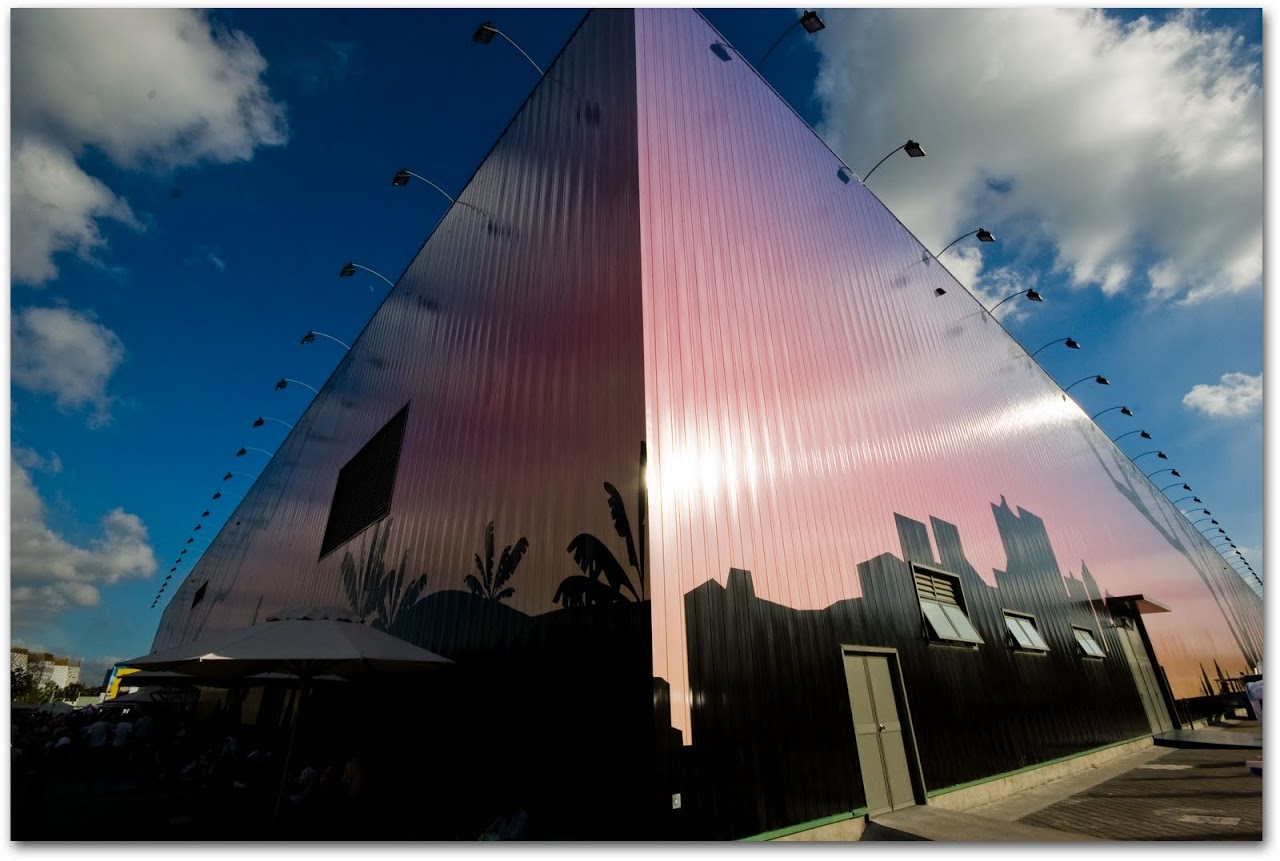 Africa pavilion (I think)
How do you buy tickets? A single day pass costs 160 RMB (about $25 USD) but the price increases for special holidays.  There are a number of entrance gates to the World Expo but the easieist method is to take the subway to Madang Road and walk around the subway station to the Expo Line (Line 13).  Your ticket into the Expo includes the fare from Madang Road to the Expo site.  By taking the Expo Line, you will avoid the terrible road traffic directly around the Expo site.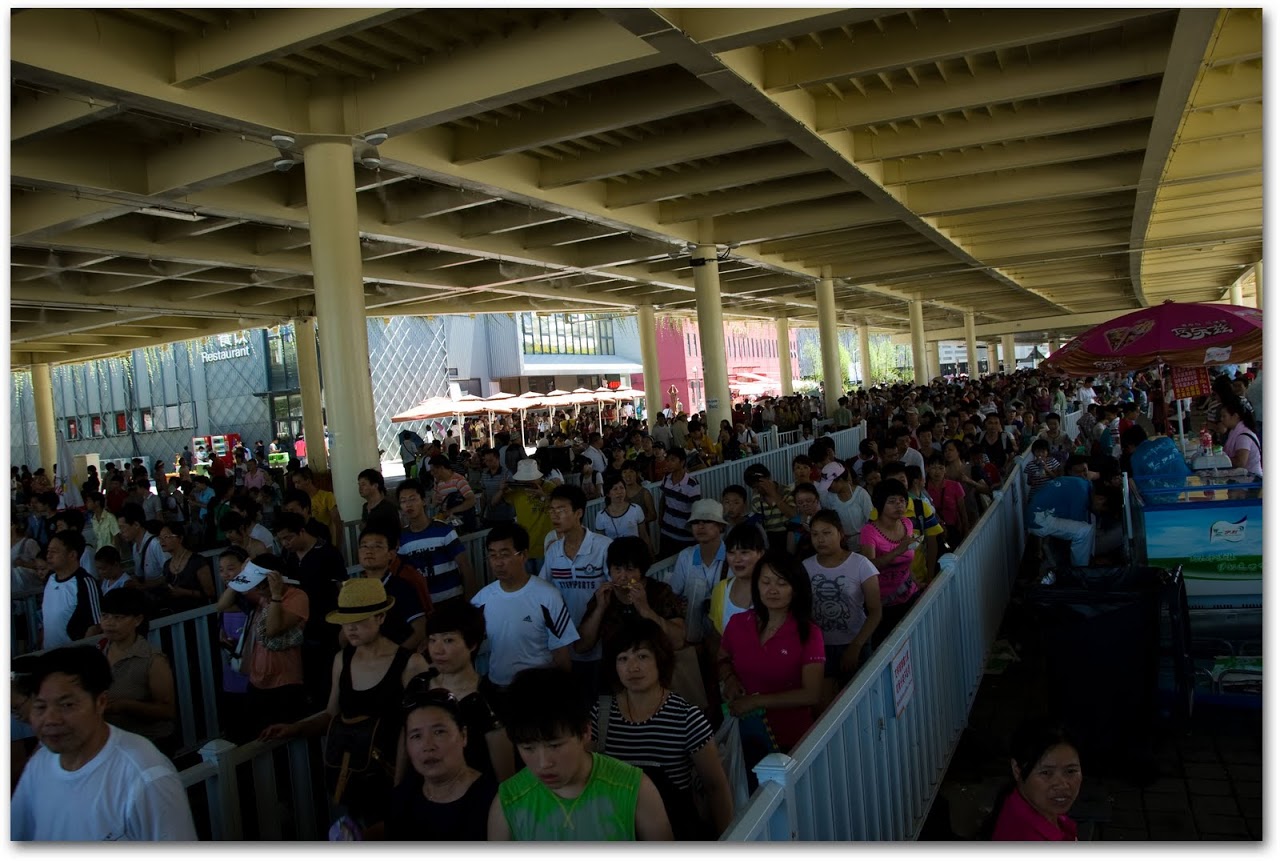 Line for China pavilion
Many visitors to the Expo told us that they hated it; they found the lines to be long, the place to be too crowded, and not worth the expense.  We loved it and have some practical advice so you don't end up hating it , either: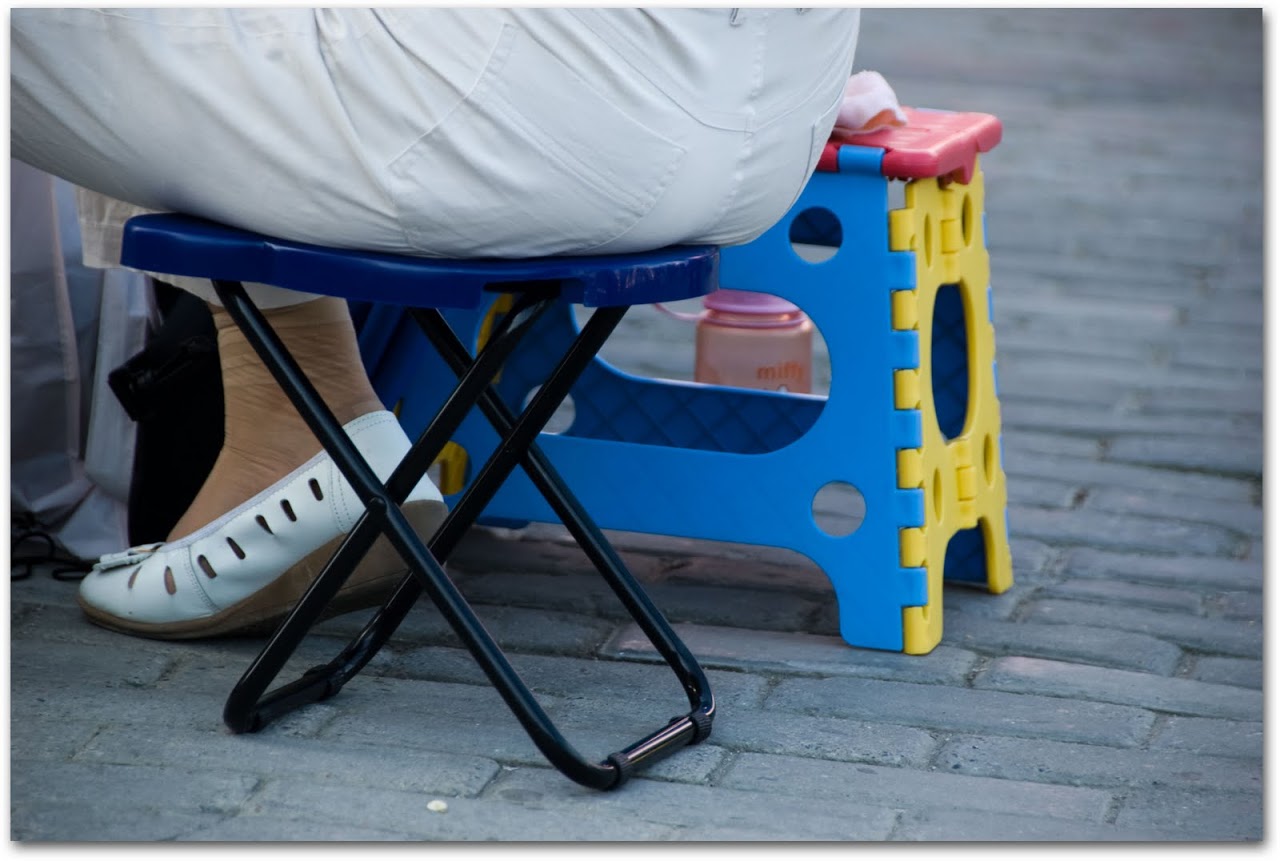 1. Buy a stool. Lines into most pavilions are very long and a stool will save you from aching feet.  Vendors outside Madang Road sell stools for 10 RMB (about $1.30).  Patrick learned quickly, much to his detriment, that these stools are often poor quality and not meant to hold a full-size American boy . . . so buy a larger one if you're a bit larger than the average Chinese person.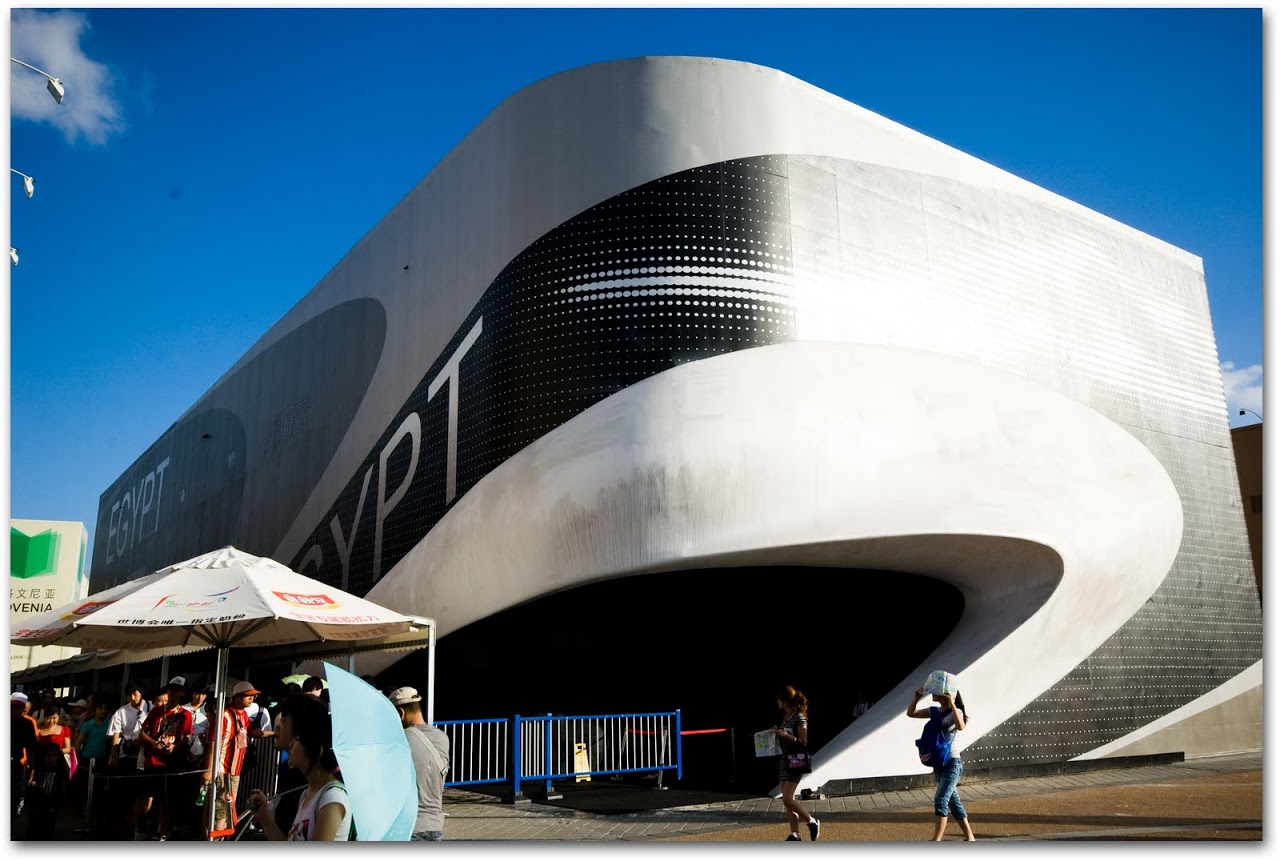 Egypt pavilion (we have no idea why it uses the Nike logo)
2. Find an English language map. The Expo is divided into Zones and each Zone relates to a specific continent.  Restaurants are spread throughout the Expo site.  Zone A (Asia) generally has the longest lines and Zone B (Oceania) generally has the shortest lines.
3. Avoid Saturdays, Sundays, and major holiday s .  Arrive early in the morning.  We went to the Expo at 9:30 a.m. on a Monday and, at first, didn't run into too many lines.  By noon, the place was a zoo.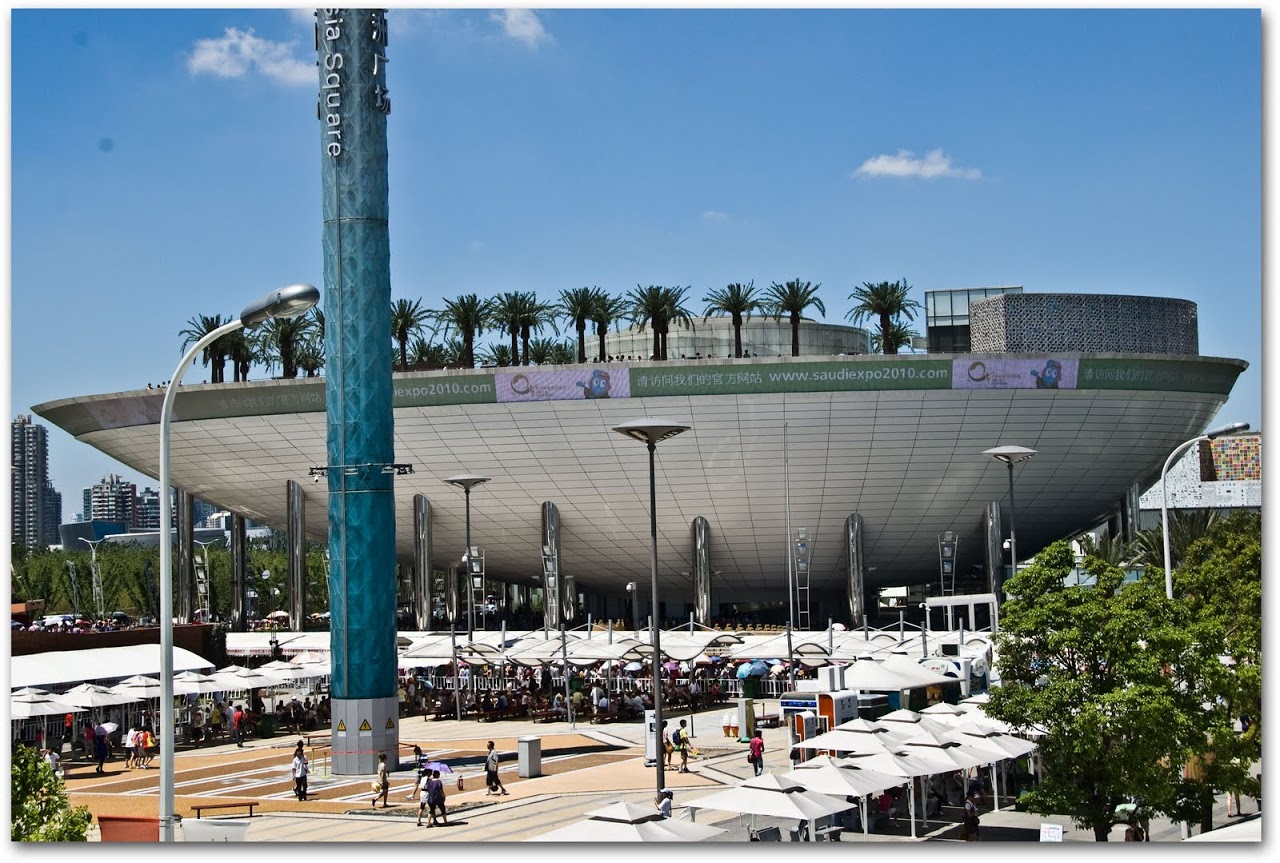 Saudi Arabia Pavilion
4. Expect not to see the biggest pavilions. Lines into the China, Russia, Saudi Arabia, and United States pavilions were running at around 5 hours when we were there.  We met several travelers who hated the Expo but they stood in line the entire day to visit the China and Saudi Arabia pavilion.  [Note: If you want to see the China pavilion, you need to get in line at 8:30 a.m. to be allotted one of the 40,000 reservations for the day.  We did not wait in that line but Keith and Amy at Green Around the Globe said that all reservations were filled within 5 minutes after the gates opened at 9:00 a.m.]
Bahrain pavilion, United Kingdom pavilion
5. Check out the smaller, less popular pavilions .  We had a wonderful time visiting over 15 less popular pavilions.  In particular, we loved the Canada and Bahrain pavilions because they were imaginative, beautifully designed, and had lines of less than 30 minutes.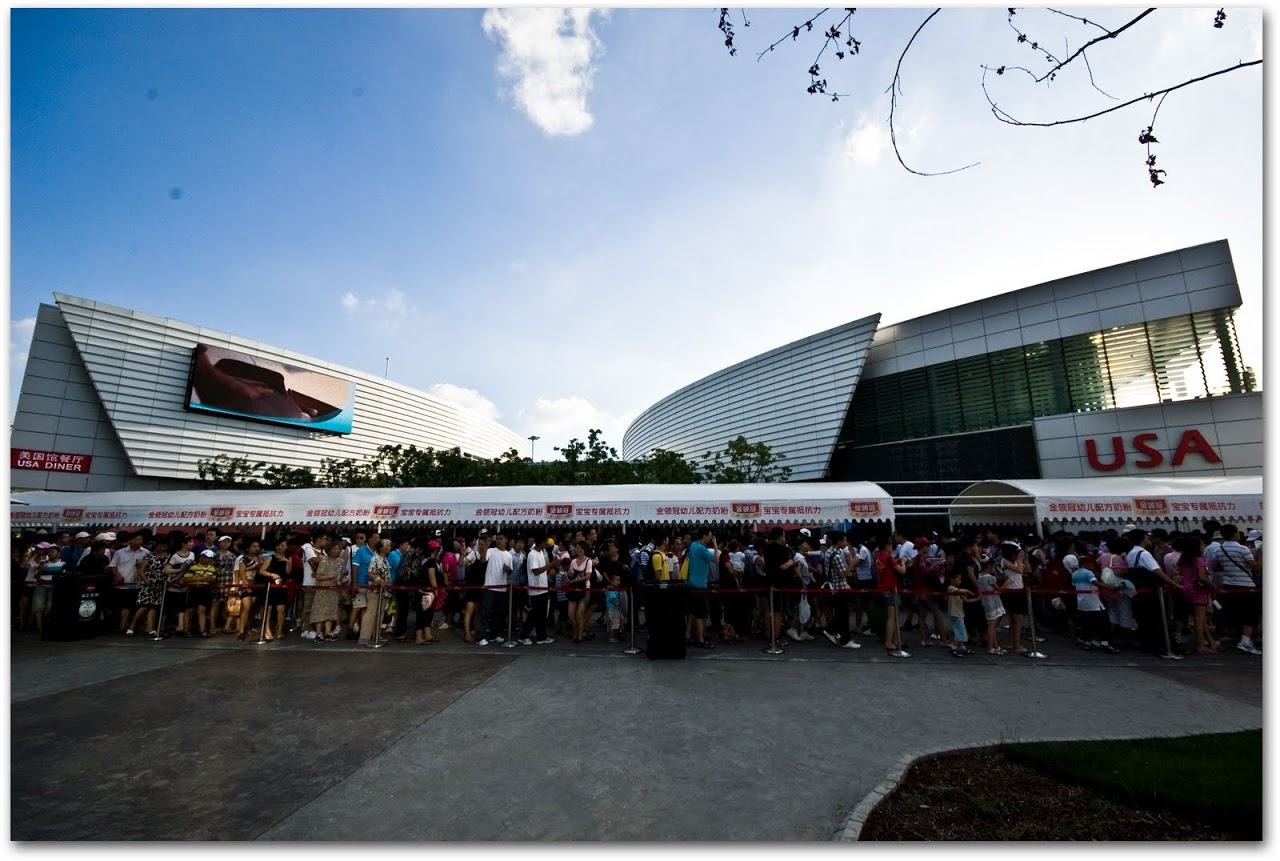 The boring United States pavilion.  We were sorely disappointed by the ridiculous commercialism (the huge screen on the front advertises for Dow, Pfizer, and Johnson & Johnson) and uninspired design.
6. Use those elbows .  When you are standing in line, expect that the Chinese people are going to try and cut in front of you.  It's just their way.  We adopted the quarterback stance, with our legs spread apart and our elbows out, so that people couldn't get past us.  If someone tried to get past us, we turned around and shook our heads and they went back to their position in line.
| | |
| --- | --- |
| | |
| | |
Israel, Malaysia, Indonesia, and Oman Pavilions
7. Don't stand in line all day. The Expo is a bit like Disney World as envisioned by Frank Lloyd Wright.  Most of the pavilions move, curve, and flow in organic shapes that insisted on our admiration.  We spent hours walking from space to space without setting foot in a line.
| | |
| --- | --- |
| | |
| | |
Germany, Ireland, Spain pavilion at night, view over the bridge
8. Bring food or snacks with you .  We waited in line for 1 1/2 hours to eat lunch and an hour to eat dinner.  You will likely need to eat one or two meals at the Expo but having snacks with you will help stave away those in-between hunger pangs.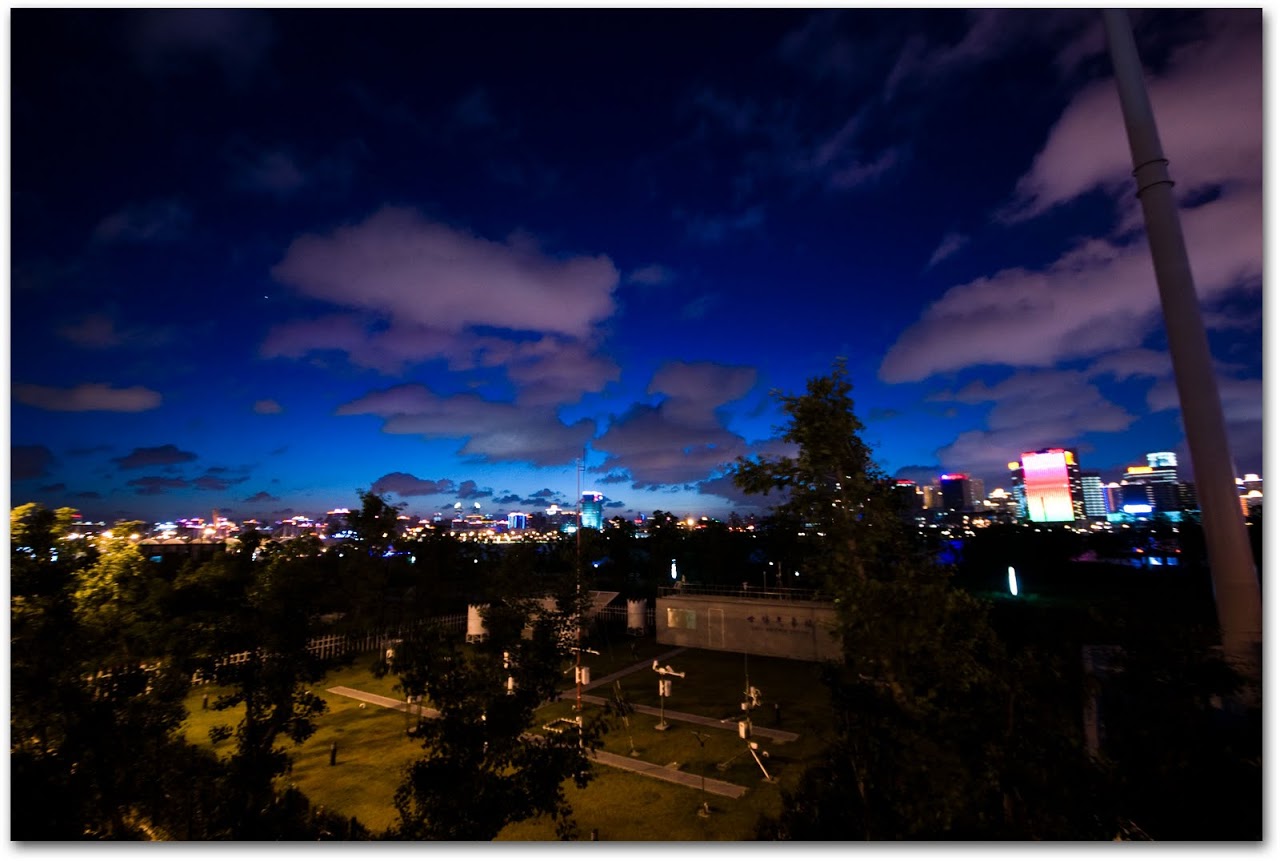 View of Shanghai from the Expo
9.    Stay into the night.  The crowds thin out after 7:00 p.m., the lights turn on, and the Expo becomes a luminescent wonderland.
Other bloggers who have visited Expo 2010:
World Expo Travel Tips , at Christopher Pitts
Top Ten World Expo Pavilions , at Christopher Pitts
Guide to 2010 World Expo , at Art of Backpacking , by Keith and Amy at Green Around the Globe
First Time in the Shanghai World Expo 2010 , by First-Time Travels