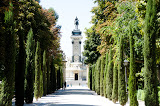 Retiro Park
Travel is such a personal experience.  We've hated places that other travelers loved.  We've loved places that others have hated.  On more than occasion, we've decided that must-see sites are overrated.  We all know this; we understand that travel is about personal taste and experiences and that there are no universally agreed upon "bests" or "worsts."
But, I didn't expect that my own perceptions and opinions about a city would change simply because I've grown older.

Views of the parks and streets in Madrid
I was eighteen when I first came to Madrid with my university study abroad group.  It was my first time traveling abroad without my parents.  Patrick and I had been dating for about nine months and we hated being apart.  I was excited --- ecstatic, even --- to travel to Spain, a country that I'd dreamed about seeing.  But, I was nervous about communicating in Spanish, finding vegetarian food, and getting along with the 30 other people in my study abroad group, the majority of whom hoped to see Spain through an intoxicated haze.

Reina Sofia
I remember thinking that the city was filled with uninteresting concrete buildings as my taxicab took me to my hotel.  We went to the Reina Sofia museum and I was amazed by its assortment of modern art including the rightly famous Guernica.  I called Patrick up one night after walking through the Plaza Mayor and told him about its beautiful immensity.  But, I also remember not being able to converse with locals, walking the quiet streets at night with other students in my group, and being ready to leave after three days.  Frankly, I remembered Madrid as nice but a bit boring.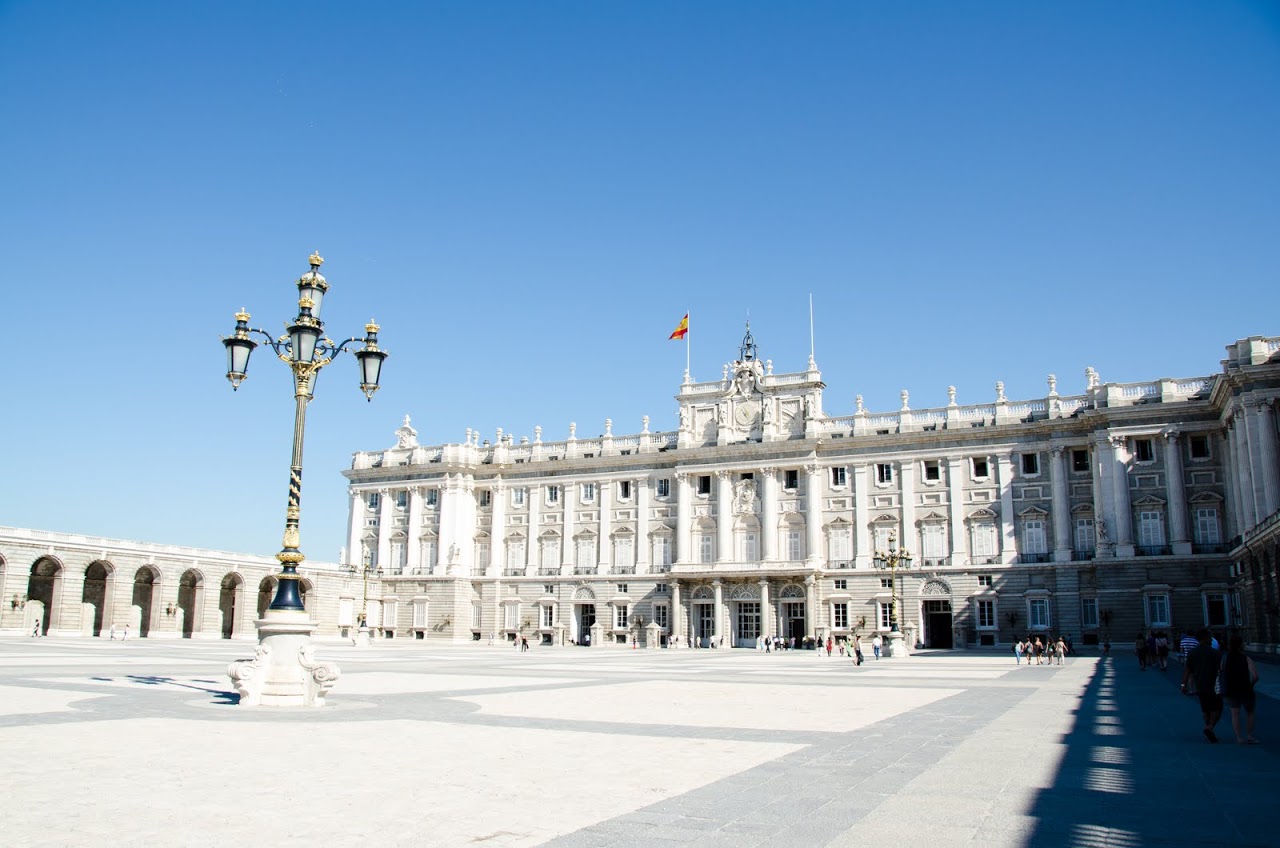 Palacio Real and Reina Sofia
We arrived in Madrid a few months back and I was stunned.  Everything I thought I had known about this city had changed.
Or, maybe the city hadn't changed.  Maybe it was me.
Yes, it was me.  As it turned out, what I wanted in a city and found interesting when I was eighteen is very different than what I want at thirty-two.
This time around, we spent our afternoons wandering with Chewy and Abby through the numerous parks, the trees that sternly guarded the sidewalks, and the vibrant grass.  I conversed in my hesitating Spanish with local dog owners as they told me about their pets or complimented ours.  We watched gray-haired men playing checkers and bocce ball and elderly women walk arm in arm.
Plaza Mayor and Templo de Debod at Parque del Oeste
I loved how slow the city felt.  We walked around in the evenings and, while there was never a crowd, there were always a few people.  We dined alfresco on the cobblestone streets --- something I enjoyed when I was eighteen --- but seemed even more charming now that I shared it with Patrick.  We ate every night at nine o'clock, relishing the slow process of hopping from bar to bar, snacking on tapas and pintxos, and never felt the need to head to the clubs for which the eighteen and twenty-year-olds stood in line.
| | |
| --- | --- |
| | |
| | |
El Escorial
After eight days visiting museums, walking through parks, and eating like a Madrileno, we wanted more.  We wished we were staying in Madrid much, much longer.  We wanted to savor this slow and comfortable place that perhaps may not attract the teenager but was entirely appealing to someone a decade and a half older.