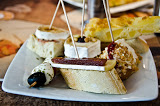 Pintxos at a Barcelona bar
Upon entry into Spain, every tourist should be given a brochure with the following warning: "Time in Spain will necessary result in increased food consumption and caloric intake.  Be prepared to be wheeled out of the country."  The food is so good, abundant, and all-consuming, that it's impossible to diet.  But, we also found eating in Spain to be different (and, at times, more intimidating) than in other places across the world.  Instead of trying to compile a series of tips, restaurant recommendations, or a list of things to eat, I'm going to go through an average day of eating in Spain.
Morning in Barcelona
Breakfast: 8:00 - 10:00 a.m.

Spaniards wake late.  We used to take the dogs for their morning walk at around 8:00 a.m. and we would be amongst the first ones at the park.  By 9:30 or so, we'd pass people stopping in at their local cafes to grab a coffee and croissant on their way to work.  Breakfast is one of the lightest meals of the day.
Pintxos
Tapas/Pintxos: 10:30 a.m. to 1:00 p.m.
The bars begin filling up at around 10:30 a.m. for patrons to stop in for coffee, tea, or a morning beer.  Like many Europeans, Spaniards consider it uncouth to drink without eating, so the bars set out tapas or pintxos around 10:30.
Tapas are small plates of food served at bars.  The word tapa means "lid" because bartenders used to place a thin slice of ham or bread on a glass of wine when serving to patrons to keep away flies and bad smells from the wine.  The patrons began to eat the salty meat which activated their desire to drink more, and bartenders began to invent more small plates to go with the alcohol.
Common tapas include pimientos de padron (roasted small green peppers which are not usually spicy), patatas bravas (fried potatoes with a spicy sauce), jamon y queso (thinly sliced ham and cheese plates), bacalao (salted cod), albondigas (meatballs), and tortilla espanol (Spanish omelette with potatoes).
Pintxos are the Basque region's version of tapas. Pintxo means "spike," an appropriate name because savory or sweet items are spiked to slices of bread with a toothpick.  Though the Basque region specializes in pintxos, we found pintxos in bars all over Madrid and Barcelona.  Common pintxos include cheese with membrillo (a quince paste) or sausages spiked onto the bread.  Usually, a single pintxo costs 1 Euro (though sometimes less).
Tips:
In some bars, you will see food listed at two different prices for either raciones or for tapas . Raciones are large quantities, usually meant to be shared by four or more people at a table. Tapas are sized for either one or two people to share.
It can be intimidating to go into bars where noone speaks English (a common occurrence at some of the smaller bars in Madrid, especially).  Luckily, ordering tapas is as simple as pointing to the food sitting at the bar.
For pintxos, you typically get a plate and serve yourself the pintxos sitting on the counter.  At the end of the meal, a waitress will ask you how many you ate (or if you don't remember, just count up the number of toothpicks on your plate) and you will be charged per pintxo.
Lunch in Madrid
La Comida (Lunch): 1:00 to 3:30 p.m.
At 1:00, the stores and offices close down for la comida and siesta.  La comida, or lunch, is the main meal of the day and patrons pack into their favorite restaurants between 1:00 to 2:30.  Most restaurants advertise a menu del dia , or daily menu, with three or four choices of an appetizer, three or four choices of a main course, and a few dessert choices, for a reasonable price.  The above picture shows a typical menu del dia that Patrick ordered at Terra Mundi , a fantastic restaurant right near the Museo del Prado, in Madrid, of a seafood soup, porkloin, and chocolate custard cake.
Unfortunately, it was difficult to find vegetarian food at la comida and we often passed restaurant after restaurant without finding any options.  At a few places, I found tortilla espanol (and in one place, they offered tortilla espanol made with zucchini shreds which was a nice change) or a vegetarian paella.
Tips:
Though the heaviest meal of the day, la comida can also be your cheapest meal, because many of the menus del dia are offered at around 10 - 14 Euros for three courses.
Plan to eat slowly and steadily.  Most meals at lunch lasted around two hours because the wait staff brings food out VERY slowly (especially in comparison to American meals).  If you're in a hurry, don't sit down to eat at lunch time.  You can make a meal out of pintxos or tapas at a few bars and then be on your way.  If you have the time for a leisurely lunch, find a restaurant that serves a menu del dia.
Expect everything to be shut down between 1:00 to 4:00 other than restaurants and bars.  You will not be able to run errands or even buy simple items at stores during this time.  If you are driving, this is the best time to get to places because the streets will be empty.
After eating, most head home for a short siesta.  Even in September, the midday sun was HOT so we followed suit and rested around 3:00 rather than trying to see sights in the heat.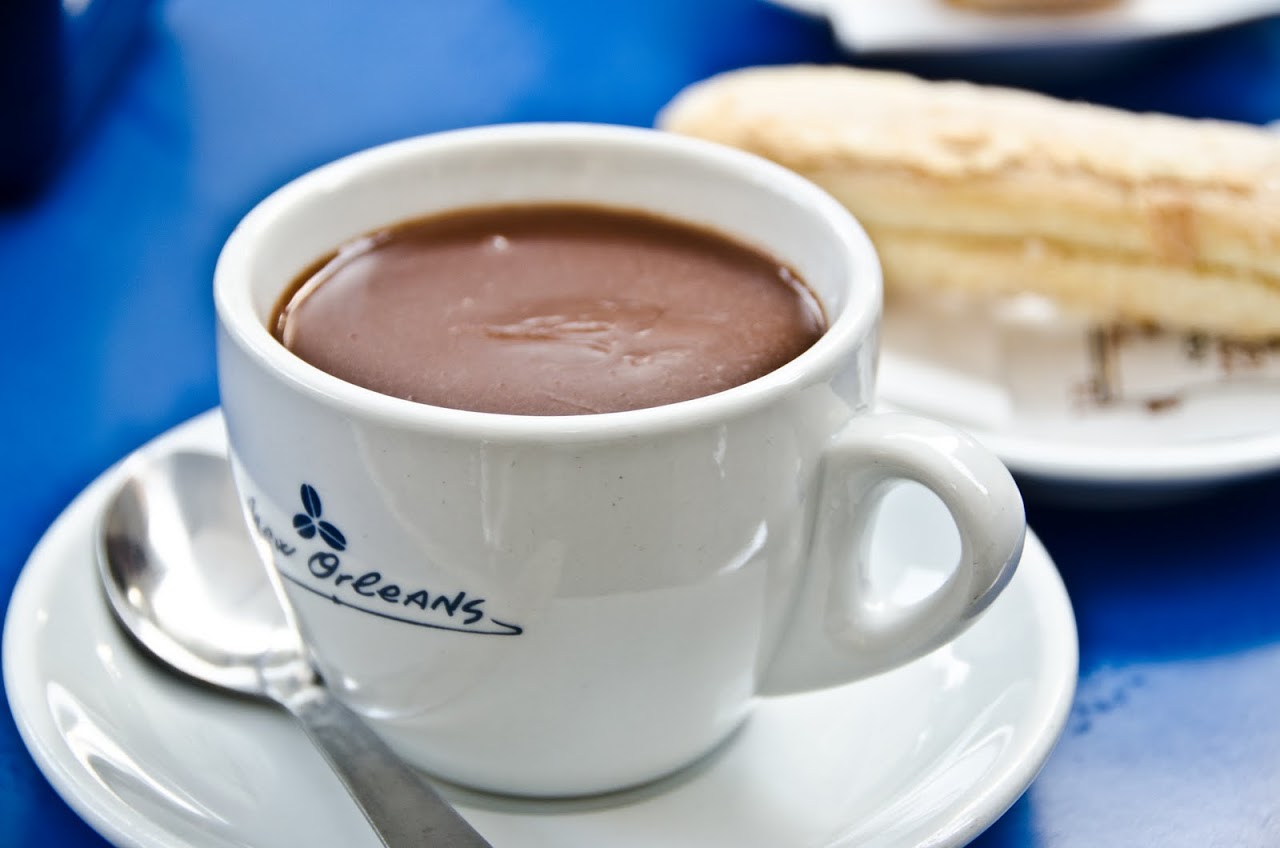 Chocolate and cookies
La Merienda: 5:00 to 6:00 p.m.
Because lunch finishes at around 2:30 and dinner starts at around 9:00, Spaniards head to cafes somewhere between 5:00 to 6:00 for an afternoon merienda, of tea, coffee, wine, and something sweet.  La merienda translates to "snack" or "tea" and is similar to the British cream tea .  We preferred to take merienda with chocolate and sugar cookies but you could also order a small sandwich, churros, or a slice of cake.
A selection of tapas
Dinner: 9:00 to 11:30 p.m.
Dinner is a lighter meal than lunch.  If you've had a heavy lunch, it is perfectly acceptable to go bar hopping in the evening, eating a few tapas or pintxos at each stop.  Otherwise, you could order a roast chicken or grilled fresh fish with a green salad to share.
Tips:
You will never find a Spaniard eating dinner at 7:00 or even 8:00.  The restaurants that serve dinner at those times are oriented toward British/American tourists and likely won't have very good food.  While your body is adjusting to the new eating schedule, our advice is to pop into a bar and get a few tapas to tide you over until 9:00 or later.
We recommend ordering only 1 to 2 tapas in a single bar to start to determine whether you like the food there.  If you like the food, you can always order more.  If you don't like the food, head on to the next place.
Tipping is not common in Spain.
Churros con chocolate
Midnight snack: After 12:00 a.m.
Spaniards are night owls and when the midnight munchies hit, they head to the churrerias , to indulge in thick chocolate with crispy fried dough that sticks to the molten chocolate.  It's the perfect sweet treat to end a day eating in Espana.
A few restaurant recommendations in Madrid and Barcelona:
Terra Mundi , C/Lopa de Vega 32, Madrid - near the Museo del Prado - excellent menu del dia, very popular with locals so expect a wait
Cal Pep , Ciutat Vella, La Ribera, Barcelona - packed with people from 8:00 on, expect a VERY long wait, but the best tapas we had in Spain; they don't have a menu, so ask the waiter what they can prepare.  We ordered hongos (mushrooms), fried artichokes, and sauteed shrimp.  My brother claimed that they had the best Creme Catalan (a lighter custard dessert, kind of like flan), though he didn't share any with us so I can't tell you if it is truly the best.
Pintxos place diagonal from Cal Pep (sorry, I don't know the name), La Ribera - diagonal from Cal Pep, there's a great small bar with excellent pintxos.  We stopped there frequently.
Bar Los Pescadores , Barceloneta, Barcelona - this is a tiny local place right near the Mercat de Barceloneta, which has an excellent inexpensive menu del dia, including some great vegetarian options.  I had a delicious zucchini tortilla espanola there.
More reading on food in Spain: