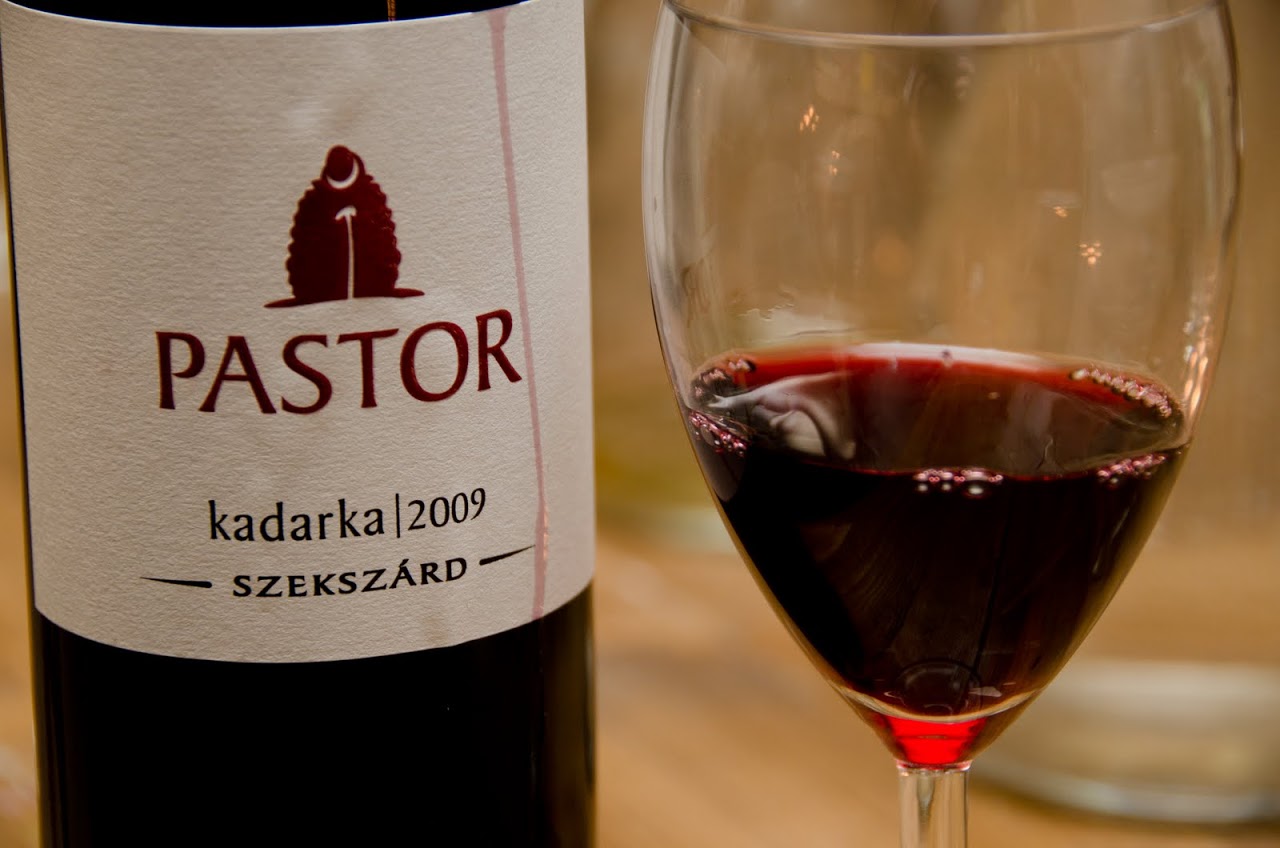 Hungarian red
I've never gone to an American restaurant and said to the sommelier, "Bring me a good Hungarian wine."  (Have you?)  Like most central European wines, Hungarian wine isn't commonly found in the United States.  That doesn't mean that Hungarian wine is of poor quality but rather that wine marketers haven't found a foothold in the American market, as the Italians and French have.
In fact, Hungary has a long history of wine production.  Hungarian and Greek are the only two European languages whose word for "wine" is not derived from Latin, suggesting that wine production began before Roman rule.  Its rolling hills and dry climate made it a prominent wine production region during the Roman regime and when the Magyars came to Hungary, they continued wine production.  Arpad, the first great Magyar king, gifted wine lands in the Tokaji region to his followers.
On Tokaji Aszu
If you know one Hungarian wine, chances are that the one that you're going to know is Tokaji (also spelled as Tokay.)  Tokaji Aszu is the sweet dessert wine produced in the Tokaj region of Hungary.  Celebrated by practically ever famous person on this end of Europe, this amber liqueur has been stored in kings' wine cellars for hundreds of years.  Louis XV referred to it as "vinum regum, rex vinorum" (wine of kings, king of wines).  The Emperor Franz Josef sent Queen Victoria twelve bottle of Tokaji Aszu on each birthday to celebrate each month she lived and, on her last birthday at age 81, she had accumulated 972 bottles.
And, then, Nazism and Communism came along.  Perhaps I'm just too American, wrapped up in my capitalism-oriented history, but I never really thought about what happened to production of food items during Communism.  What happens when you have a highly sought after good, like Tokaji Aszu, and then a new regime comes along, demanding that everyone be paid at the same low wages, key agricultural estates are consolidated under government control, and the government controls the sale and production of that good?
So . . . basically, from 1918 to 1989, very little Tokaji Aszu was produced.  Instead, wine was produced in one huge state-owned vineyard, sold by the cask, and tapped into mugs at local wine houses.  The few bottles of Tokaji Aszu produced were not of high quality and frequently weren't barrel aged.  (For more information on Tokaji during the Communist era, see this article and this book .)
Even still, Tokaji had a reputation during the Communist era.  We met a tall, brown-haired Ukrainian in Budapest who reminisced about the importance of Tokai in his childhood.  Every year, once a year, his parents brought the Tokaji out of the cabinet to savor its flavor at celebrations, weddings, or other special events.  They could make one bottle of Tokaji last years.
After the fall of Communism in 1989, the massive state-owned vineyard was split up and sold to private developers who began reinvesting in Tokaji Aszu and trying to build back up its once sterling reputation.  (For information on the revitalization of the Tokaj region, see this article .)  Now, we found Tokaji everywhere in Budapest, sold at the local grocery stores, the liquor stores, in restaurants, and specialized wine houses.
Here's what you know about drinking Tokaji Aszu:
Tokaji is the world's oldest botrytis produced wine.  Botrytis is a fungus that causes an infection in grapes (and other fruits), basically sucking all of the liquid out of the grape and resulting in an extraordinarily sweet and thick paste.  The rarest Tokaji wine is called Esszencia, which is made of the best Aszu grapes and has very little alcohol.  The more commonly found Tokaji Aszu is created by adding the botrytized paste and adding it to a non-botrytized wine.
The liqueur should be a luscious amber to golden yellow and cling to the sides of your wine glass.
Tokaji Aszu is graded based upon "puttonyos" meaning the number of baskets of grapes used in a particular barrel of Tokaji Aszu.  One puttonyo/basket equals about 20 kilograms of grapes.  A 3 puttonyo Tokaji Aszu is mild and not as sweet and rich as a 5 or 6 puttonyo wine.  (If you look at the pictures above, you'll see that the number of puttonyos is listed under the word Tokaji Aszu.)
In general, a Tokaji Aszu has a mineral nose and the sweet only hits your tongue once you drink it.  It's also a very low alcohol content wine.
Prices range from $10 to $60 USD for a bottle of Tokaji Aszu.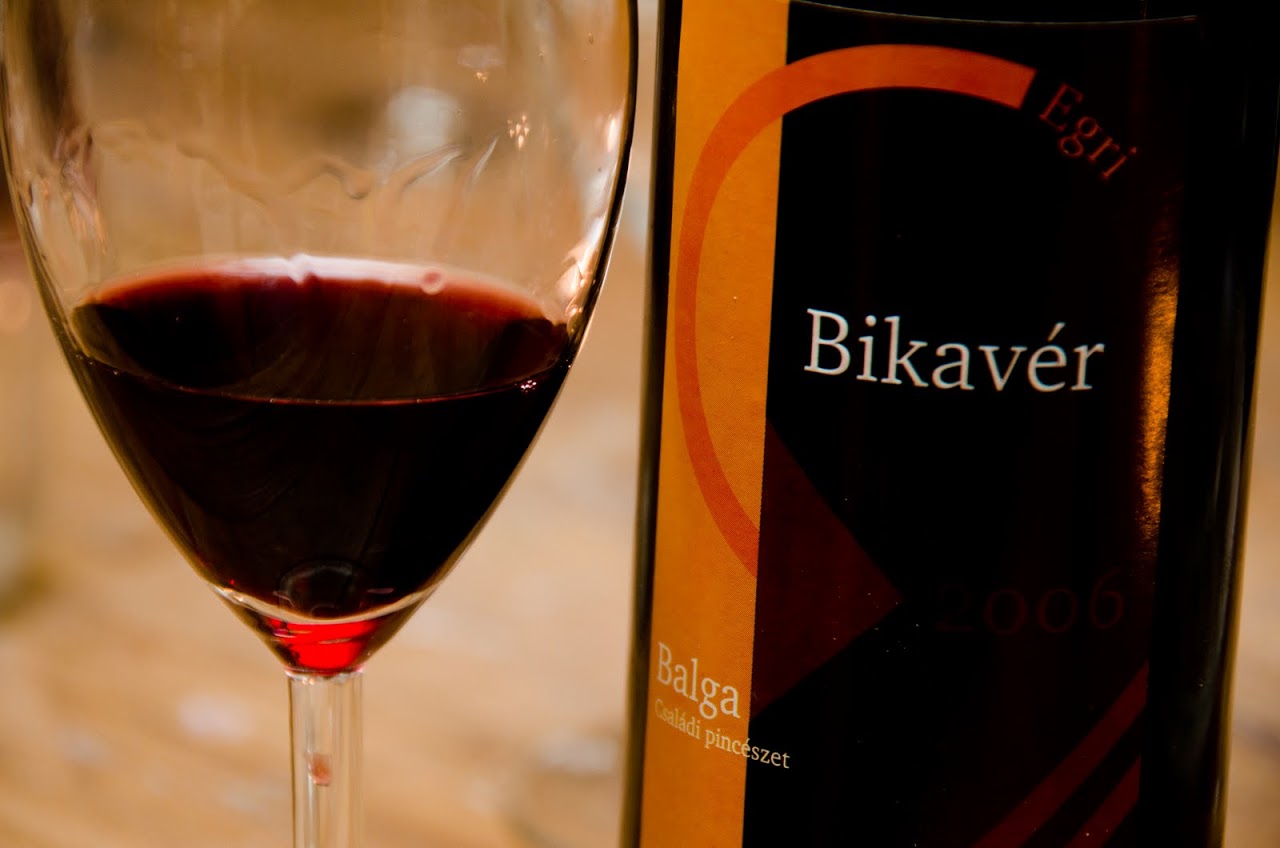 Bull's Blood wine
On Egri Bikaver (Bull's Blood)
In the early 16th century, during fighting with the Turks, the Magyars drank dark red wine prior to the battle.  The Turks, not knowing what it was, believed it to be bulls' blood, something drunk only by the most ferocious Turkish warriors to make them stronger.  The Turks saw all of the Magyars drinking the "bulls' blood" by the barrel and assumed that the Magyars were ferocious warriors (which perhaps they were given all that alcohol they were consuming) and withdrew their siege.
To this day, Egri Bikaver (or Bull's Blood) is a popular Hungarian wine.  It is a dark, rich, thick wine and I can see from afar how easy it was to mistake for blood.  The variety I tried had a somewhat bitter aftertaste but, otherwise, it was much like a drinkable Burgundy.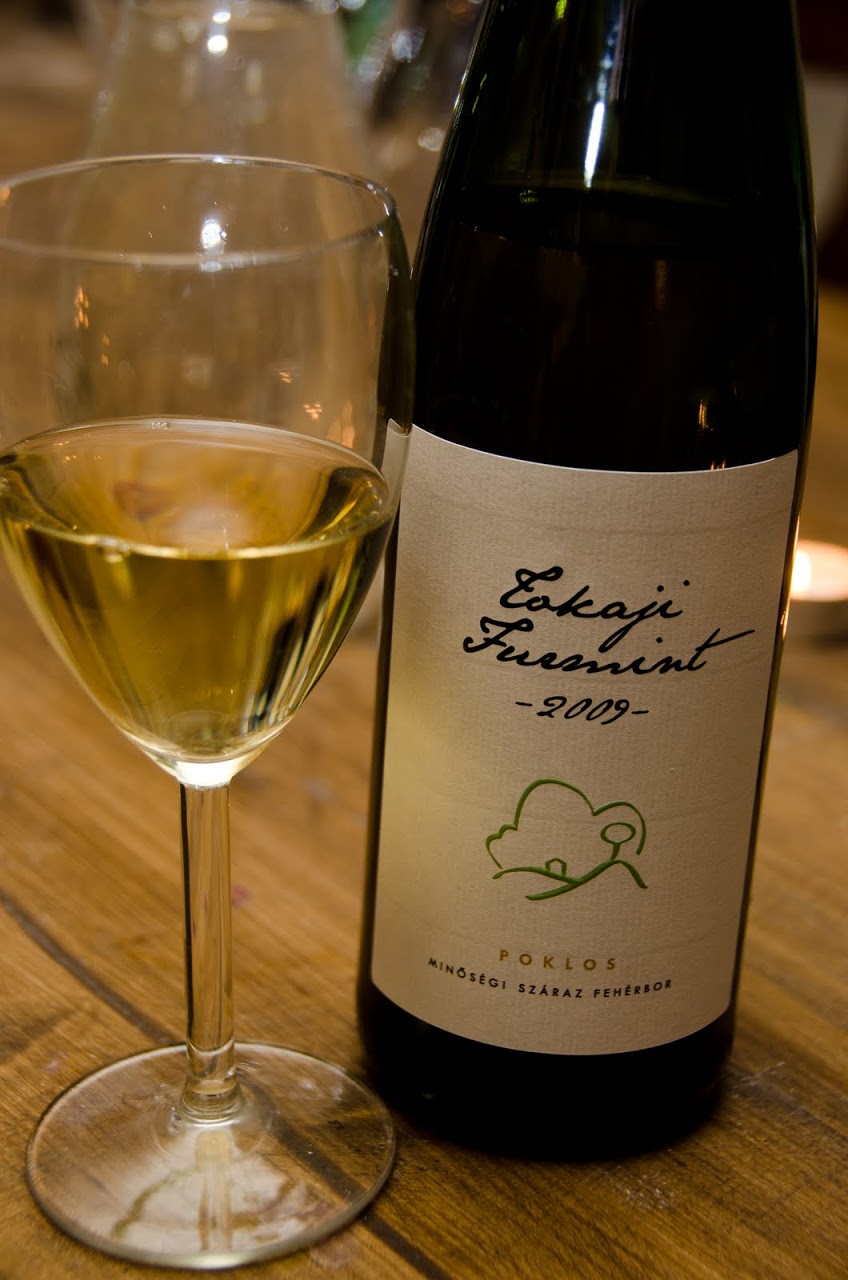 Read more about wine with Natalie McClean's Unquenchable
I find wine history and wine culture to be truly fascinating.  Part of the reason I love wine tours is because I am always amazed by the passion that wine growers have for this extraordinarily tedious and time-consuming task.  We've met vintners who started off knowing nothing about wine-growing, spending years in the early stages struggling to make something consumable, to eventually skyrocketing into mass production.  And, we've met those who intentionally chose to remain as small-time producers, focusing on high quality rather than quantity.
If you're like me and want to learn more about wines from unusual places, I can think of no better book to guide you through the world's forgotten wine realms than Natalie MacLean's Unquenchable .  Both a hilarious personal account of her journey across the world searching for great wines and vintners, and a beat-by-beat guide to wine production and choosing lesser-known wines, this book will have you thirsting and laughing from page one.  She does an excellent job showcasing the faces of modern wine from the first black vintner in South Africa to the personality behind Pensfold's famous wines and made me want to go and meet more of these wonderful wine personalities.  (She, unfortunately, does not devote a chapter to Hungary's wines, but I was absolutely enthralled by her Canadian wine section --- who knew that Canada had such excellent wines?  Not me.)
Buy this book.  You won't regret it.  (Even if you don't buy this book, you should go over to Natalie's fantastic site .  It is an INCREDIBLE resource for any wine lover.)
* Note: Penguin Books provided me a complimentary copy of Natalie's book and Viator sponsored our food and wine tour through Budapest .  I specifically didn't discuss Viator's tour in this post because I didn't feel like it gave enough in-depth information for the knowledgeable foodie, though it is a very good price.  I would not recommend this particular Viator tour.  All opinions are, as always, mine and mine alone (oh, and sometimes Patrick gets a little bit of say in what I'm going to write.).