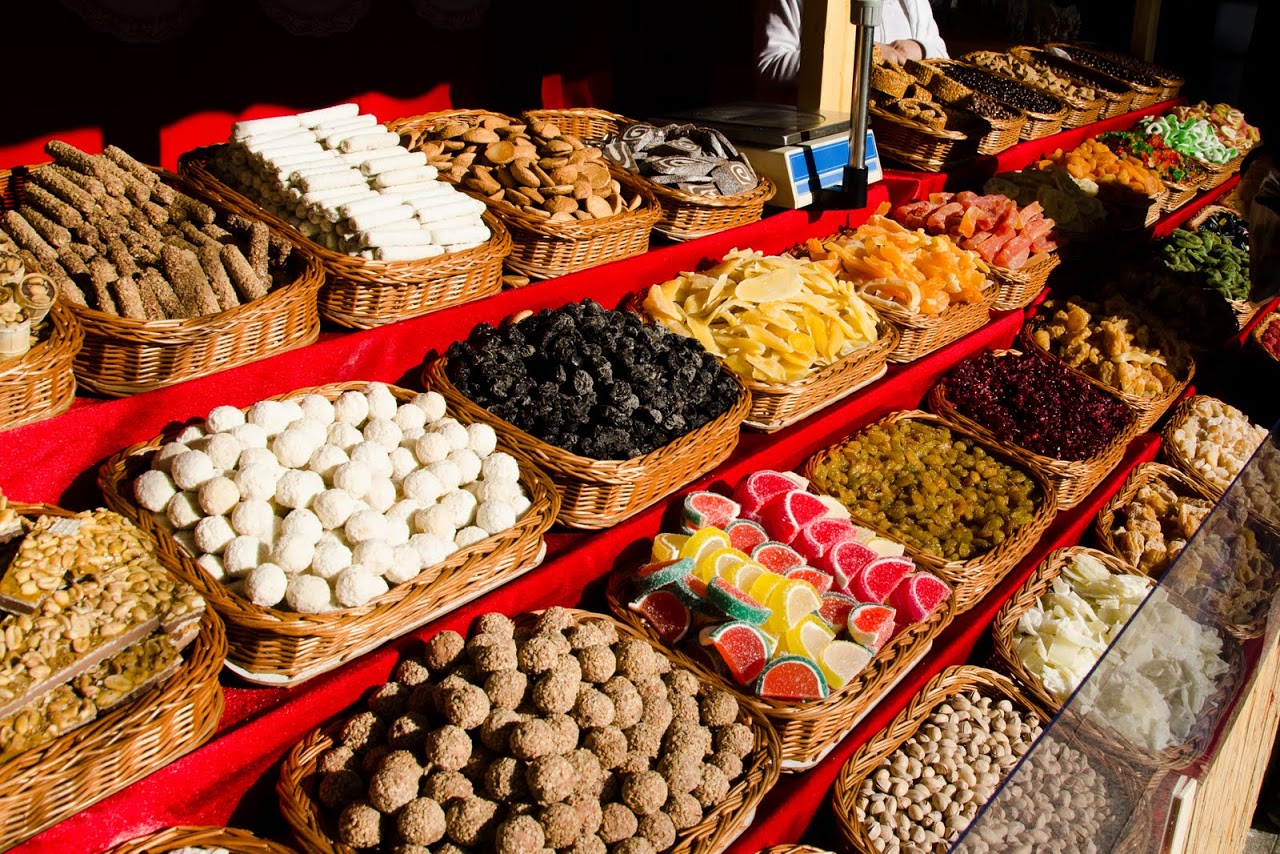 Budapest fruit and candy stand
Come over here and sit by me for a spell.  I'm going to tell you something that you might not know . . . something that's drowned out in the buzz about Italian, French, and Spanish cuisine .  Though I'm a bit obsessed with pintxos, brie, and gnocchi, I've carved out a special spot in my stomach for Hungarian cuisine.  And, I suggest that you do the same.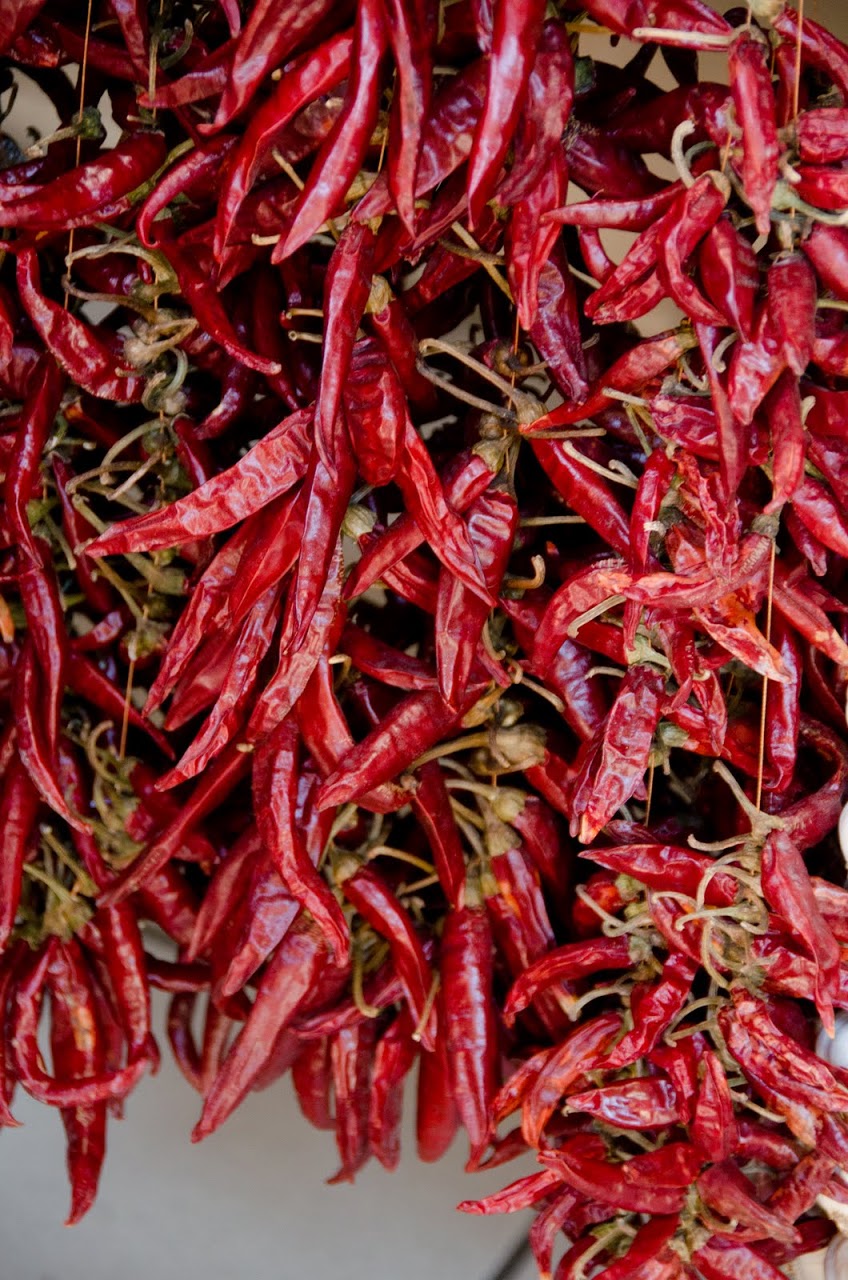 Peppers at the Great Market Hall
About Paprika
I only knew two things about Hungarian cuisine before we reached Budapest: that it is famous for its paprika and sweet Tokaji dessert wine, and I only knew those things because Tolstoy's gluttonous Oblonsky indulged in both in Anna Karenina .
Peppers and paprika are indeed essential to Hungarian cuisine though it's important to remember that they are a relatively modern ingredient.  Chile peppers are indigenous to the Americas and were therefore only introduced to Europe after Columbus's voyage to the Americas.  It's believed that Hungarians first began using peppers during the 16th to 17th century while the Turks ruled in Hungary.
Paprika and paprika paste for sale at the Great Market Hall
To make paprika at home, a (usually) woman dries a large bunch of chile peppers or bell peppers and grinds the peppers using a specialized grinding tool or a modern food processor.  In Hungary, there are at least fifteen varieties of paprika, ranging from very hot to mild and sweet and the color of the paprika powder depends on the variety of pepper used in the grinding.  A dull orange paprika is the hottest variety while bright red is usually mild and sweet.  Paprika, as with most spices, should be used quickly because it loses its flavor and color within a year and especially if exposed to light.
In addition to paprika powder, Hungarians also use a paprika paste which is basically crushed and mashed whole peppers, which again ranges in flavor from sweet to spicy.  The paprika paste is a condiment typically found on every Hungarian table.

Beef goulash and csipetke
About Goulash (and soup/stews in general)
After a few days in Budapest, Patrick astutely observed that Americans have no idea what goulash means.  I see this word "goulash" being thrown around all the time, even by major magazines, but most American goulashes have no relation to Hungarian goulash.  (Sorry, Paula Deen, but goulash definitely does not contain soy sauce and elbow macaroni).
Okay, so to begin with, let's talk about that word goulash.  The dictionary believes that goulash means hodgepodge or a mix of different items and, yes, that's how we in the United States tend to think of it.  We toss together a bunch of different meats and veggies into a thick stew and we've got goulash.
But, the word goulash originated from the Hungarian word gulyas, meaning sheepherder.  Magyar sheepherders often used to spend nights on the Carpathian mountains moving herds from place to place and needed something quick and easy to eat.  The simple solution was a soup or stew which they could make in one pot over an open fire with their favorite seasoning --- paprika --- and, thus, gulyasleves (literally herder's soups) were born.

Beef goulash and cspiteke (notice the difference in consistency and color with the one above; actually the top one tasted better because it used spicier paprika hence the darker color)
The basic recipe is as follows: chunks of meat are browned in a pot with sliced onion and oil or lard (goose fat is also often used), paprika is added, then water or broth, and any additional seasonings or potatoes to thicken the stew.  This very basic recipe has evolved into hundreds of variations, from the popular bean gulyas made from beef short ribs and beans to versions with lamb, sour cream, and so on.  Some versions include tomato paste to thicken the flavor while some home chefs claim that the acidity of tomatoes counteracts the sweet-spiciness of the paprika (we preferred the goulash recipes without tomatoes in them).
Either way, the goulash is served usually with csipetke, a homemade flour and water based pasta pinched and folded over each other, or rice.  Often, a poached egg or sour cream will be served with the goulash.
The key to goulash, therefore, is not the type of meat or vegetable used or the mixture of meats and vegetables.  Rather, the two consistent items to a goulash are paprika and that it be prepared in one pot.  Good goulash consistently has a strong sweet-spicy flavor resulting from a lot of paprika used.  So, if you search for a recipe for goulash and it doesn't have paprika in it (and a lot of paprika at that), then you can be fairly assured that the recipe is not for Hungarian goulash.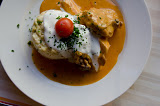 Chicken paprikash (notice the creamy consistency versus the lack of cream with the goulashes)
Before we stop talking about goulash, you have to understand that there are many goulash-like dishes, including paprikash (of When Harry Met Sally fame) which is made by simmering paprika, sour cream, water/broth and flour together to create a creamy sauce in which the chicken or veal is cooked.  Or, there is porkolts which is a less soupy version of goulash, made by combining paprika, meat, and water together to create a thick curry-like consistency.
And, then, there are the soups.  Soups are integral to Hungarian cuisine---probably because the ancient Magyars found soups to be a convenient and healthy food that they could make while riding horses and herding farm animals.  We couldn't pass up the medley of soup dishes offered (especially as we were both nursing sore throats and low fevers).  My favorite was a super spicy mushroom soup in hot paprika broth, though we also tried Jokai bean soup (made with beans and pig trotters), creamy garlic soup, and a duck consomme.
0;
Some favorite Budapest restaurant picks
Kiskakukk Etterem, 1137 Budapest Pozsonyi Way 12, near St Istvan Park: This cozy restaurant is decked out in woods and bookshelves and has been a Hungarian staple since 1913.  The food is excellent and solid traditional Hungarian fare.  Their mushroom soup was one of the best soups I've ever had, with large field mushrooms floating in a eye-tearing spicy paprika broth, and Patrick loved their spicy and creamy chicken paprikash.  Their version of the apple strudel blew us away with paper thin apple slices sprinkled liberally with cinnamon and sugar and packed between a light phyllo-like crust.  We liked this place so much that we tried to return two different times but were turned away because they didn't have availability.  Call ahead to book or arrive early or on the weekdays.  We paid $42 USD for our meal here including two appetizers, two entrees, two drinks, and one dessert.  More mentions of Kiskakukk here and here . [Unfortunately, we forgot the camera this night so no pictures here but, trust me, this place is worth a trip.]
Lunch at Menza Etterem
Menza Etterem , Liszt Ferenc ter 2, Budapest 1061, Hungary, near the Oktogon and close the Opera House: This chic restaurant is in a green leafy park off the main American fast food-oriented drag at the Oktogon.  Menza literally means "cafeteria" and the Menza Etterem is a tongue in cheek modern take on an old Communist canteen, replete with 1970s orange furniture and puke green vinyl.  Like the decor, the food is modernized Hungarian with a few surprises.  Before even venturing into the food, I must tell you about their excellent juice spritzers.  Neither of us drink alcohol in the afternoon and so we usually end up ordering lunch with a boring old soda or water; but, at Menza, we were pleasantly surprised to find a huge array of juices including an absolutely delicious winter lemonade consisting of grapefruit and orange juices, sparkling water, ginger, cloves, and honey.  I had a luscious creamy garlic soup and Patrick had their spicy Jokai bean soup.  For my main, I had a pecan encrusted goat cheese salad and Patrick had their beef goulash with noodles.  We paid $40 for two appetizers, two lunch entrees, and three of their delicious juice spritzers.  More mentions of Menza Etterem here and here .  (This is a great lunch stop while sightseeing near Heroes' Square and the Opera House).
| | |
| --- | --- |
| | |
Fried mushrooms and garlic soup at Pozyoni Kisvendeglo
Pozsonyi Kisvendeglo , 1137 Budapest, Radnï¿œti Miklï¿œs Street 38, near St Istvan Park:  This local tavern produces traditional Hungarian fare at cheap prices and in huge portions.  Their fried mushrooms stuffed with local cheese is practically a meal in itself and absolutely delectable.  Their garlic soup is creamy but not as subtle as the one I had at Menza Etterem and Patrick loved the spicy beef goulash he ordered here.  They don't take credit cards here but, frankly, it's so cheap that you can get away with paying with the loose change sitting in your pocket.  The portions are immense --- plan not to eat for at least 24 hours after going here --- and everything comes out quickly.  We paid $22 USD here for two appetizers, a soup, and oneentrees but that was WAY too much food; when we came back the second time, we ordered two appetizers and one entree for about $15 USD.  More mentions of Pozsonyi Kisvendeglo here and here .
Dinner at Borkonyha Wine Kitchen
Borkonyha Wine Kitchen , Sas Utca 3, Budapest 1051, near St Stephen's Basilica:  This posh restaurant produces Hungarian fusion cuisine and is well known for its excellent selection of Hungarian wines.  (If you're not a drinker, they also have excellent locally sourced grape juices there.)  Though quite upscale and more expensive than the other restaurants mentioned here, we enjoyed our meals.  I had a mushroom cake over beet relish and Patrick had the duck consomme for our starters; for our mains, I had the almost-too-creamy pumpkin ravioli and Patrick had perfectly cooked pork over potatoes and greens.  We shared a chocolate souffle cake for dessert.  We paid $79 USD for two appetizers, two entrees, and one dessert, plus three glasses of wine and three glasses of juice.  More mentions of Borkonyha Wine Kitchen here , here , here , and here .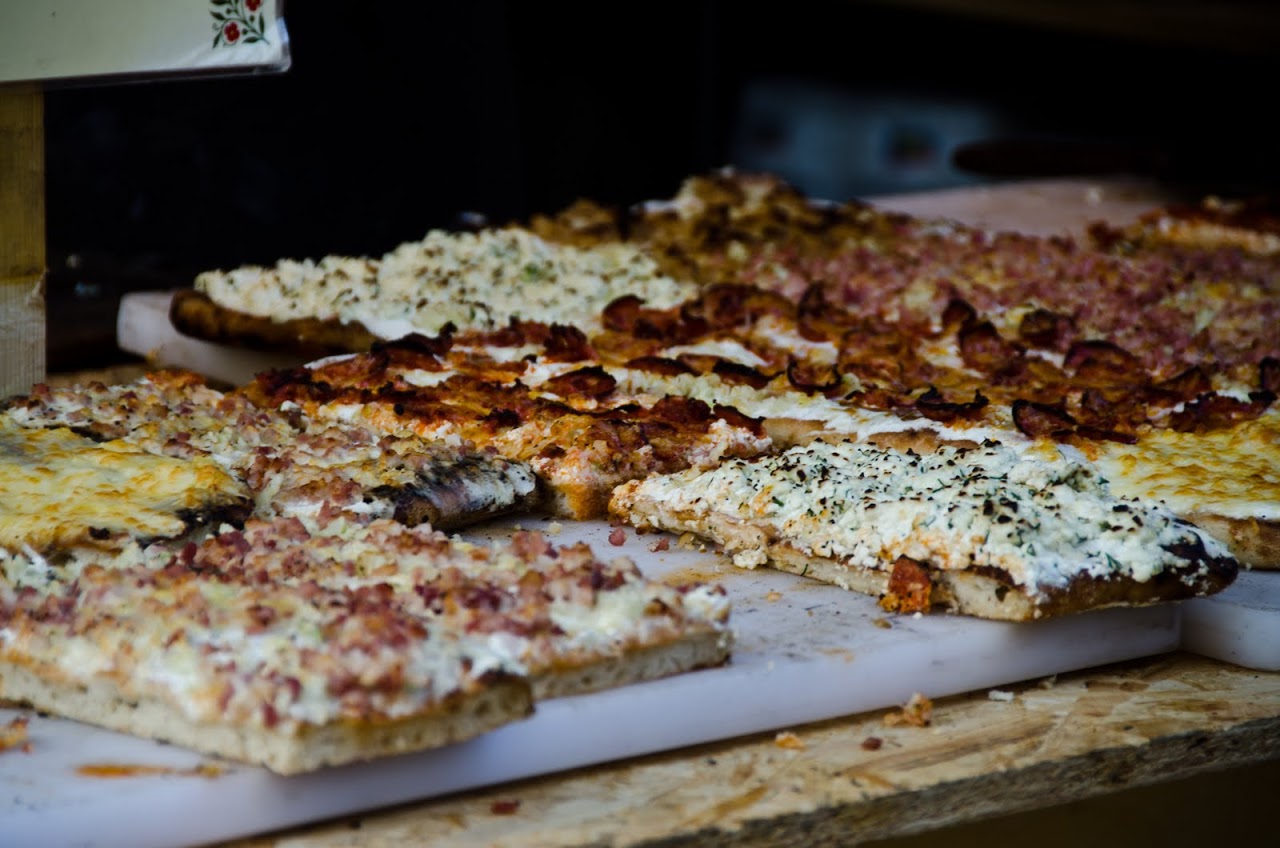 Langos in Budapest street stall
Random Thoughts on Eating in Budapest
As with most Central European countries, Hungarian food is not known for its vegetarian-friendliness.  However, I found it very easy to order a number of side dishes to make a good and varied vegetarian meal.  In particular, I found it very easy to find vegetarian soups because many soups are made with a paprika base rather than using chicken or beef stock.  There is a heavy focus on cheese, as well, and stuffed vegetables with cheeses are very common in many of the taverns and local Hungarian restaurants.  All in all, I found it easier to eat as a vegetarian in Budapest than in Cannes, France.
For a quick and easy lunch, there are a few street food stalls spread out that sell langos, a thick flatbread with toppings, and stalls that sell dried fruit and other easy to grab foods.
Tipping is expected in Hungary.  Our guidebook mentioned that tips are even required for medical staff when going to the hospital.  We tipped between 10-15% for every meal.
Hungary is not yet on the Euro, but rather you pay using Hungarian florints, making Budapest the cheapest major city we've visited in Europe so far.  It is in negotiations to convert over to the Euro within the next five years, so I expect prices to increase at that point.
English is very commonly used in Budapest and many menus (even in local taverns with primarily Hungarian clientele) have English translations.