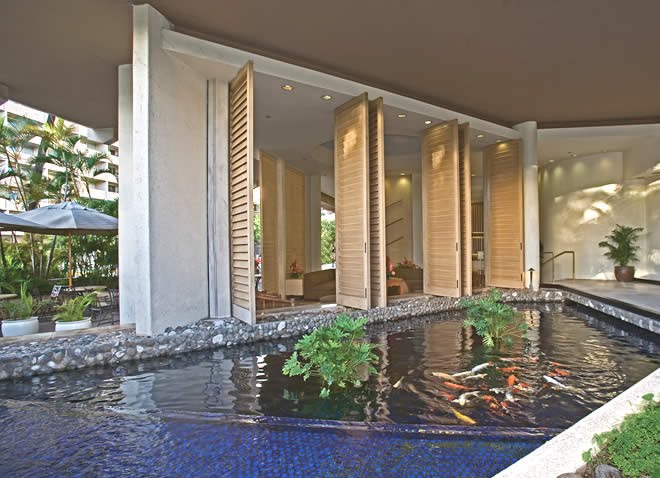 Maile Sky Court lobby
If you're like me and need a respite from the snow-packed, gloomy winter we've been having, this is the post for you.  In our biggest giveaway yet, one lucky person will win a 5-night stay at the Aqua Maile Sky Court Hotel in Waikiki Beach, Honolulu, Hawaii .  In case you konked yourself out when you hit your head in amazement at this giveaway like I did when I got the email from the Aqua folks, let me repeat that for you: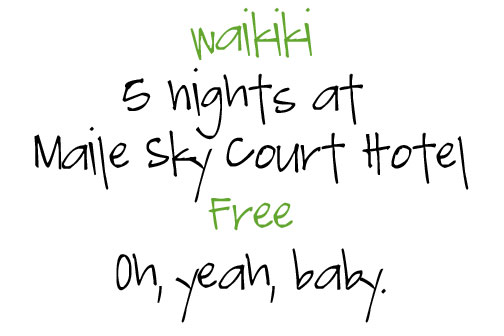 I haven't been to Oahu in over 15 years but I remember a sapphire ocean and sky that rushed into the emerald green island.  We are currently watching all of the LOST Seasons in a row which causes us to: (1) reminisce about our favorite show ever and (2) want to get on a plane and fly to Oahu immediately.
Maile Sky Court Hotel

We have (unfortunately) not stayed at any of the Aqua Hotel properties but this particular one has received good reviews at TripAdvisor .  Though it is certainly a budget option --- rooms start at $90 --- former guests pronounce it "clean," with "friendly staff," nice "views of the ocean," and, most importantly, "good location."  The property is located just a few blocks from the beach and the main shopping area and restaurants.
If you'd like five nights of free accommodations at the Maile Sky Court [and who wouldn't?], just a few minutes' walk from Waikiki Beach, enter this giveaway in any of the following ways:

1. Leave us a comment telling us why you want or need a vacation in Waikiki or on Oahu. Please enter this way only once a day (you can use the same answer every day or you can use different ones, too).
2. Tweet the following on Twitter once a day: I entered to win a 5-night @aquahotels stay in Hawaii from @theroadforks http://bit.ly/hrF1iP
3. Like The Road Forks Facebook fan page .  Please leave a comment below letting us know that you liked our page.

This giveaway ends at 11:59 p.m. EST on March 11, 2011, which gives you two full weeks to comment, Tweet, and like this giveaway.  If my calculations are correct, if you comment and tweet every day, you have a total of 29 possible chances to win this free hotel stay at Aqua Maile Sky Court!  Some blackout dates apply and the 5-nights-stay must be used by March 11, 2012.  I will randomly choose a winner using random.org.
* This giveaway was sponsored by Aqua Hotels & Resorts , who operate resorts on five Hawaiian islands.