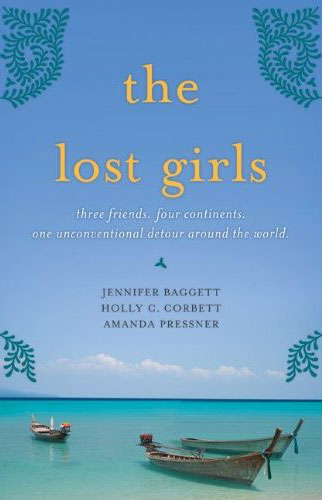 Four years ago, when our round-the-world trip was a passing thought in our stream of consciousness , Jennifer Baggett, Holly Corbett, and Amanda Pressner, three 20-something friends, left their careers in journalism to travel around the world for a year, dubbing themselves The Lost Girls .  I was hooked on their blog as soon as I read their 20 Reasons We Took Off (my favorite being #4, "We want to ban the phrases 'in the loop,' 'per our conversation,' and 'out of the box' from our daily vocabulary.")  At that time, I was still working long hours at my law firm, spending my weekends at Home Depot for renovation projects, and cramming quality time with Patrick and our dogs in the remaining few waking hours.  I was completely and totally blown away by the gumption of these women to leave behind their lives, careers, and relationships for the thrill of the open road.  I wanted that to be my lifestyle.
A week ago, I received a review copy of their new book: The Lost Girls: Three Friends. Four Continents. One Unconventional Detour Around the World.
The book is written from the first-person viewpoint of all three women; each woman writes a chapter and the story progresses sequentially, a la The Sound and the Fury .  This was a clever way to structure this book because each woman has specific challenges that she wants to resolve: one is obsessed with her career, another is searching for faith, and the third is looking for romance.
These women left New York City because they were bored and bogged down and wanted to do something daring and inspiring to revitalize their lives.  They had serious wanderlust and needed to satisfy their desire to see the world.  And, they didn't clamp down on their dreams, shutting it out with short two-week trips, but instead, took the leap out the door and into the world.
The book beautifully details the intensity of their lives when they stepped out of their comfort zones.  They talk in no uncertain terms about the horrors of long-term travel, from sleeping in stinky hostels with even worse toilets to dealing with unscrupulous strangers and wearing the same clothes over and over again.  They laugh about the silly and crazy adventures that happen to them like setting up a dance class in Kenya or their difficult hike up the Inca Trail.  They cry over their fears, sorrows, and romantic struggles (and there are quite a few of those).
Most importantly, these women describe a truth about humanity, a truth that I believe with all my heart:  there are good people in this world.  They talk about people who welcome them, care for them, help them, and touch them, like party-goers in Buenos Aires, an old woman in a Vietnamese market, and an orphan child in Kenya.  (This also leads to the only negative to this book: the cast of characters is huge and, at times, I lost track of who was who.)  The more I travel, the more I see what they see: in every country, every place, people love, laugh, hurt, anger, and live.
Travel is a gift --- a gift of realization, discovery, beauty, and joy.  These girls gave themselves that gift and, in return, they formed a sisterhood, built out of the closeness from living with someone 24 hours a day for nearly 365 days.  Four years ago, the Lost Girls helped inspire us to walk out our door and head into that Great White Somewhere.  I hope that you will read this book and feel the same way, even for just a short while.
To get you started on that path, I am giving away a copy of The Lost Girls book.  Woohoo!  All you have to do to enter is leave a comment below telling me one travel destination that is on the top of your bucket list and why .  You'll get extra entries if you tweet about this giveaway, or post on Facebook, or on your own blog.  Just let me know below that you tweeted, Facebooked, or posted on your blog about this giveaway or copy our Twitter ID (@theroadforks) so I give you credit for posting at the various places. All entries must be submitted by 5:00 p.m. EST on Friday, May 14, 2010 . And, sorry international readers, but you must be a resident of the United States or Canada to participate.

I'll go first:  Antarctica, because there is something magical about an uninhabited land built of ice.  And, I would like to pretend that I am Superman in his Fortress of Solitude.