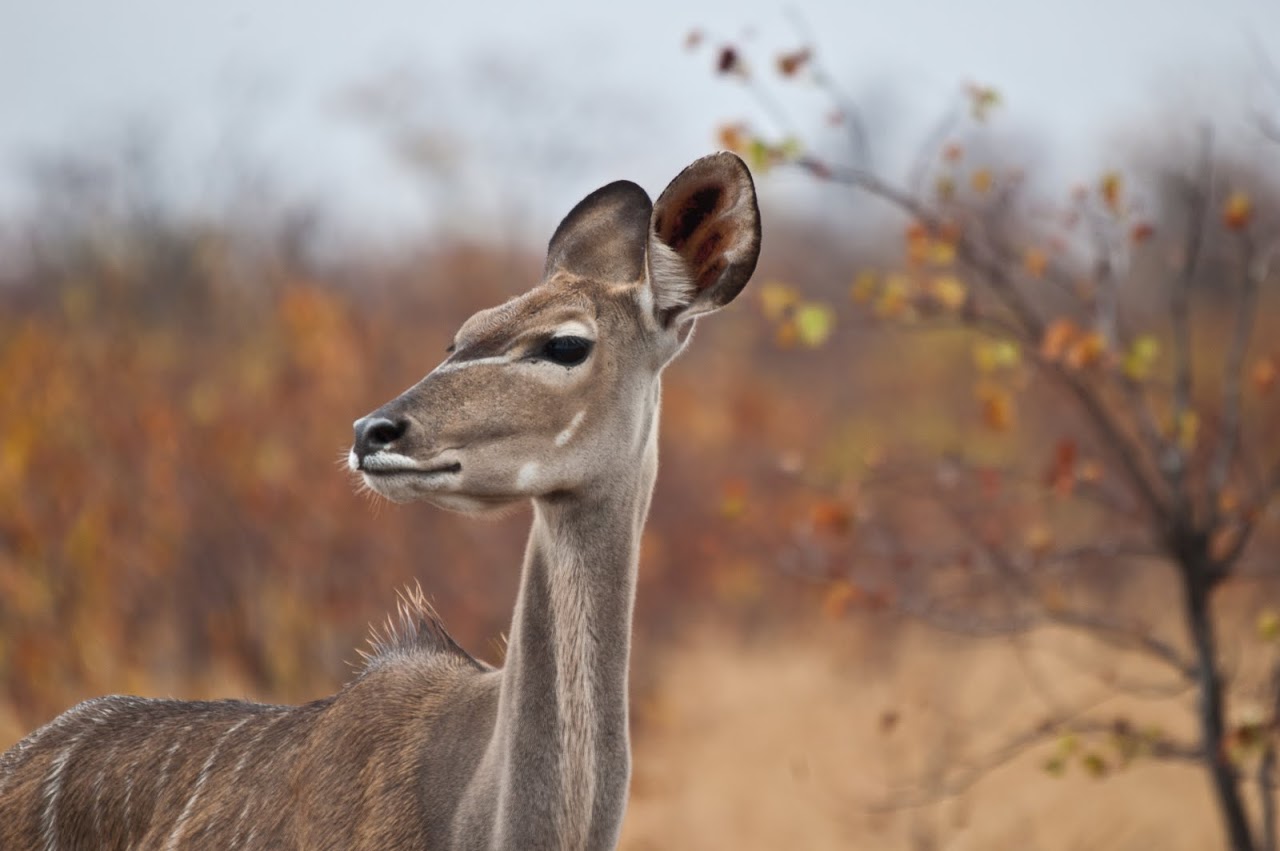 Nyala
To date, my most difficult travel planning experience was for our trip to Kruger National Park in South Africa.  It happened like this:  I picked up guidebook; said guidebook told me that Kruger is a MUST SEE attraction; guidebook refused to explain how to travel independently without tossing gobs of money in the direction of the private game reserves.  Traveling independently within Kruger is no secret to South Africans but when we told foreigners that we traveled through Kruger on our own, the invariable answer was, "I didn't know you could do that."  You can and you should.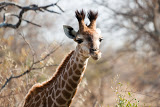 Baby giraffe
I'm going to break this down for y'all like I wish someone had broken it down for me because I spent far too many hours thumbing through multiple guidebooks, creating obscure calculations of costs and expenses, and generally gibbering at Google.  Today, I am going to walk you through the first series of options: private game reserve versus Kruger and independent driving versus a safari driver.  Then, next week, I'll talk about how to plan a self-drive trip into Kruger and suggested itineraries.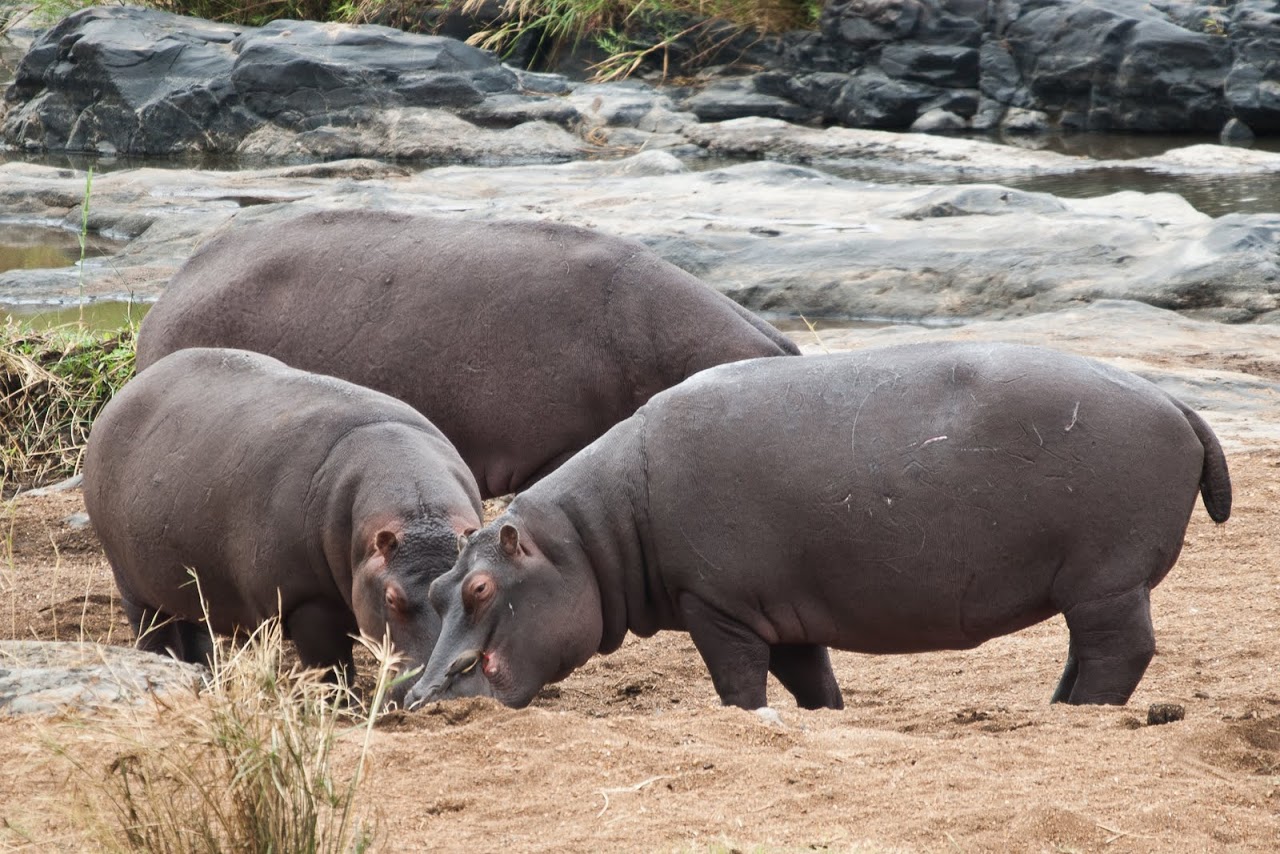 Hippos sleeping
What is Kruger National Park?
Kruger National Park is a vast national wildlife reserve in South Africa, covering over 7,000 square miles.  It is approximately the size of Wales or Rhode Island in the United States.  Kruger became a South African national park in 1898 and until recently, huge electric fences surrounded the park boundaries, preventing the animals from leaving the wildlife preserve.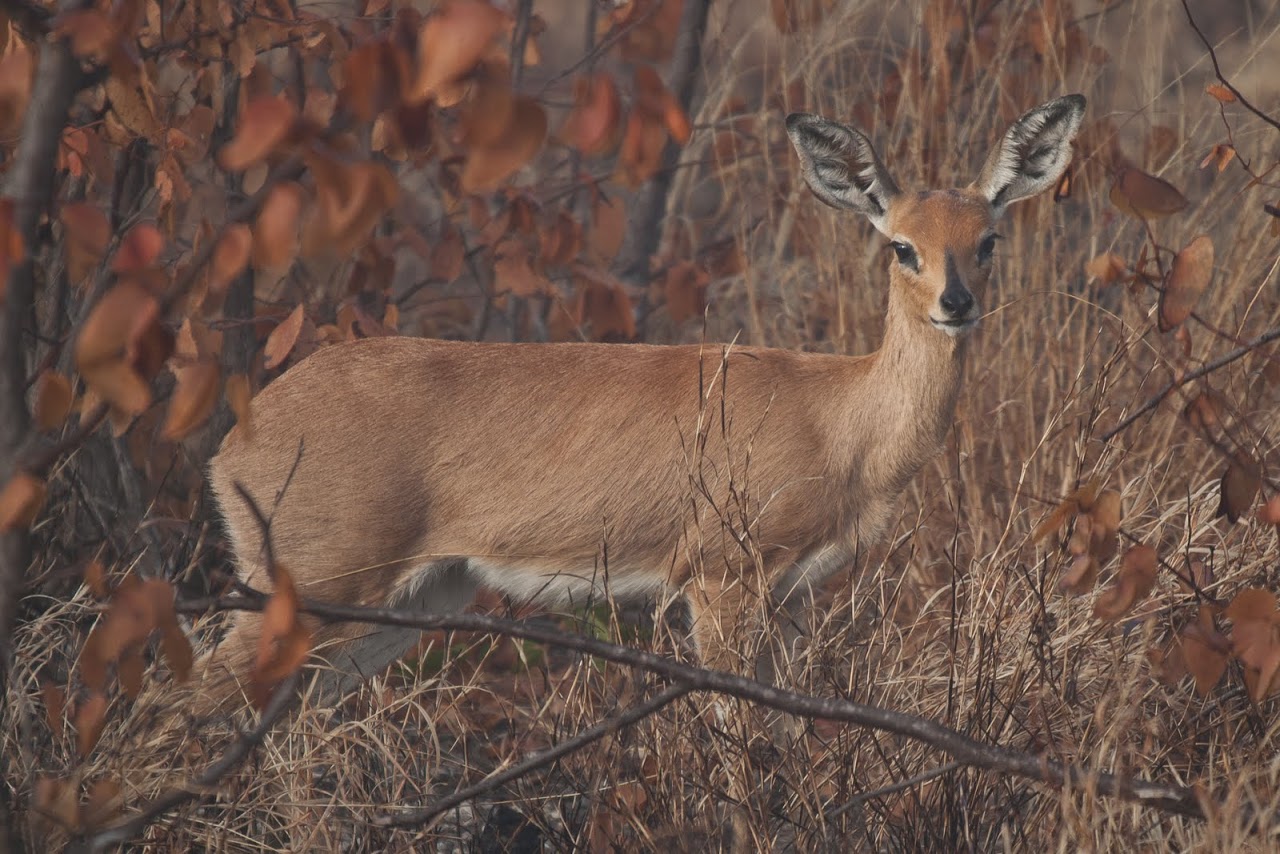 In 2002, South Africa, Zimbabwe, and Mozambique agreed to take down the fences between their countries' national park borders so that Kruger National Park, Limpopo National Park in Mozambique, and several parks in Zimbabwe will be joined into a new park designated as the Great Limpopo Transfrontier Park.  Of the three countries' parks, Kruger has the highest concentration of wildlife and we were told by the wildlife rangers that they hope more animals will begin migrating into the other countries to increase worldwide populations, especially of the endangered species.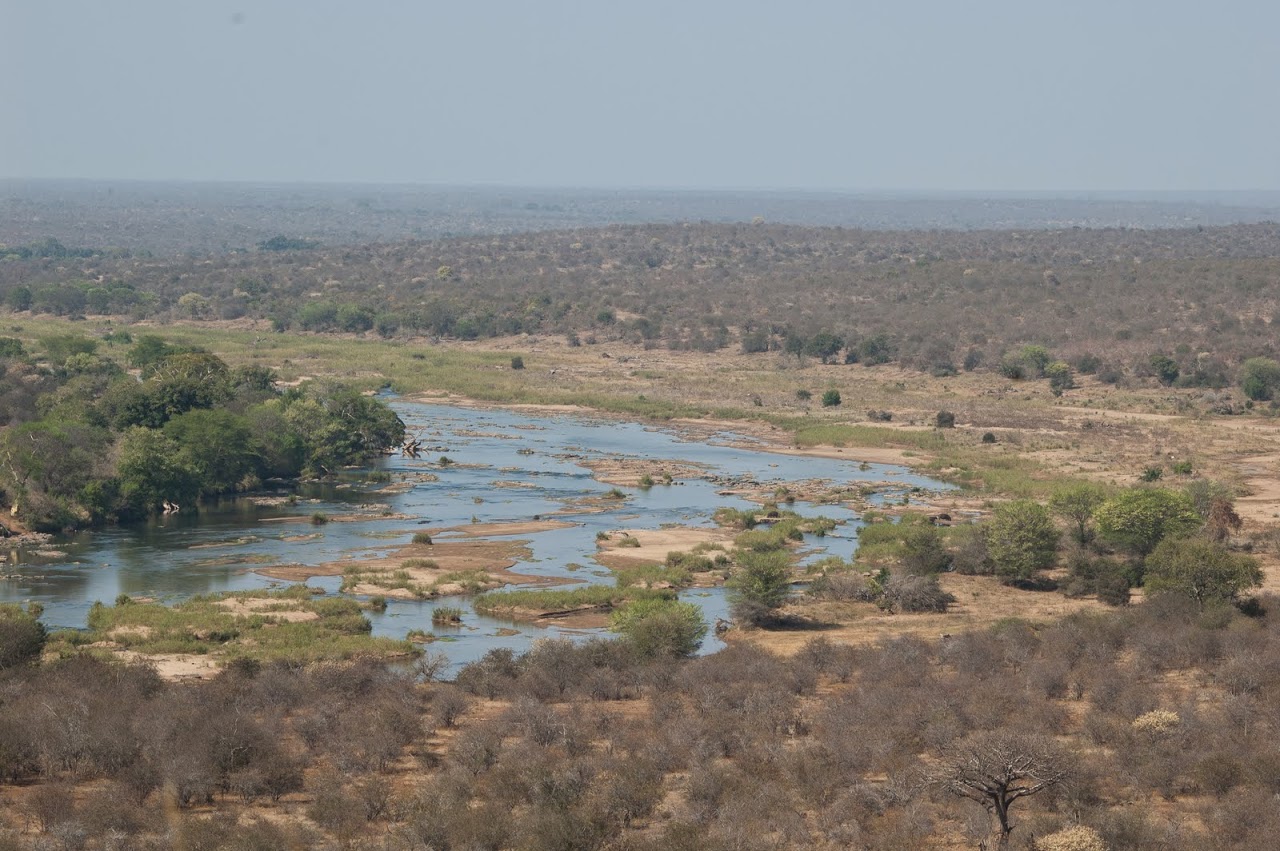 Olifants River
What all this means is that the Kruger "borders" matter only to us humans.  The wildlife can go anywhere they wish but we must go through customs and immigrations to enter the other parks.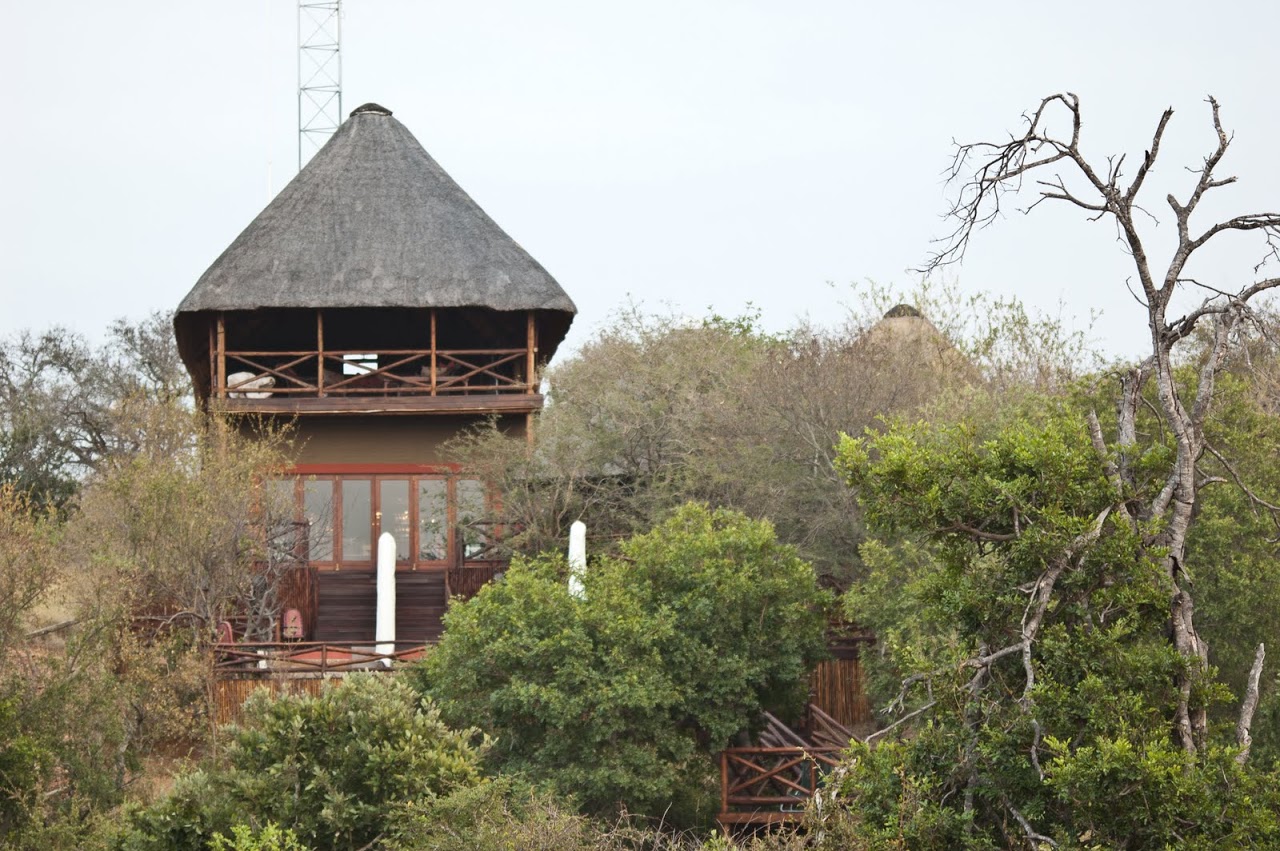 Naledi Bushcamp in Balule Private Game Reserve
Should I stay in a private game reserve or Kruger National Park?
Private game reserves are privately owned reserves adjoining Kruger without fences.

Private game reserves are exactly what they sound like:  private property owned by private organizations and in which animals roam freely.  There are a large number of private game reserves attached to the Kruger boundaries.  Prior to 1993, these parks were completely fenced in . . . sometimes resulting in heavy concentrations of predators versus grazers, causing malnourishment or death amongst the animals.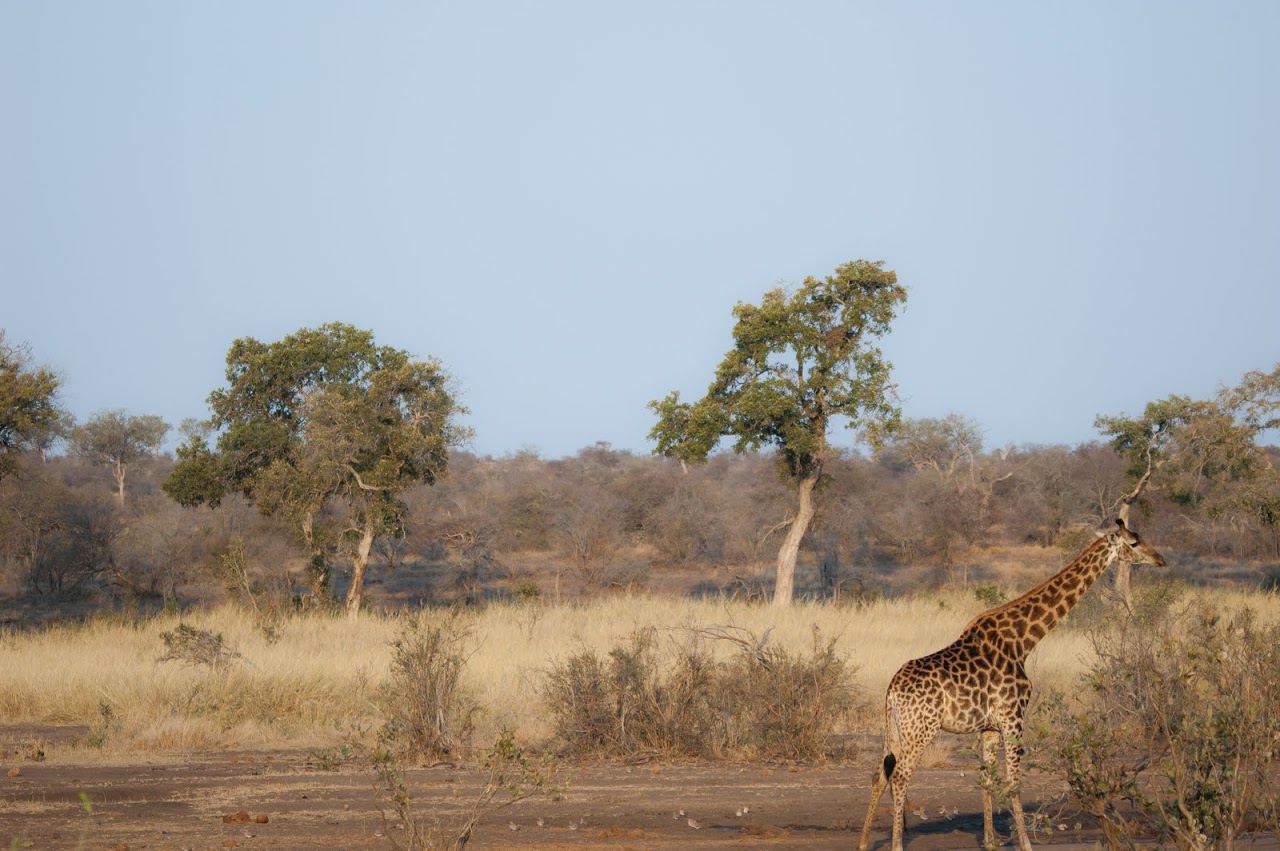 Giraffe in Balule Game Reserve
In 1993, Kruger agreed to take down its fences that separated it from many adjoining private game reserves, collectively known as the Associated Private Nature Reserves, which includes Sabi Sands, Timbavati, and Thornybush.  When you "enter" a private game reserve, you are entering a man-made boundary because the wildlife in Kruger National Park can roam through all of the private game reserves.  As our guide at Naledi Bushcamp told us, once we entered Balule Game Reserve, the next nearest fence was in Mozambique.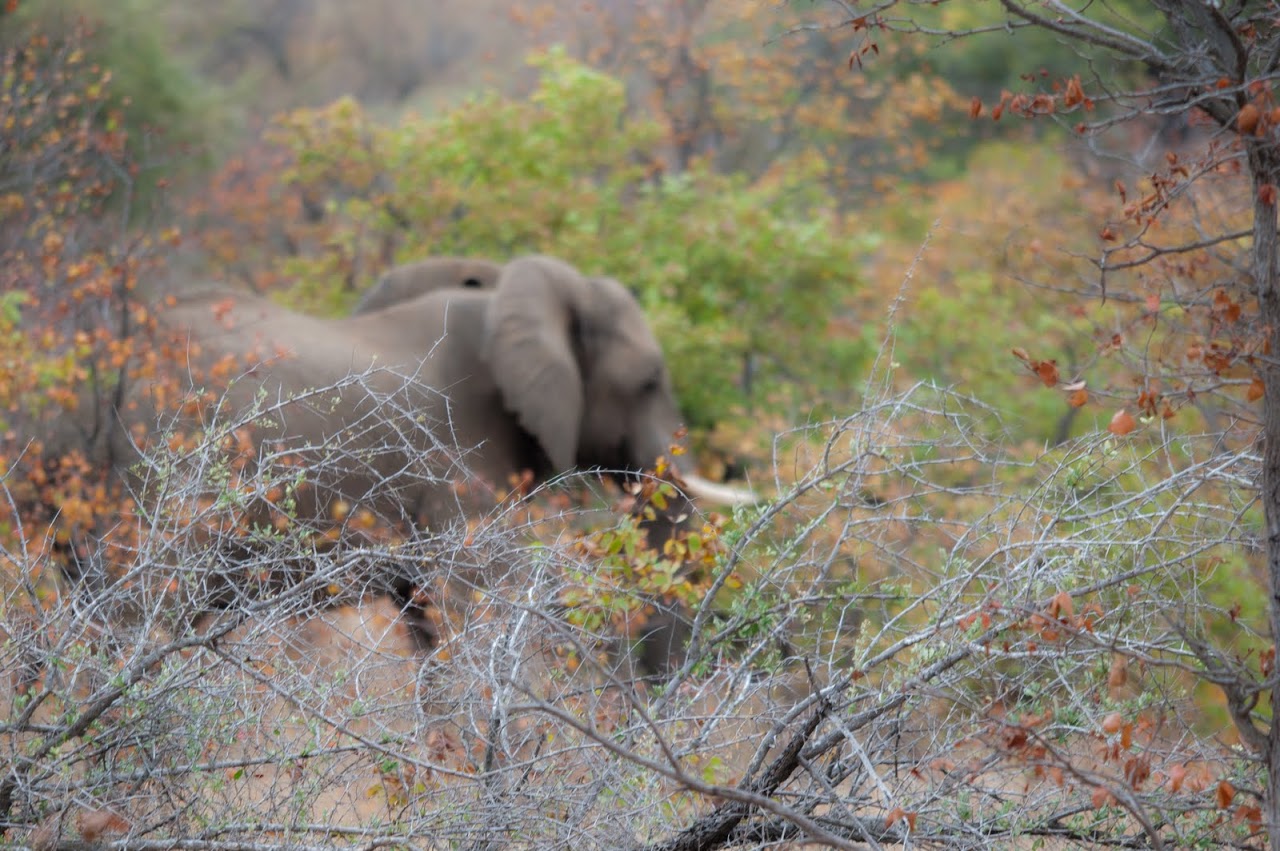 Private game reserves allow big game hunting.
Yesterday, GoDaddy CEO Bob Parsons came under fire for posting his video shooting a bull elephant in Zimbabwe.  [I am not linking to that video because I frankly find it a reprehensible practice and don't want to give it more link hits, but you can Google Bob Parsons to find it.]
The truth is, almost every private game reserve in South Africa allows big game hunting.  When you land at Johannesburg's international airport, you will see a huge sign in customs for those who want to bring their guns into the country.
Bull elephant running
The reason private game reserves allow big game hunting: money.  To kill a bull elephant, a hunter must pay around $30,000 to $40,000 for the permit PLUS hire a professional big game hunter to go with him/her on each day hunting PLUS pay for his/her accomodations during the time.  If the hunter does not cause a clean kill, the professional game hunter will kill the animal because the reserve, understandably, does not want an injured elephant roaming through the reserve.  Our guide explained that the hunt for one bull elephant results in about a $100,000 profit for the private game reserve.  Most private game reserves allow two to three big game hunts every year involving bull elephants (such as the one Bob Parsons killed) because they stay apart from the remainder of the animals, can be abusive or harmful to the environment, and are not endangered, but nyala and kudu hunting are also common.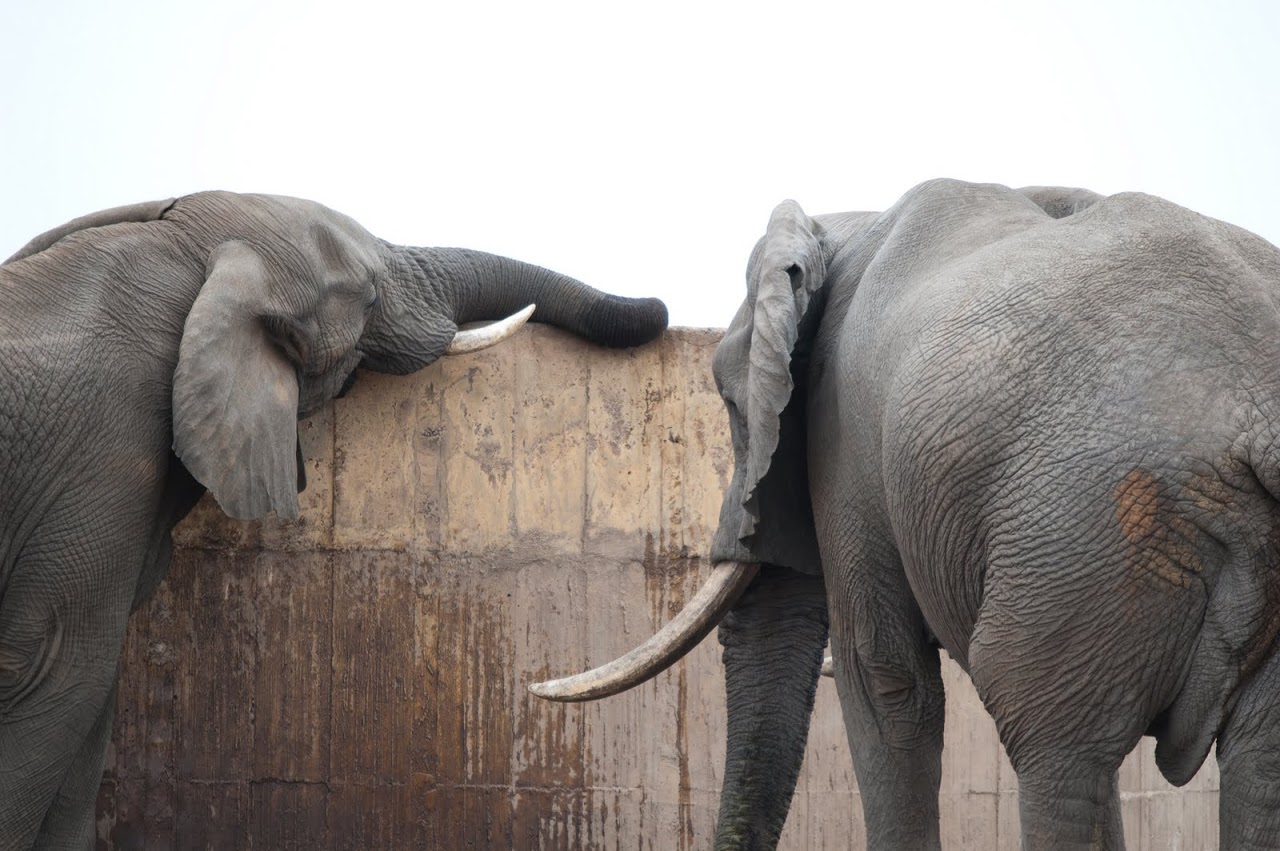 Elephants in Kruger drinking water
If you're moving your domains from GoDaddy today because you disapprove of big game hunting, then you may want to avoid private game reserves, as well.  Kruger, because it is a national park, does not allow any hunting within its borders.  At minimum, if you are planning a trip to a wildlife reserve in South Africa, consider talking to the booking agent about big game hunting at the place you plan to stay.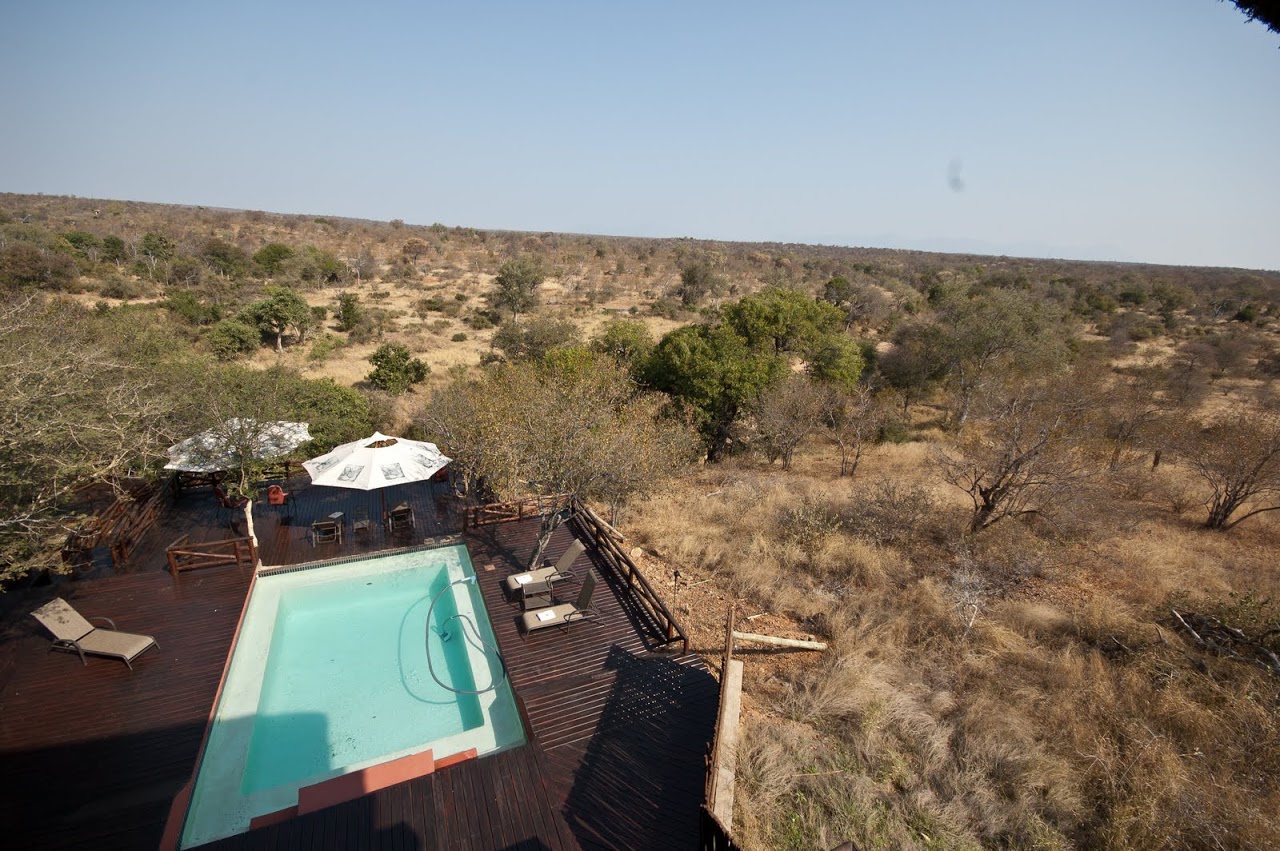 Pool at Naledi bushcamp overlooking a small watering hole
Private game reserves are generally all-inclusive, luxurious, and less packed.
The biggest difference between Kruger and a private game reserve is the same difference between a hotel and a luxury resort . . . the amenities.  Private game reserves are traditionally five-star experiences, complete with a luxurious room, delicious food served everyday, game drives in which you sit back and enjoy watching.  In a private game reserve, the reserve takes care of every part of the safari experience.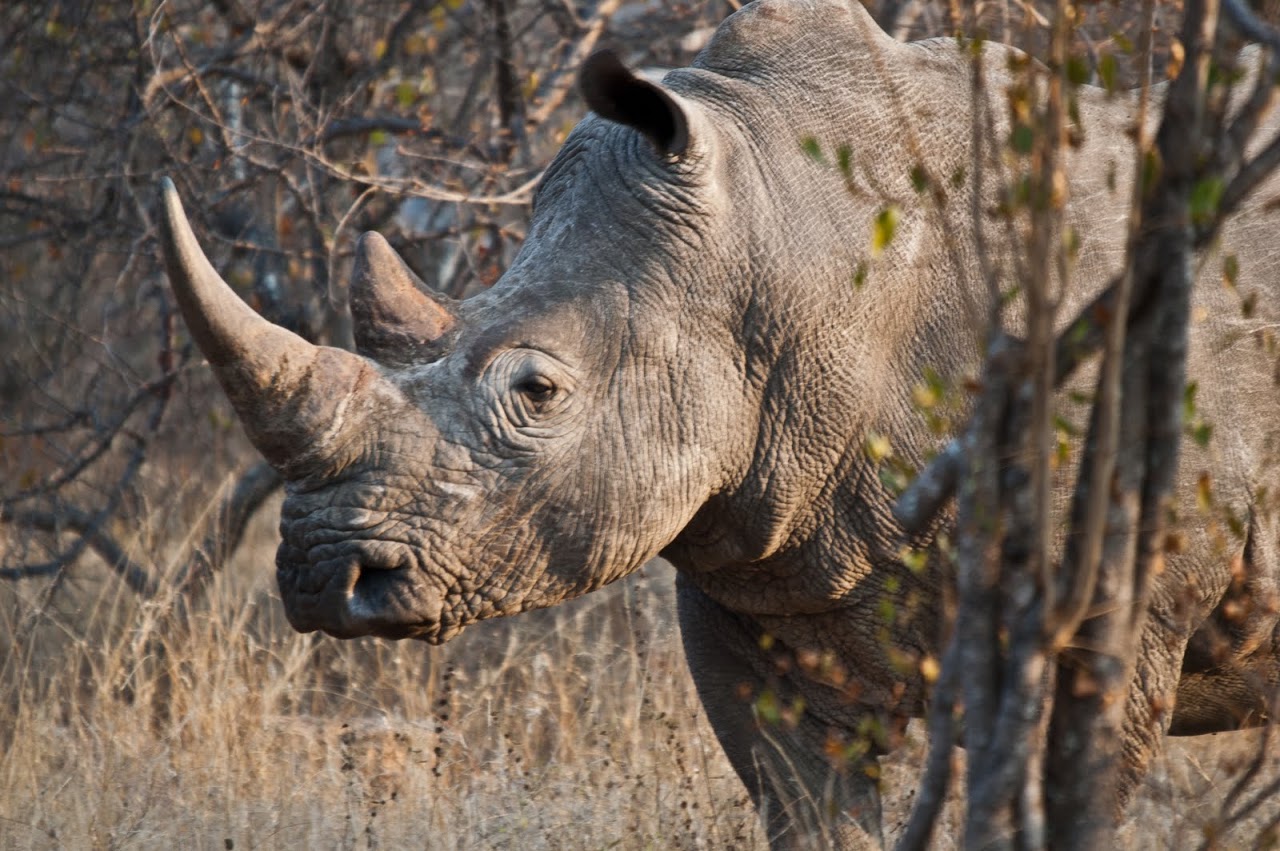 Gorgeous rhino we saw at Naledi
We stayed at Naledi Bushcamp in the Balule Private Game Reserve and were treated to a gorgeous room with a stunning wooden rhino door, delicious meals three times a day, conversation with our lovely hosts, a first-class game-viewing vehicle with a driver and tracking guide, and shots of Amarula every evening when we returned from the hard work of seeing wildlife.  We appreciated Naledi's environmental and social cocial consciousness: they hire South African trackers and send them to expensive guide school, rather than hiring wealthier foreign-born trackers, and their property uses ecologically-safe composting and waste dispensation.  Only 8 people may stay in Naledi at a time (and the second day we were there, we were the only two) so we never felt rushed or hassled by our stay.  It was, without a doubt, a luxury experience but, that being said, we paid a luxury price for our stay there .
Awesome game viewing vehicle at Naledi and our afternoon safari snack
The biggest benefit of the private game reserve experience is having someone who knows tracking able to show you wildlife.  Our guide drove into the bush to track down a beautiful white rhino --- a notoriously shy animal that we never saw so closely anywhere else --- and when we saw a just-born baby elephant, there was only one other truck near us, while at Kruger, there would have been tens (or even hundreds) of cars.
Views of the gorgeous Naledi bushcamp, including lunch, the patio, our door, giraffes we saw while driving, our second (!) bedroom in our 2 bedroom villa, and the bar
Our opinion: Naldi was wonderful, but next time, we will just stay in Kruger. We loved the accomodation, food, and hospitality at Naledi but the huge difference in cost pushed the scale to the other end for us.  That being said, if you prefer a luxury safari experience, we highly recommend Naledi Bushcamp.  [If you are considering other private game reserves, Kristin has a great wrap up of her experience at Ngala , another private game reserve, where she saw some amazing cats.]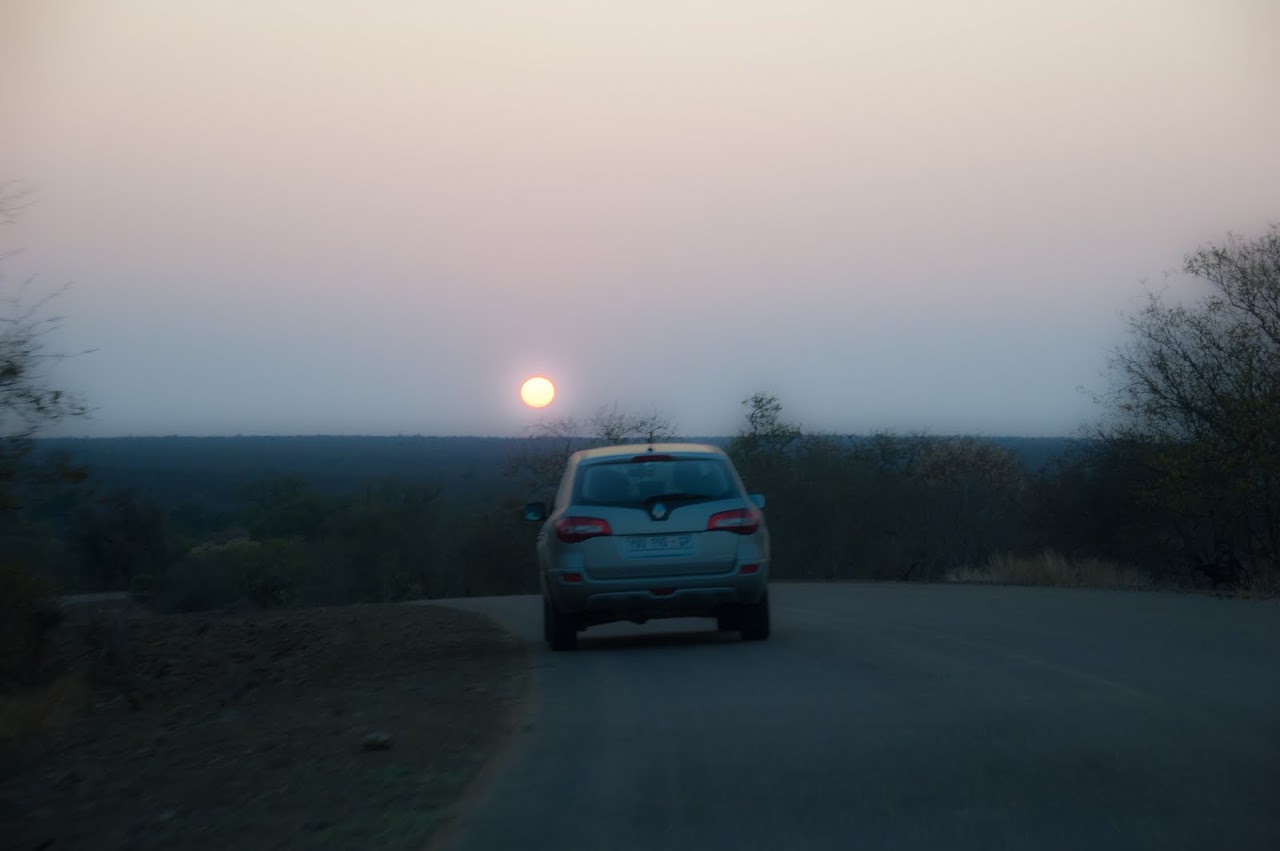 Our car as the sun set in Kruger
Do you want to stay inside or outside Kruger?

I will tell you more about Kruger's rest camps next week when I finish up this series but, as you can imagine, the accommodations and food choices are limited.  You can stay at lovely hotels, vacation rentals, and hostels outside of Kruger, eat at the huge variety of restaurants in the main cities outside the entrance gates, and enter Kruger on day trips.  You can either self-drive through Kruger, entering each day, if you have a car, or you can take day or half-day guided tours into the park.  For example, we stayed at Kruger View Backpackers on our last day after leaving the park and they offered full and half-day trips into Kruger.  If you don't want to add in the expense of car rental, it is easy to take public transportation to a hotel outside Kruger and take day trips into the park.
A mongoose
After all this, if you decide that you want to visit Kruger National Park and not one of the private reserves and stay inside the park, stay tuned for our post next week on planning a self-drive, independent stay inside Kruger.  We roamed through Kruger for 8 days, staying in their rest camps, loved our experience, and want to demystify it for you!