High tea service on the QM2
On our seven day transatlantic cruise from Brooklyn, New York, to Southampton, England, we primarily did two things: hung out with our dogs in the kennels and ate.  Sure, there were astronomy lectures, plays, cabarets, and endless classes ranging from watercolor painting to basket weaving, but we opted to tour the restaurants and dining options.  In fact, we took many tours of the restaurants.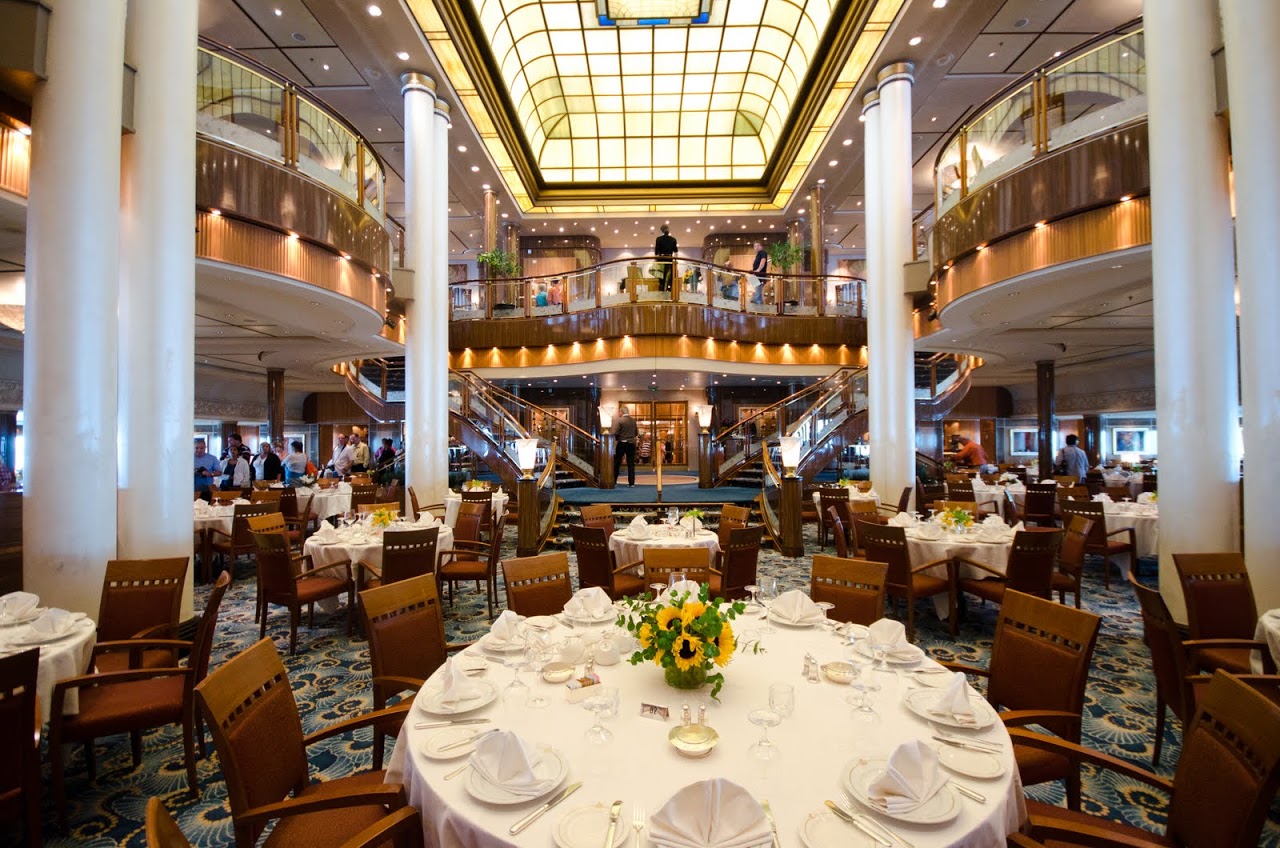 Brittania restaurant
Restaurant selection is based on room category.  The vast majority of the ship stay at the "Brittania" level, meaning the cheapest (though still very nice) rooms on board, and eat at the vast Brittania restaurant.  The Brittania serves breakfast between 8:30 to 10:00, lunch from 12:00 to 1:30, and diners are sorted into two seatings for dinner, either at 6:00 p.m. or 8:30 p.m.  Those staying in the Princess Suites, the second tier of rooms, eat at the Princess Grill, and those in the opulent Queens Suites, the most expensive rooms on board, eat at the Queens Grill.  These two restaurants are single-seating, meaning that guests can choose any time between 7:00 to 9:00 to have dinner.
We stayed in one of the Brittania level rooms so I can't speak to the food at the Princess or Queens Grills, but I will mention that based solely on the menus, it appeared to me that all three restaurants served the same vegetarian and gluten-free options at any single meal.  Dining at the Brittania and Grills are included in the price of your passage.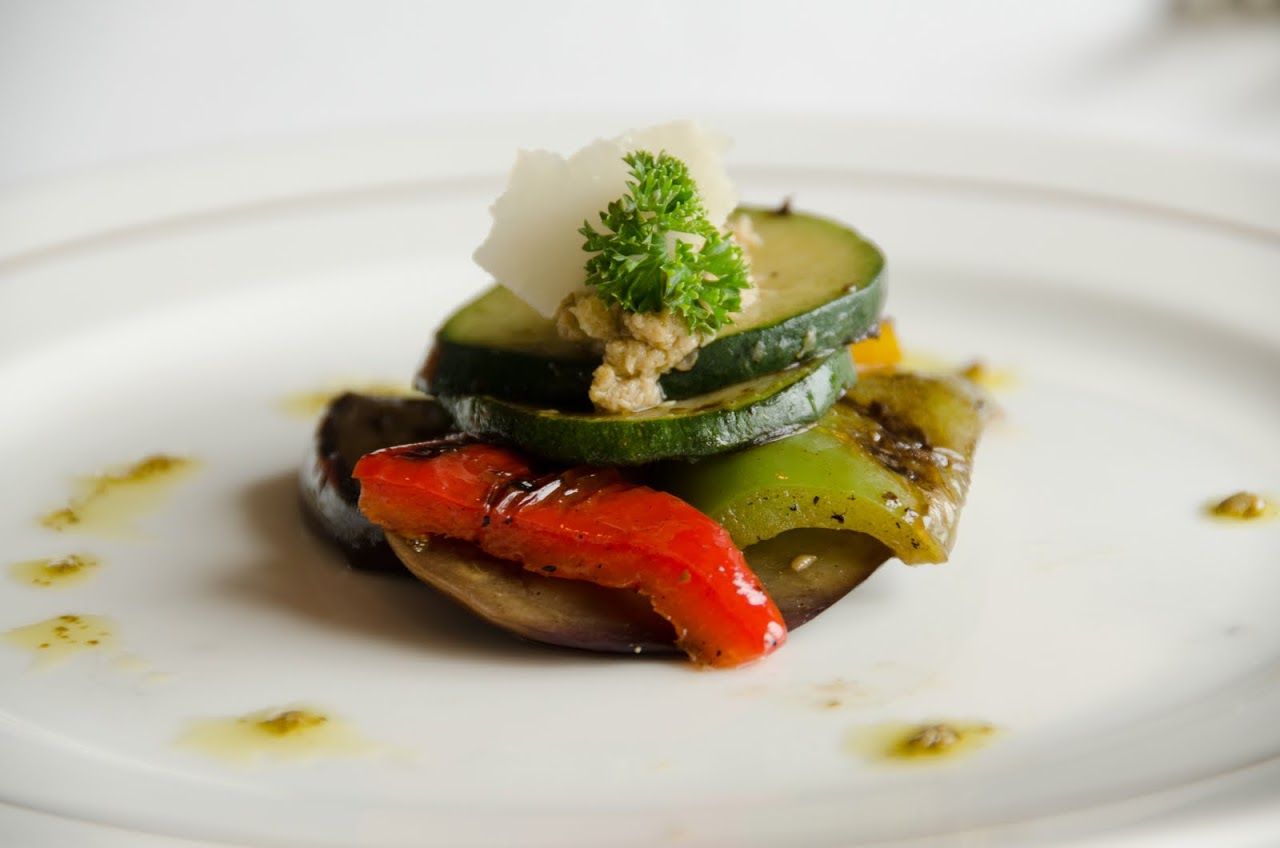 Lunch at the Queen Mary 2 Brittania restaurant
We never made it to the Brittania restaurant for breakfast because we went to see the dogs between 8:00 to 10:00 every day but we occasionally headed to the Brittania for lunch.  Lunch is a three-course affair with relatively small portions, so we normally ordered and ate all three portions.  On this particular day that we took pictures, I started with a Meditteranean grilled vegetable and pesto appetizer and Patrick had a chicken soup.  I had cheese tortellini in an alfredo sauce and Patrick had grilled fish over macaroni, though he wished that he had ordered our neighbor's selection of a seafood tart.  For dessert, I had sticky toffee pudding and Patrick had the tiramisu.

A baby's lunch on the QM2
Every single meal we had at the Brittania restaurant was good, solid, and some verged on great.  I always had at least one vegetarian option for each course and Patrick could choose a fish, poultry, or red meat for his main course at either lunch or dinner.  On our last formal dinner, Patrick had lobster tail and the waiters removed the flesh for him, delighting Patrick to no end.  Neither of us would call the food "to die for" but, all in all, we were impressed with the quality and variety of food served at the Brittania restaurant.   I certainly wouldn't turn away a meal at the Brittania.
As with most cruise ships, for dinner, we had a set table with designated diners (in our case, a lovely couple from England) but at lunch, we were seated wherever the restaurant had spaces.  At one lunch, we sat next to one of the few infants on the ship.  When her lunch was served, the waiter brought out a neatly arranged stack of baby food with several varieties and flavors --- even the babies are fed well on the QM2.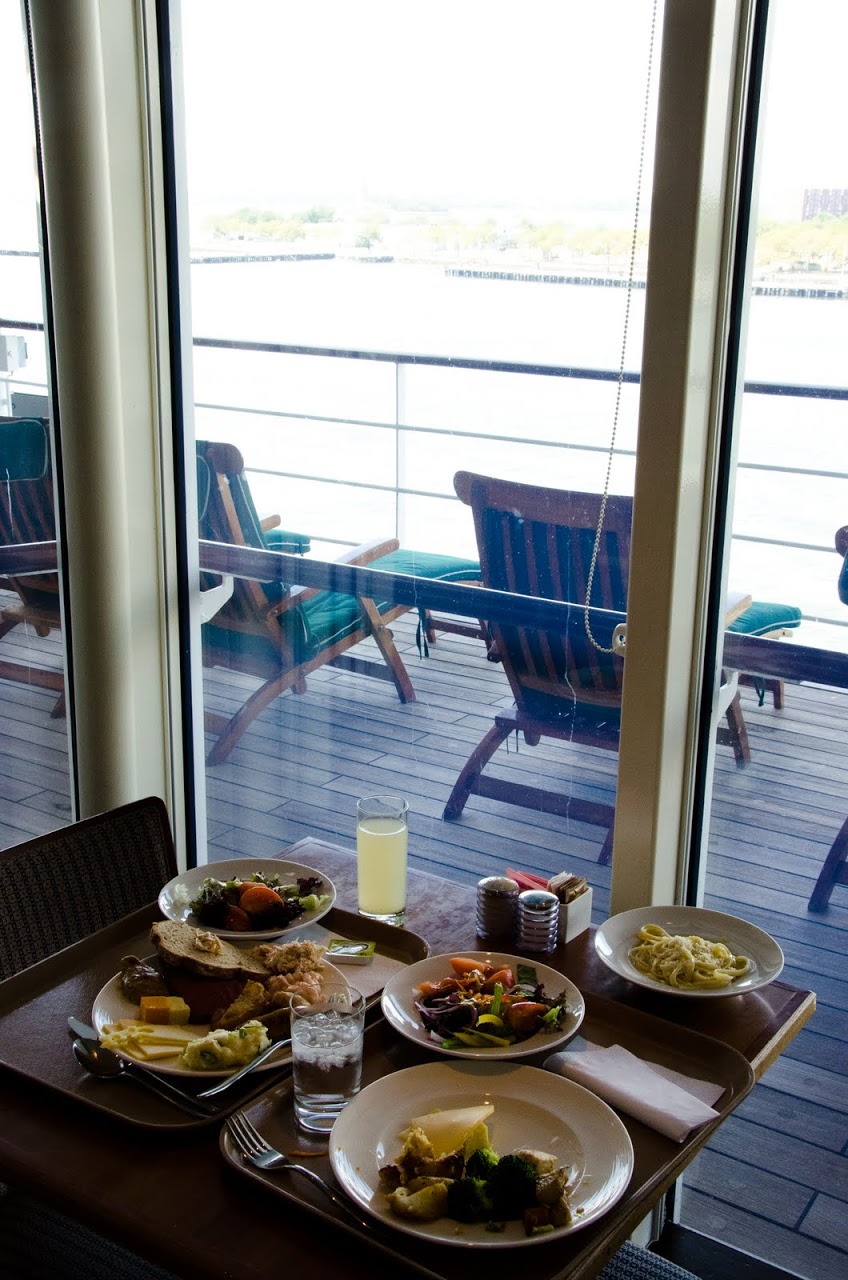 Lunch at Kings Court
Though the Brittania served good lunch fare, we often didn't feel like spending an hour or more for lunch and opted for the more casual Kings Court.  The Kings Court serves buffet selections with an omelette station and typical breakfast items from 7:00 to 10:30 and sandwiches, pastas, pizzas, burgers, and Asian stir-fries for lunch from 11:00 to 3:00.  Afternoon tea runs at the Kings Court from 3:30 to 5:30, which is a buffet-style version of the tea offered in the Queens Room.
In the evening, the Kings Court is transformed into four dining restaurants which require reservations: Lotus, which specialises in Asian cuisine; the Carvery, a British style grille; La Piazza, with Italian food; and the Chef's Galley, which offers an interactive food preparation experience.  Each of these restaurants also require a $10 to $20 cover charge and none have any vegetarian selections (or will even accommodate dietary restrictions), so we chose not to try them.  The Kings Court also serves up some late night options.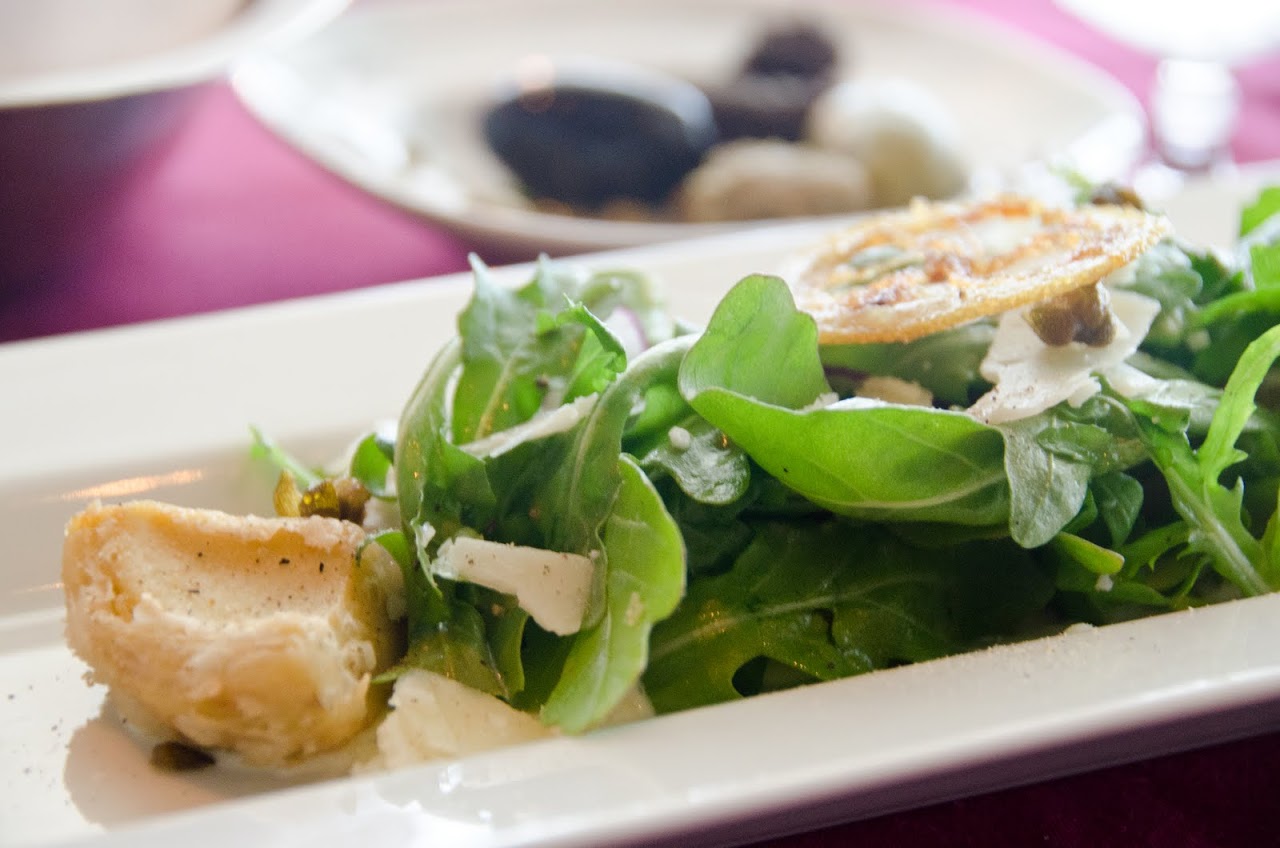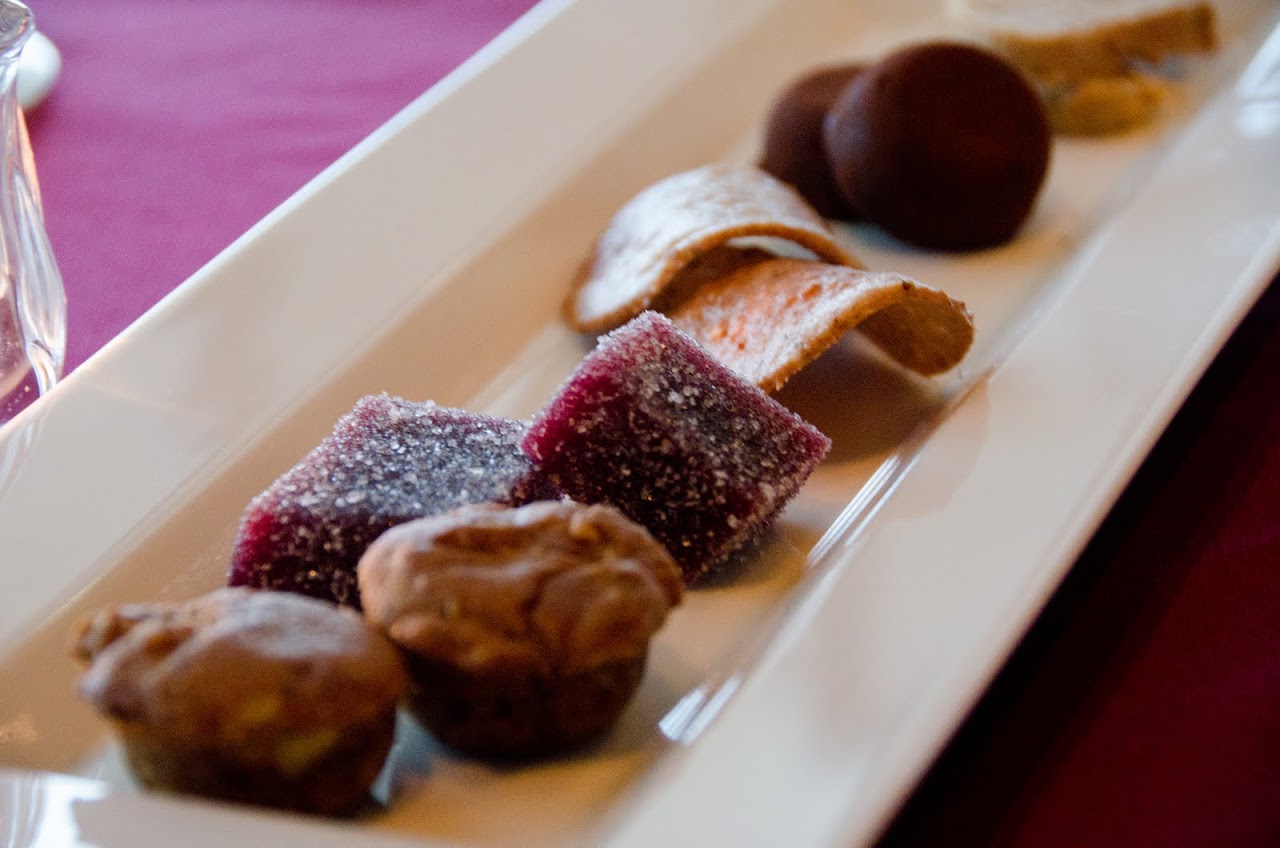 Our meal at Todd English Restaurant on the Queen Mary 2
For a splurge, we opted one night to go to the Todd English restaurant, with the menu designed by celebrity chef Todd English.  The restaurant charges $30 per person for three courses plus candies to end.  Ultimately, though all of our courses --- a fried artichoke salad, a vegetable plate for me, seafood chowder, and fried scallops for Patrick, and a chocolate raspberry cake and a banana creme brulee --- were all very good, we felt that the price was not worth the difference between just going to the Brittania restaurant which was free.  If the Todd English restaurant offered four courses rather than three, we would have found it to be a much better deal.
(By the way, the maitre'd at the Todd English restaurant made a huge fuss about me being vegetarian and said that they could make me "only vegetables."  I looked at their menu and asked him whether they could make a plate out of many of the sides included and he looked surprised, as if he had never heard of the concept of a vegetable plate.  My vegetable plate was delicious, with braised artichokes, lovely fried chanterelle mushrooms, and more.)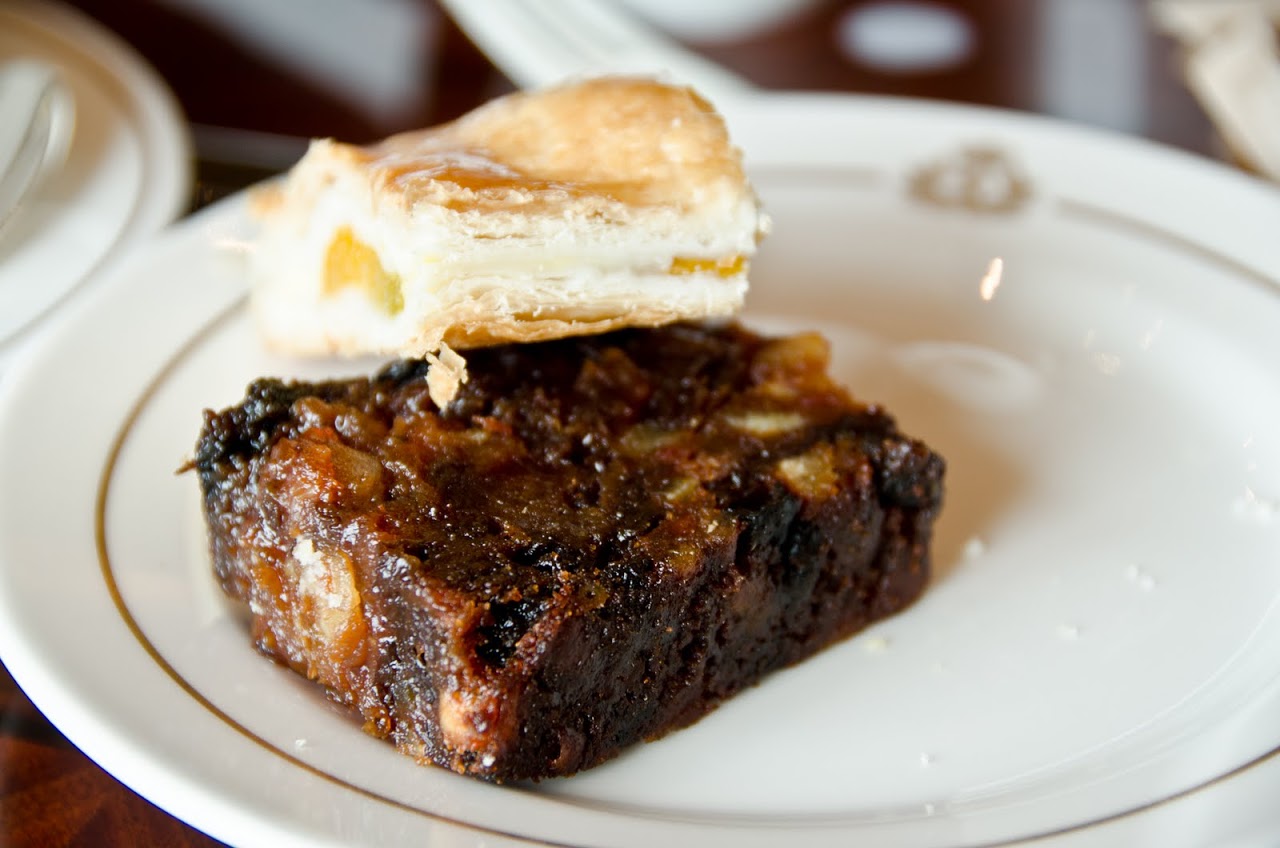 | | |
| --- | --- |
| | |
| | |
High tea at the Queens Room
All of the preceding, though, is not nearly as important as my very favorite meal of each day: high tea at the Queens Room.  At 3:00 sharp, guests are seated in the elegant ballroom and a parade of white-gloved waiters stream out the doors with finger sandwiches, cakes, and clotted cream and scones.  Oh, and there's tea, of course, but for us non-tea enthusiasts, the tea was the least important of the options before us.
The best option was the fruitcake because the Queen Mary 2 fruitcake is, hands down, the best fruitcake we have ever eaten anywhere.  That fruitcake would convert the most hardcore comedian who still insists on making fruitcake-as-compared-to-bricks jokes, with its mouthwatering rum-soaked fruits packed into moist, tender crumbs.  Unfortunately, we only found the fruitcake on one occasion and now know better for the next time we board the ship.  No matter what else, fruitcake first.