View of Dolac Market, Zagreb
Croatia's raw ingredients are exceptional in quality.  In the Roman empire, Croatia was second only to Italy in importance of olive oil and wine production.  The fertile Istrian peninsula produces high quality olive oil (as good as anything we tried in Italy) and sheep's cheese.  The Dalmatian coast is justifiably world-renowned for its plump sweet figs.  The cauliflower we purchased in Zagreb was sweeter and tastier than any cauliflower we've tried before (so says Patrick, who generally finds cauliflower bland and insipid).  We picked oyster mushrooms by the pound for only $2.00 USD, and marvelled at the texture and flavor of these hearty mushrooms.  Kiwi fruits were sweet and slightly tart and brussel sprouts crunched when roasted.  Truffle products abound and fish and meats are fresh and cut thickly.
Figs, dates, and kiwis at the Dolac market
In 1930, Zagreb opened the Dolac Market as a way for farmers to bring their produce into bustling Zagreb.  This is, in itself, not surprising; public markets were opening or expanding all around the world in the early 1900s.  The Mercat de Boqueria in Barcelona had its permanent roof put in place in 1911, the huge Los Angeles Farmers Market opened in 1934, and the large Testaccio market in Rome opened in 1912, and so on.  I haven't read any articles on why there was a rush to build farmers markets in this time period but I surmise that the pressure of World War I and the Industrial Revolution pushed people into cities and those city dwellers needed access to the agricultural goods that they previously grew and ate in the countryside.  Hence, farmers markets opened all across the western world.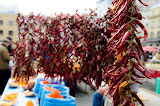 Peppers strung up at the Dolac Market
No, what's surprising about the Dolac Market is that, when it opened in 1930, Zagreb and Croatia was part of the Kingdom of Serbs, Croats, and Slovenes (later renamed Yugoslavia).  At that time, 75% of the Yugoslavian workers were employed in agriculture, and most of those individuals were subsistence peasants, living off what they grew.  As the Great Depression's cold fingers spread across the world, most of those peasants realized that they could not live on their farms and flooded the large cities of Yugoslavia.  The nearby Axis forces of Hungary, Germany, and Italy quickly overran Yugoslavia and split the country amongst themselves though resistance forces battled hard for independence.  After World War II ended, Yugoslavia had lost one million people to warfare and concentration camps, and joined much of Eastern Europe to become a Communist government.  In the early 1990s, after the fall of East Germany and the U.S.S.R., Yugoslavia went through another round of brutal warfare as the country split into Croatia, Slovenia, Bosnia-Herzegovina, Serbia, Montenegro, and Macedonia.  Through all this turbulent history, the Dolac Market stood.
0;
Sweet delicious cauliflower, brussel sprouts, local handicrafts, and radishes
Today, Croatia has fervently embraced capitalism.  It has the largest supermarkets we've seen in Europe, massive warehouses with bright fluorescent lights, aisles and aisles of pasta, vegetables, meats, fish, and cheeses, imported from all across the world.  If you want organic food, Indian spices, Mexican tortillas, Thai curry sauces, or Italian cheeses, head to one of the Billas, Kauflands, Konzums, Lidls, or the massive Mercators.  Nobody needs to go to the market anymore because supermarkets are as prevalent in Zagreb as they are in most U.S. cities.  Yet, people still shop at the Dolac market.

Onions, oyster mushrooms, and fresh cheeses at the Dolac Market
Carolyn Steel presents the fascinating argument in her TED talk about how food shapes cities that by mass commercialization of food sales, we effectively lose interest in food preparation and food consumption.  In other words, when we shop at farmers markets, we create a personal relationship with the people who sell our food which forces us to care about the food we buy and cherish that food rather than discarding it.  On the other hand, because grocery stores are impersonal, food becomes impersonal and we do not worry as much about wasting or buying prepared food because we lose the connection to the raw ingredients.  As supermarkets take hold of an economy, we stop shopping with the farmers.

Dolac Market
It's a difficult argument when you look at this market in Croatia.  Every morning for 80 years, farmers have woken, brought their produce and meats to this place near Ben Jelacic Square in central Zagreb, and sold their produce to the milling populace.  Through a monarchy, Nazi-controlled regime, communist state, and capitalist democracy replete with enormous grocery stores, rules changed, governments came and went, but the food is and has always been here.