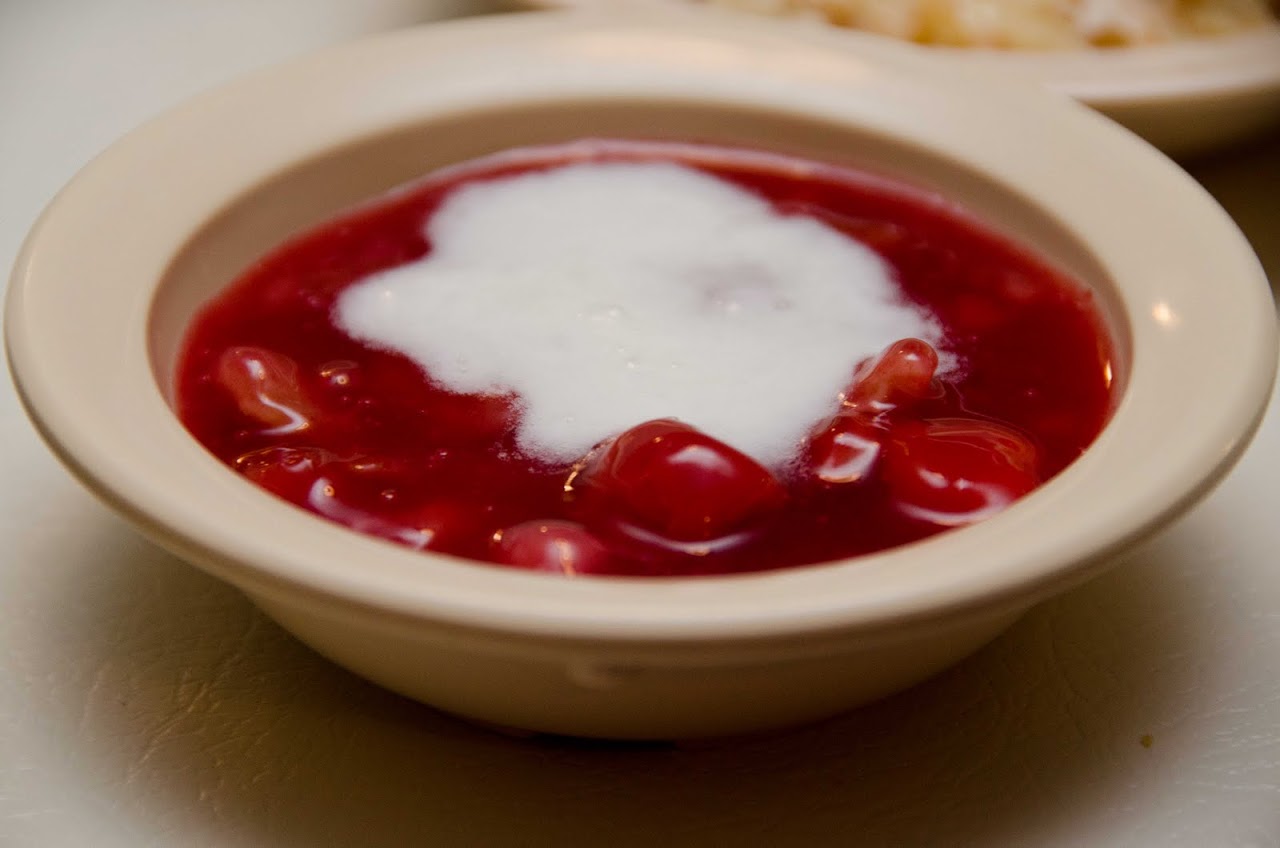 Cherry cobbler at Mrs. Wilke's
Southern food.  It is good.  No, really, it is.  If you're of the opinion that Southern food is greasy, over-buttered, ham hocked-associated veggies and fried meats, then please join me in The Road Forks' first ever Southern Food Smackdown, starring two venerable locations in that bastion of Southern cuisine, Savannah, Georgia.  In one corner, we have Paula Deen's popular must-visit tourist attraction, The Lady and Sons ; and in the other, we have the local favorite, Mrs. Wilke's Dining Room .  It's a match up for the ages.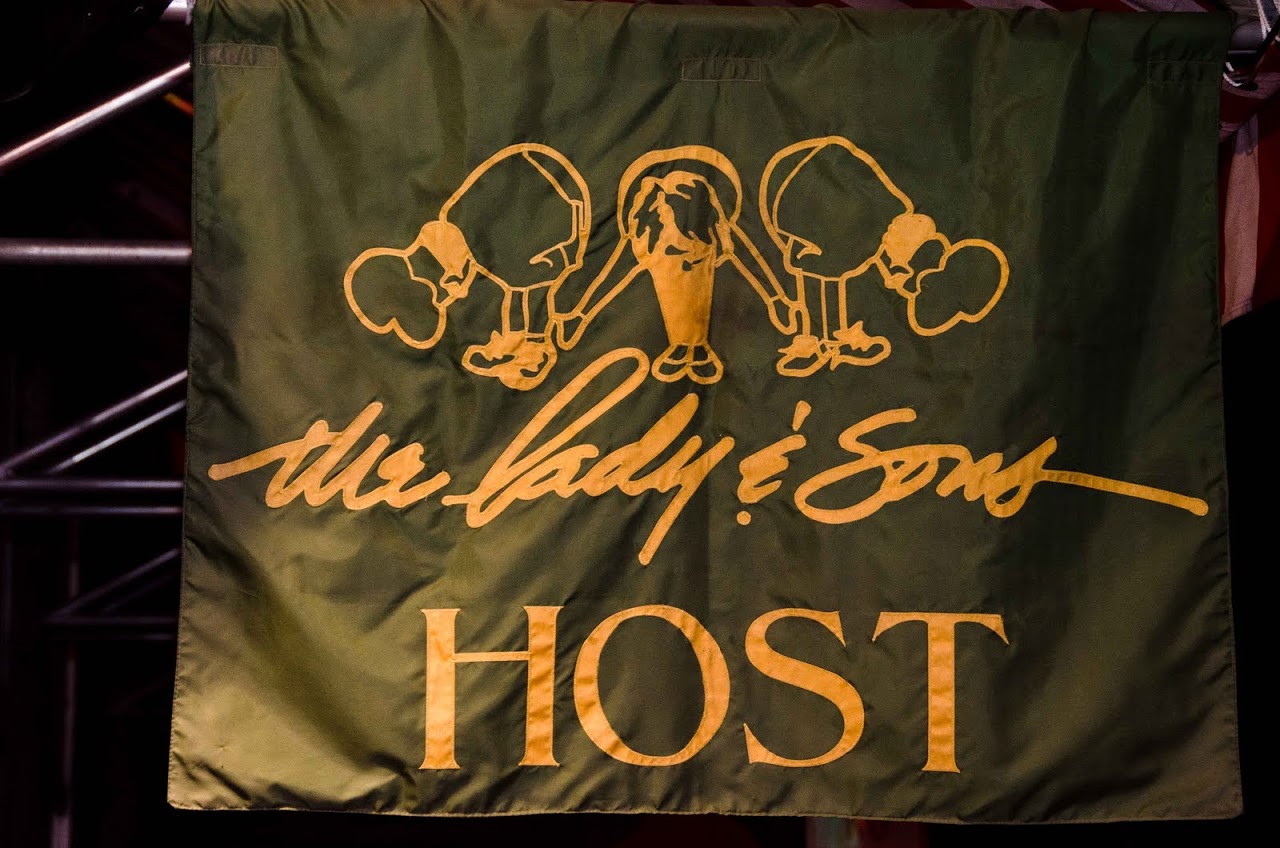 The Lady and Sons
Paula Deen seasonings and flavored chapsticks (peach pie, key lime, and banana pudding)
The Story - A+: Paula Deen's story is perhaps the all-time best chef story.  Now best known for her perkiness, until her mid-forties, Paula Deen suffered from severe agoraphobia.  Since she spent most of her time indoors, she threw herself into her cooking, and after a devastating divorce from her husband, began making money by selling packed lunches to local workers.  She developed a loyal customer base, resulting in her opening a small restaurant, then a larger one, and, now, she has a popular television show, huge line of products (Paula Deen peach pie-flavored chapstick, anyone?), and multiple cookbooks.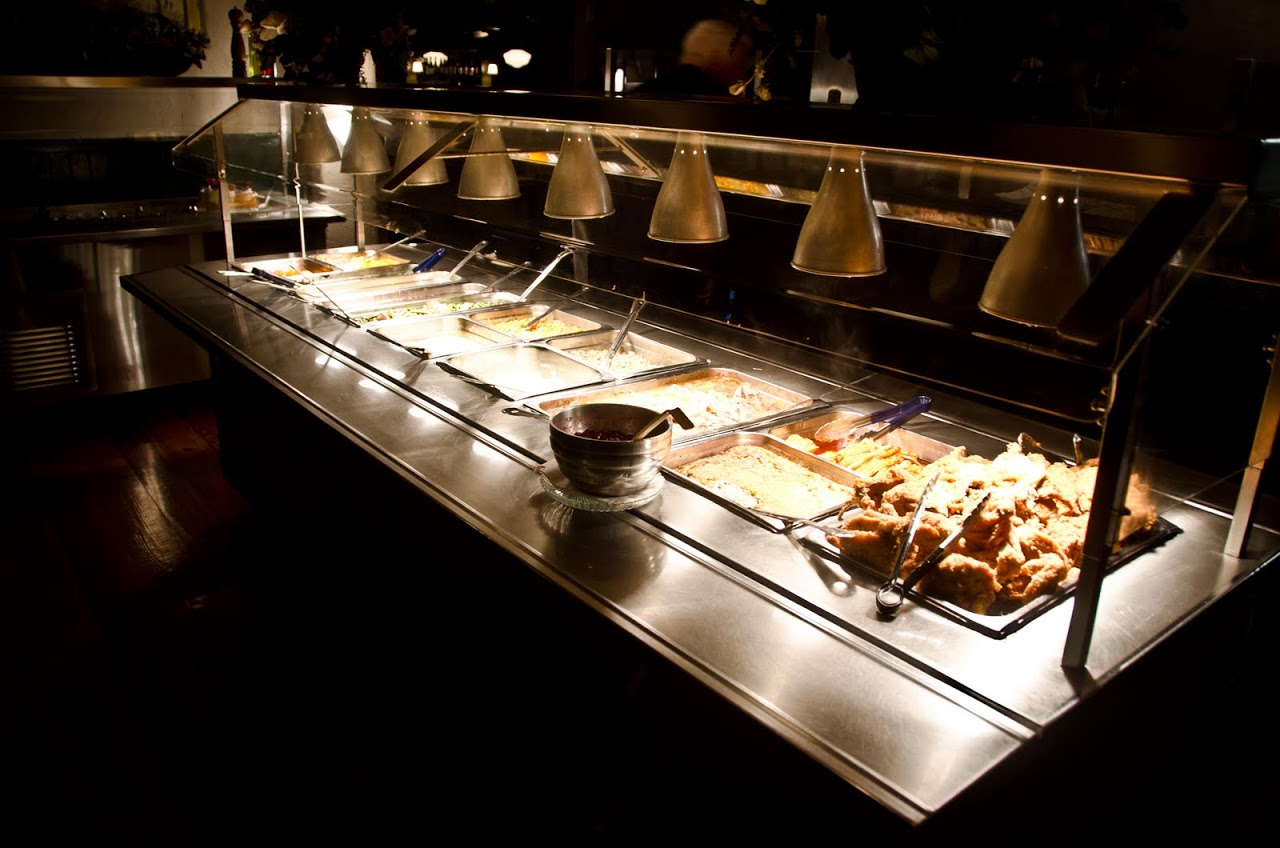 Buffet
Service/Ambience - B: The Lady and Sons is a sprawling, massive restaurant with two wide floors of seating, easily able to hold big tour groups coming through Savannah.  They do not take reservations for small groups but we waited only 5 minutes for our seat and service was good and fast.  Most order the buffet and we did, as well.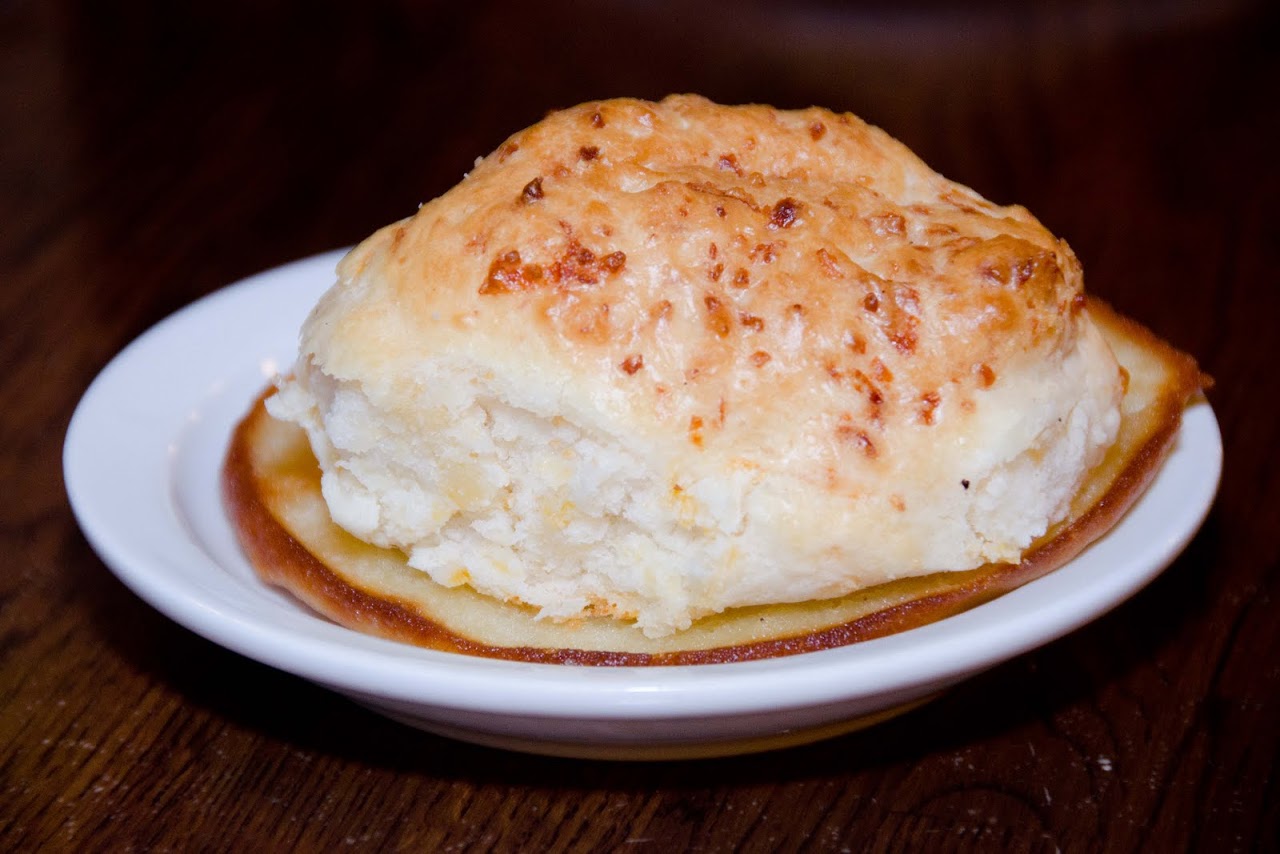 The Lady and Sons biscuit
The Biscuit - A+: In my humble opinion, a good biscuit is essential to a proper Southern meal.  And, man, did The Lady and Sons deliver.  Ohmyfreakingoodness.  It was buttery, cheesy, and garlicky and fluffy as a cloud on a warm spring day.  I seriously would come back to the restaurant just to order that one biscuit.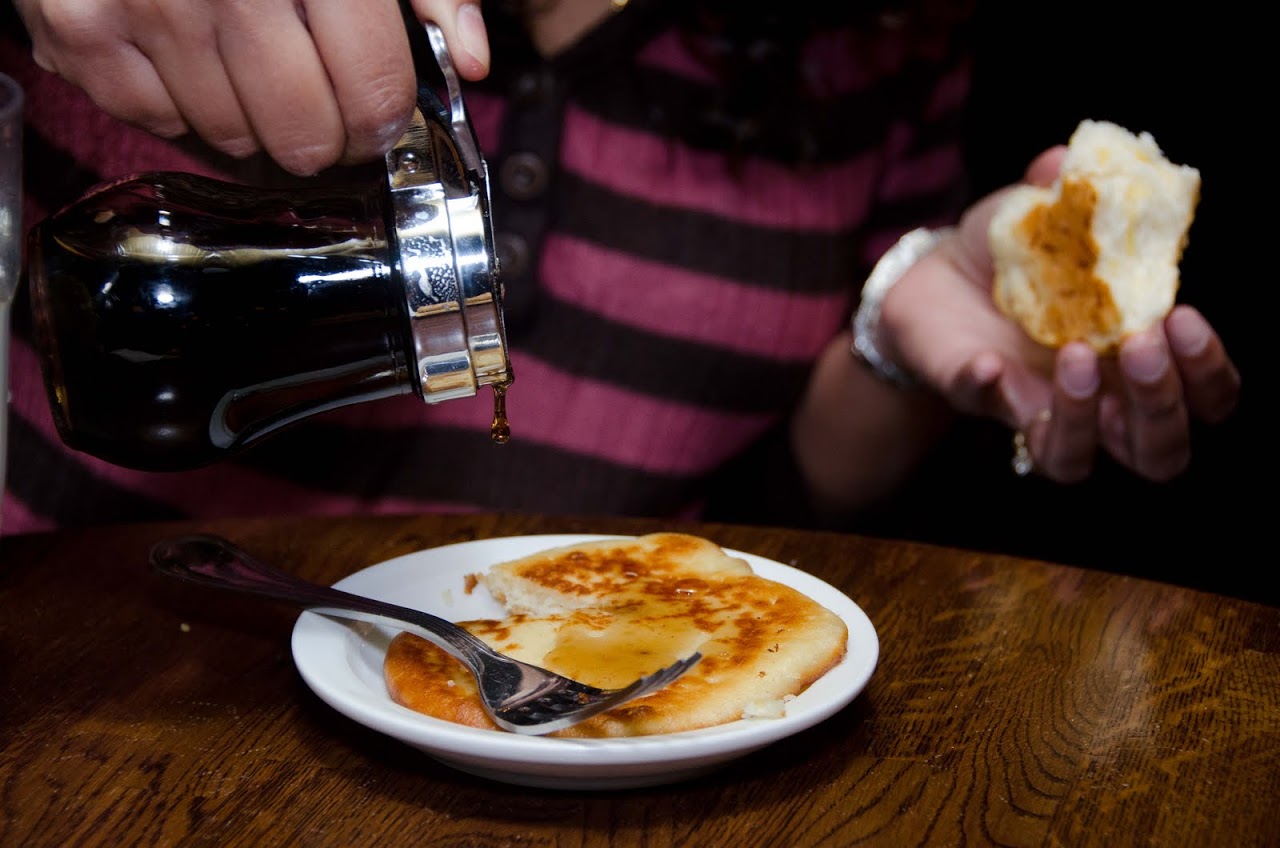 Corncake with syrup at The Lady and Sons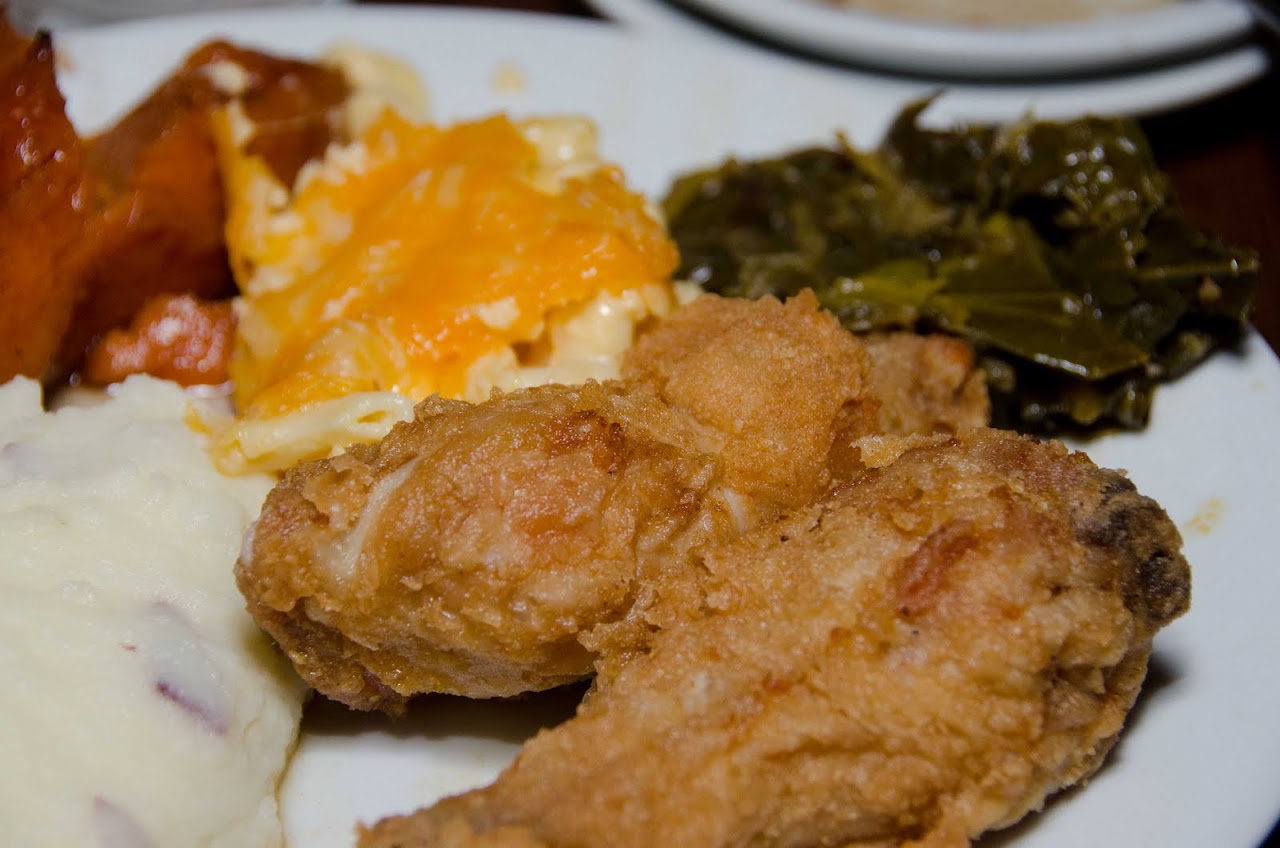 Fried chicken
Meat - B+: Patrick loved the fried chicken.  Loved.  Loved.  Loved.  The restaurant brines the chicken before breading and frying, meaning that it's moist, juicy, flavorful, and still crispy.  Unfortunately, the pulled pork and other meats were unexceptional.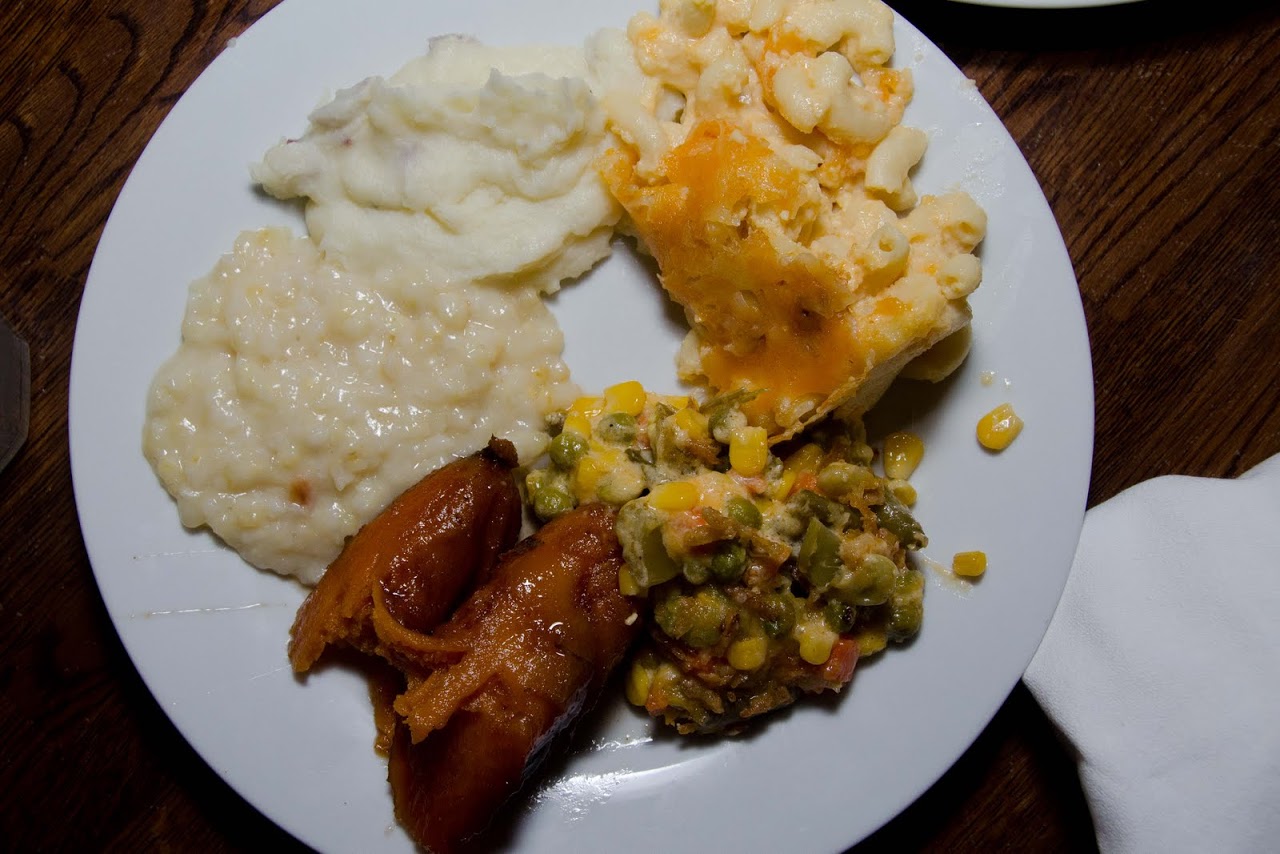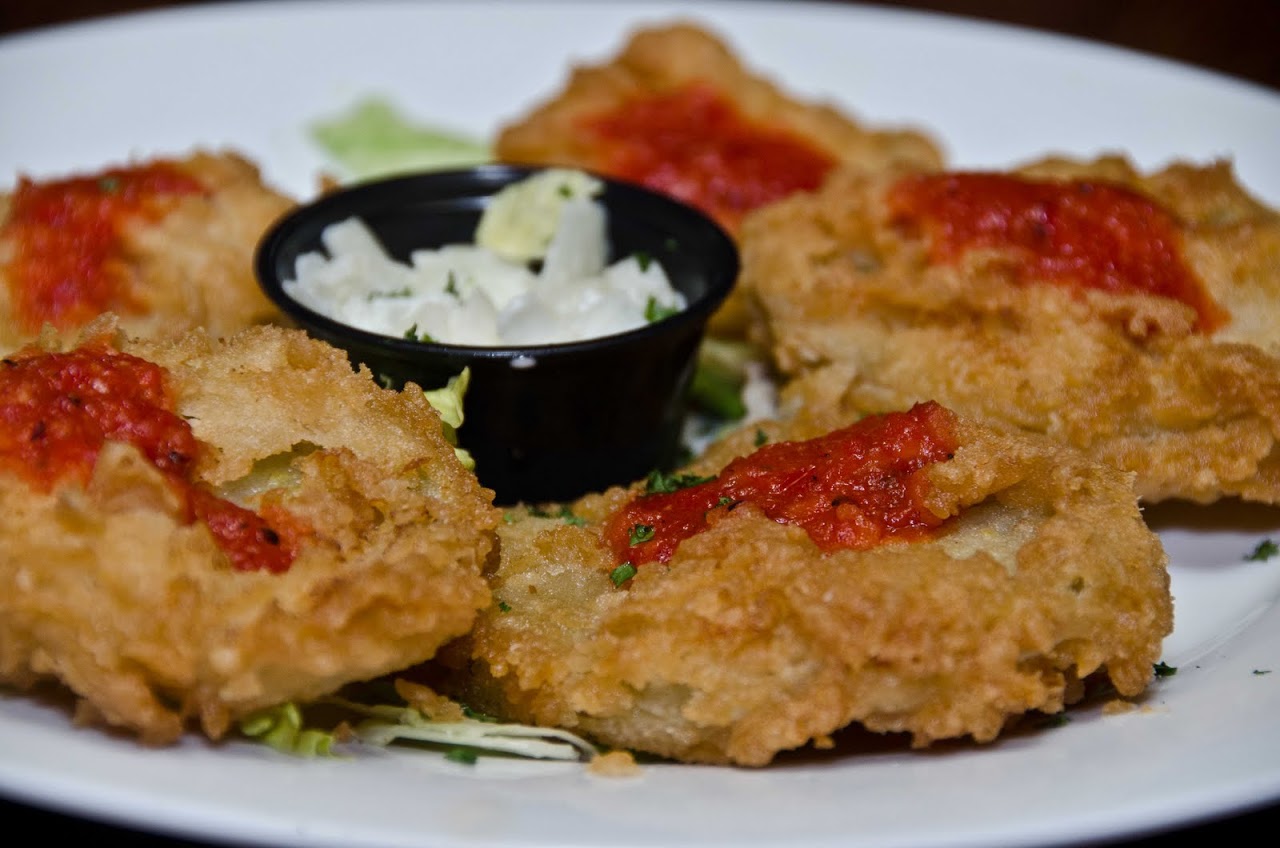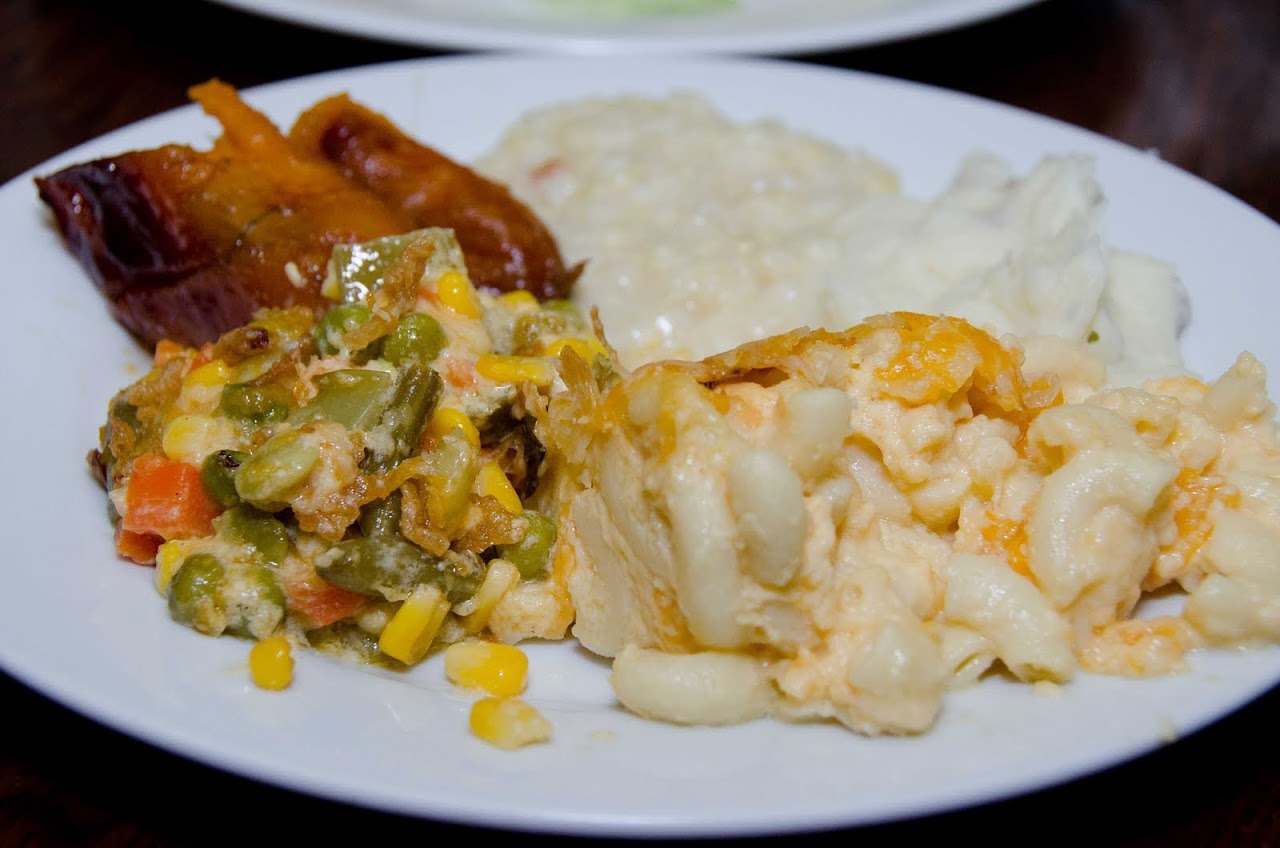 Veggies at The Lady and Sons
Veggies - C - (bordering on a D+): The fried green tomatoes were crispy but the batter was flavorless.  I was oh so sad that every single vegetable in the buffet was over-salted.  The macaroni and cheese was bland and stiff, rather than cheesy and creamy.  The creamed corn tasted like it came out of a can and the candied yams were so sweet that I couldn't manage more than one taste.  The best part of my meal was the mixed vegetable casserole which couldn't hold a candle to my own mixed vegetable casserole.
Dessert - D: To be honest, I can't remember what we ordered for dessert.  I think it was peach cobbler but it may have been apple pie.  Whatever it was, it was included in the buffet, tasted like it came out of a can, and very much disappointed me.
****************************************************************************************************************************
Mrs. Wilke's Dining Room
The Story - A: In 1943, Selma Wilkes opened up a boarding house, a place for workers to stay that was less expensive than the typical inn or hotel, and served two meals a day to the young men and women who stayed at her house.  Even after closing her door to boarders, lines curled around the street for her daily lunches.  Today, they continue to serve standard boarding house fair in large communal tables where you sit with ten others at a single time, eat from communal platters heaped with vegetables and meats, and bus your own plates and silverware.
Line for Mrs. Wilke's on a Wednesday afternoon
Service/Ambience - C: Service was good and fast but expect to wait in line!  We got to Mrs. Wilke's at 12:45 and waited in line for almost an hour before we were let inside.  On the positive side, the food is already on the table when you are seated meaning that there's no wait for anything except for your drinks (sweet tea, unsweetened tea, or water).  When you leave, you pay a fixed price for your meal. Mrs. Wilke's does not take credit cards so come prepared with cash!  Hours are also limited so you will need to eat there at lunch on a weekday.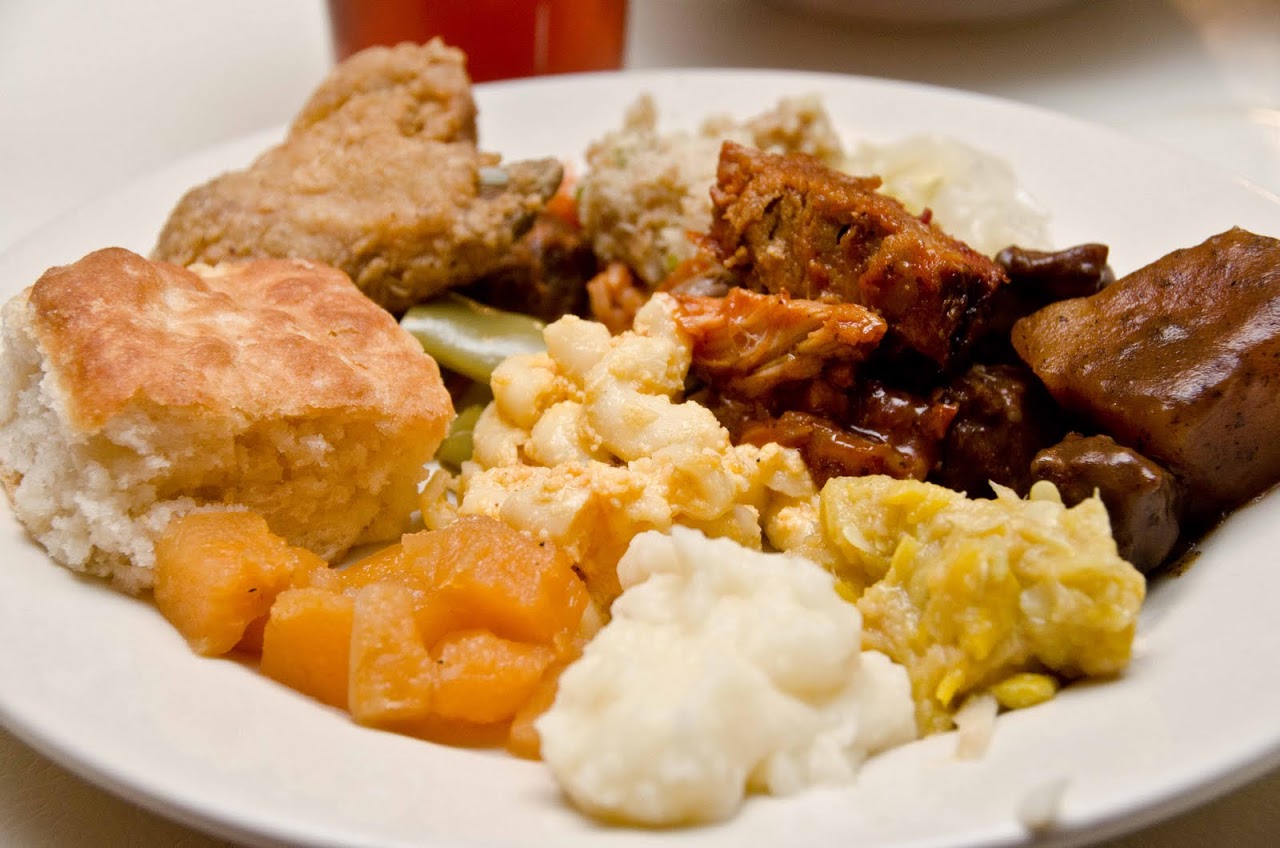 The Biscuit - A: Mrs. Wilke's served up a nice fluffy biscuit though not as buttery and rich as Paula Deen's.
Meat - A: The fried chicken, beef stew, and sausage were all delicious.  The fried chicken was thick and crispy though not as flavorful as Paula Deen's, the beef stew was rich and hearty, and the sausage was nice and spicy.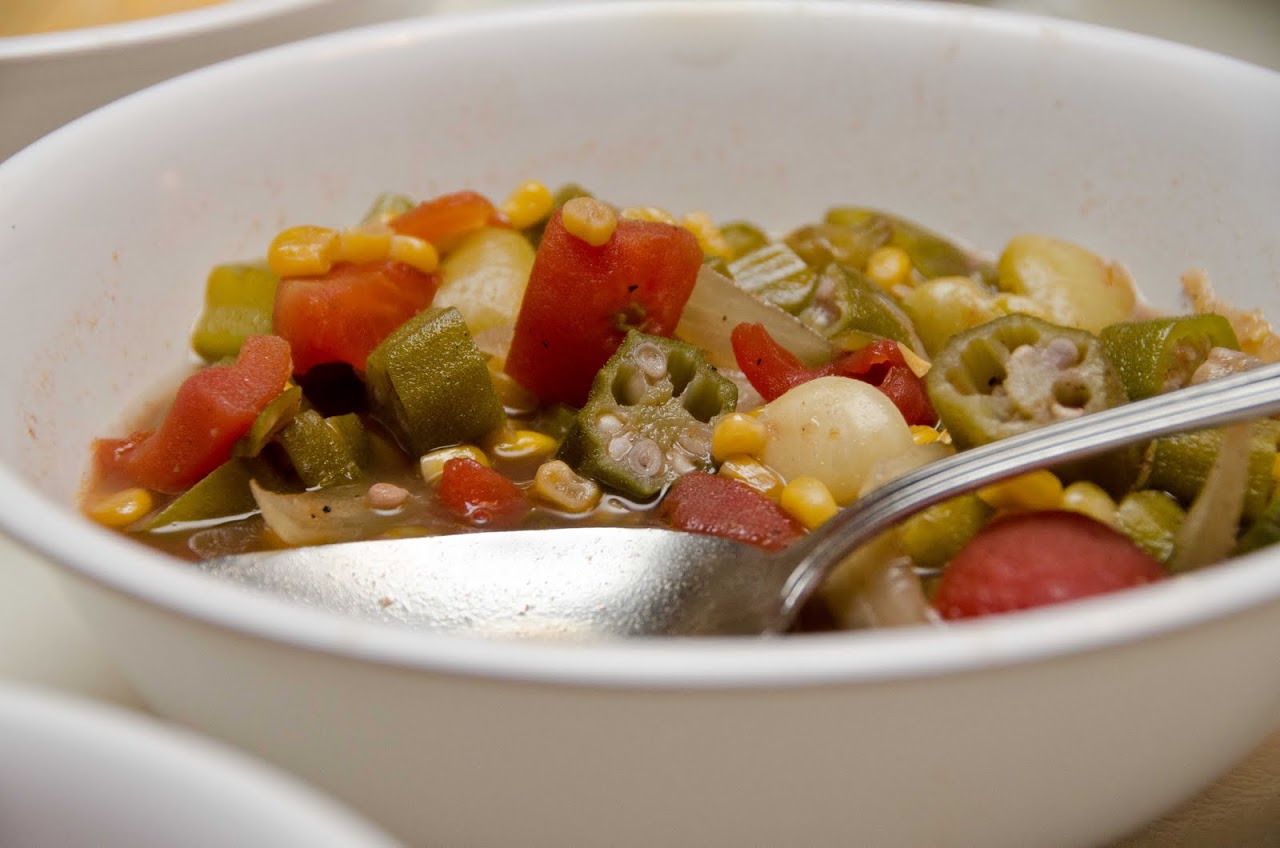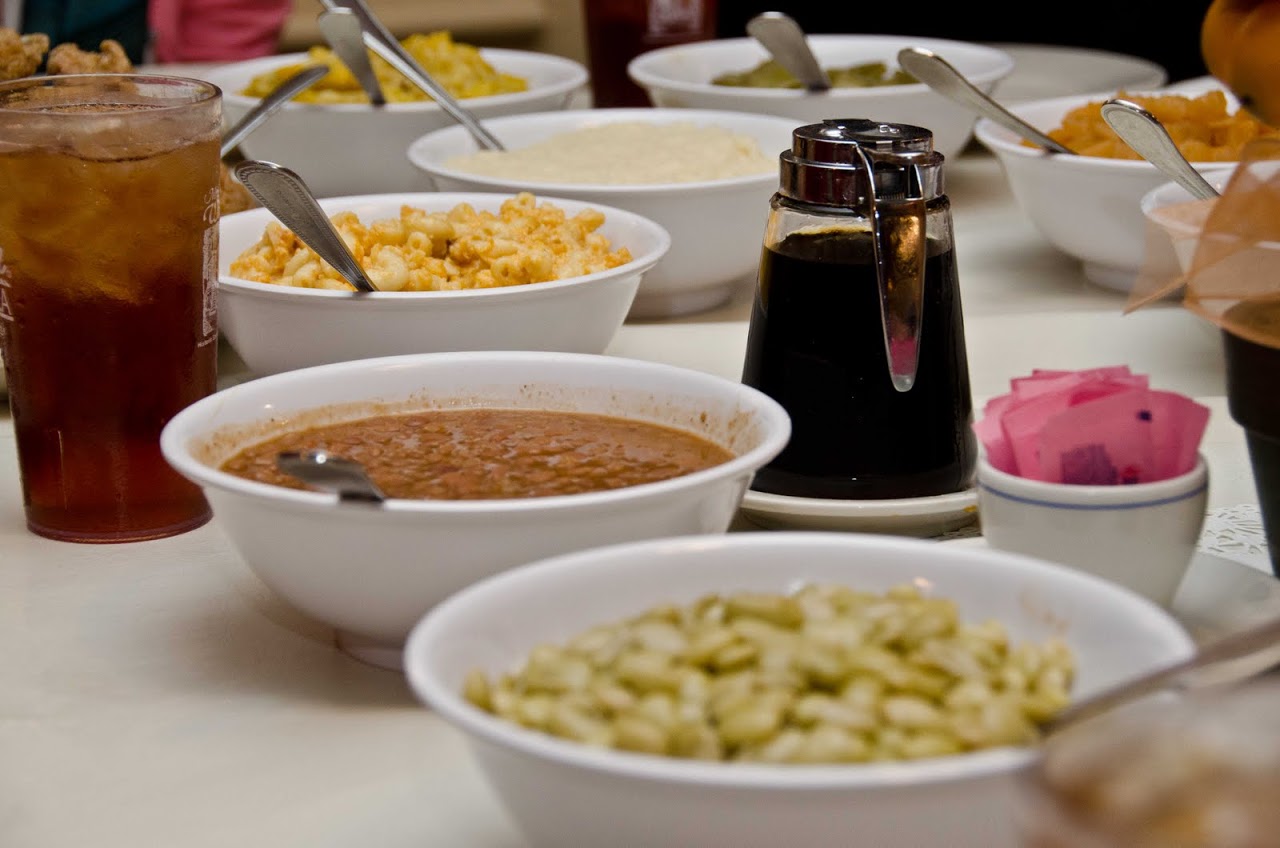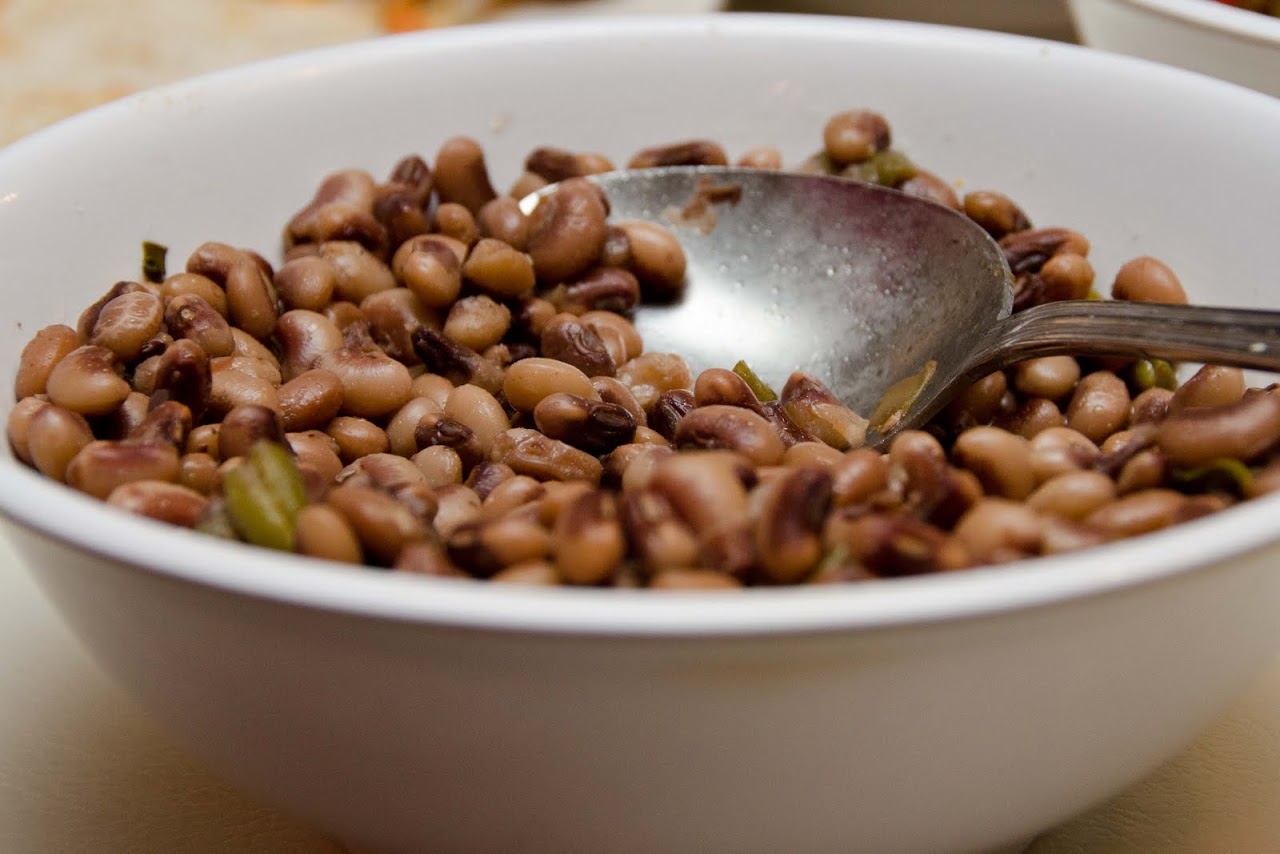 Veggies (and many many more beyond these)
Veggies - A+: Now, this is what I'm talkin' about.  We had over 20 vegetable dishes at our table and all of them were good (and most were vegetarian).  We had tasty okra and tomatoes, creamy macaroni and cheese, black-eyed peas, English peas and noodles, carrot salad, sweet candied yams, pickled beets, butter beans, snap beans, an amazing squash casserole, rice, collard greens, green beans, mashed potatoes, and, oh, I'm probably missing a couple of veggies.  Every single thing I put on my plate was delicious and we did justice to the all-you-can-eat option, meaning that we were still full 24 hours later.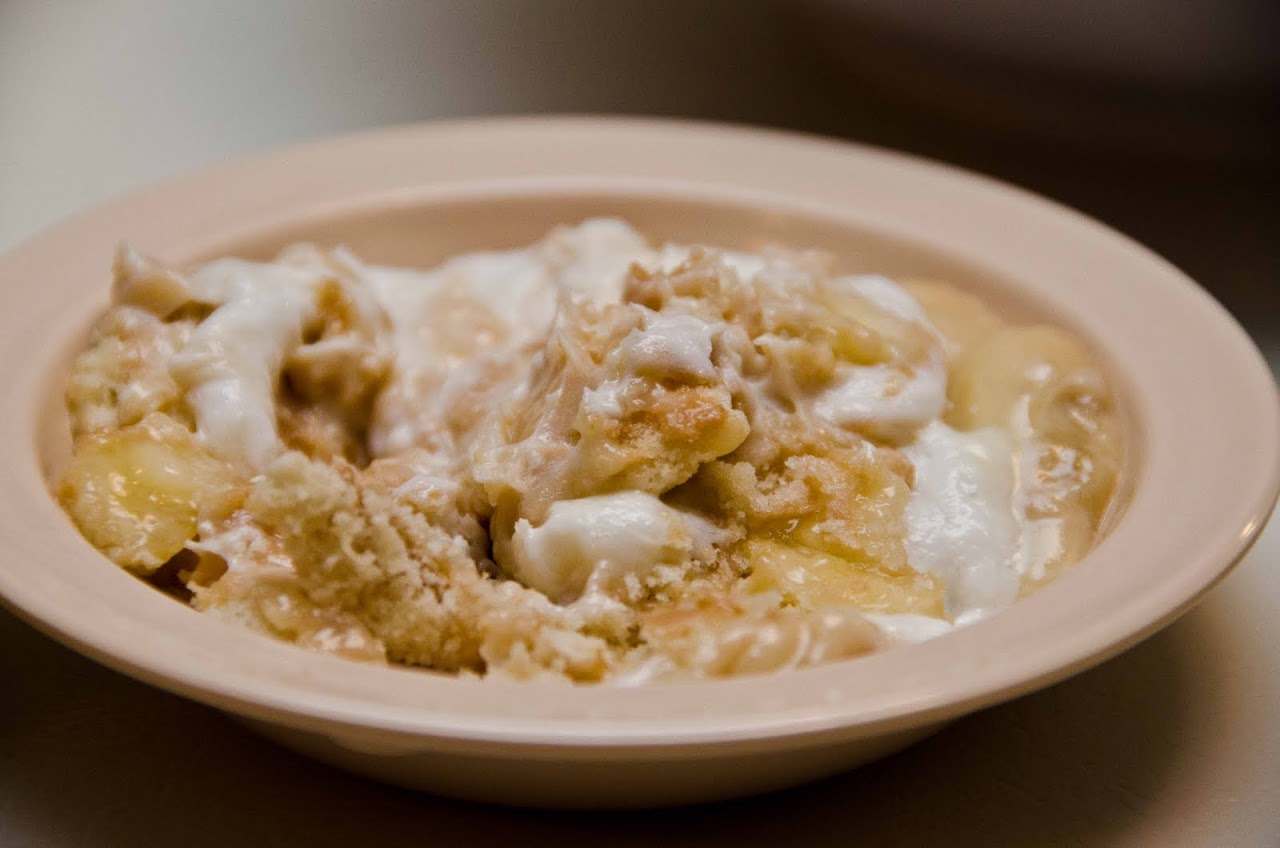 Banana pudding at Mrs. Wilke's
Dessert - B: Call me picky but the banana pudding tasted like Jell-o vanilla pudding and Nilla wafers which is good but not quite good enough.  The cherry cobbler didn't inspire us but, by that point, we were too stuffed to eat much more anyway.
****************************************************************************************************************************

Ding ding ding!  Time's up!  And the winner is . . . . Mrs. Wilke's!
Folks, let's see those final tallies:
Overall score for The Lady and Sons: A solid B minus.  Good but not great and definitely not worth the expense.
Overall score for Mrs. Wilke's Dining Room: A solid A.  Whatever else you do in Savannah, if you're there on a weekday, stand in line and go to Mrs. Wilke's.
Details:
The Lady and Sons is located at 102 West Congress Street in downtown Savannah.  They do not accept reservations and are open during the day and night.  Hours are at their website but you shouldn't have too much of a wait on most days unless you get there at the same time as a tour group.
Mrs. Wilke's Dining Room is located at 107 West Jones Street in downtown Savannah.  Their restaurant can be hard to find so just look for the line that starts around 11:00 on Jones Street.  They are open only on weekdays between 11 - 2 and they do not accept credit cards.  A meal costs $16 per person and $8 for children under 12.