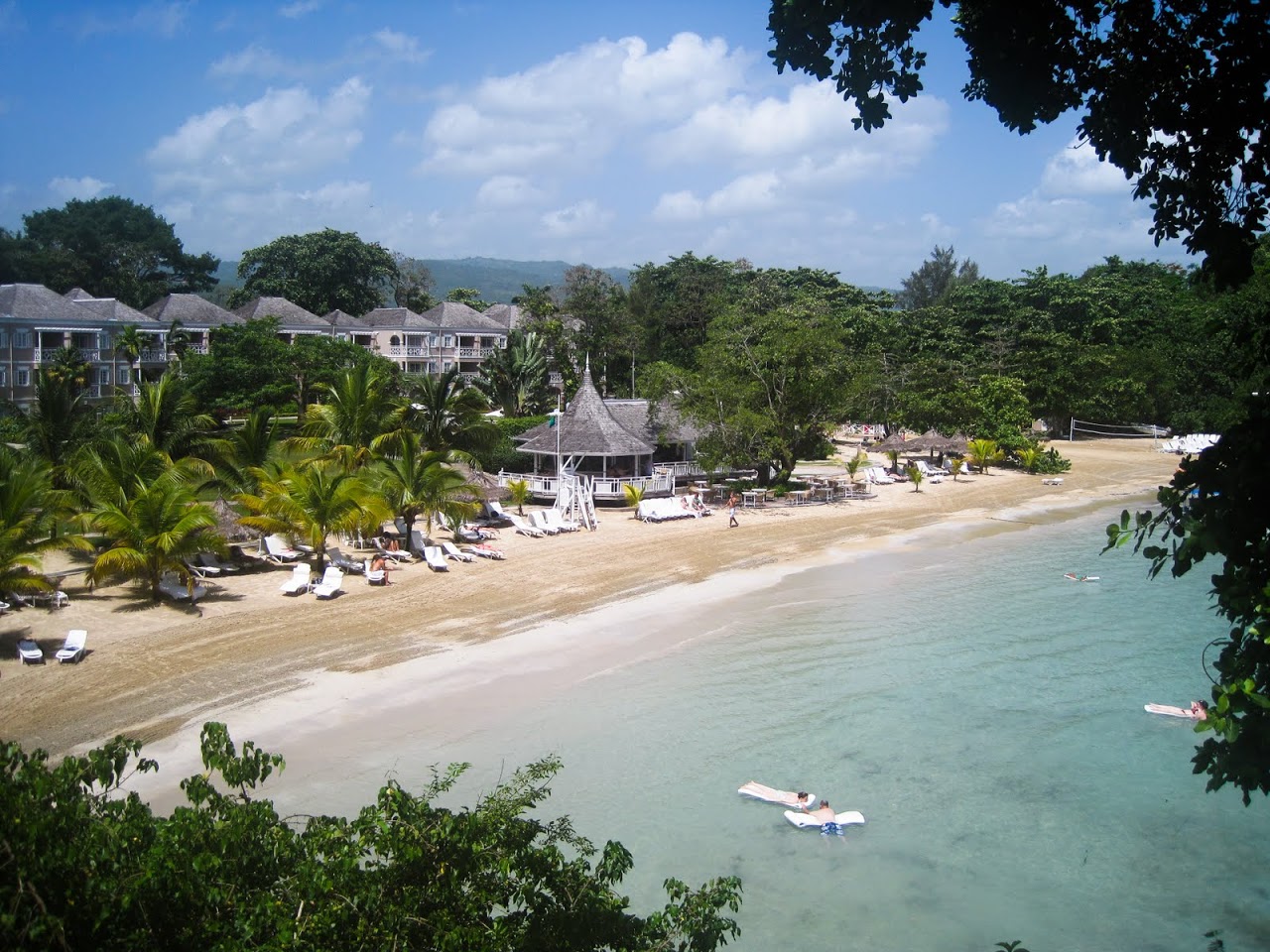 View of Couples San Souci main beach
I told my mom that we were planning something special for our anniversary and then went on to say, "We're going on vacation."  To which, she laughed and said, "But, isn't that what you always do?  Wouldn't it be more special to stay home?"  Aahhh, but this was the difference: for our anniversary, we weren't planning to travel , to spend time in hostels, eat with the locals, work while roaming on stinky buses, or try to break into the culture; no, this time we would go on vacation and be unabashed, joyful tourists.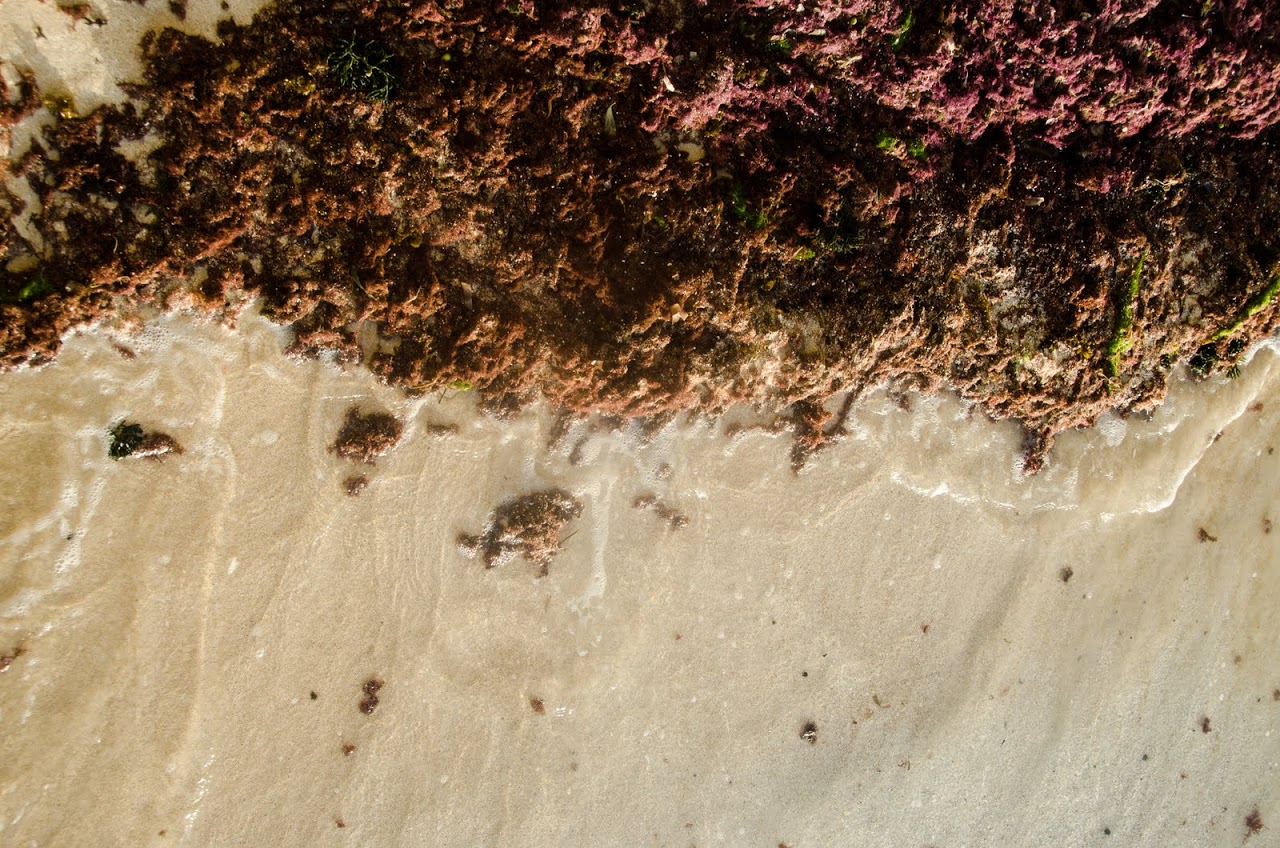 View of algae, sand, and ocean
I love our life --- don't get me wrong --- but for the last two years, whenever we find ourselves at a beach, we hole up on our patio with our computers, working furiously until the clacking of our fingers against the keyboards almost drowns out the ocean's waves.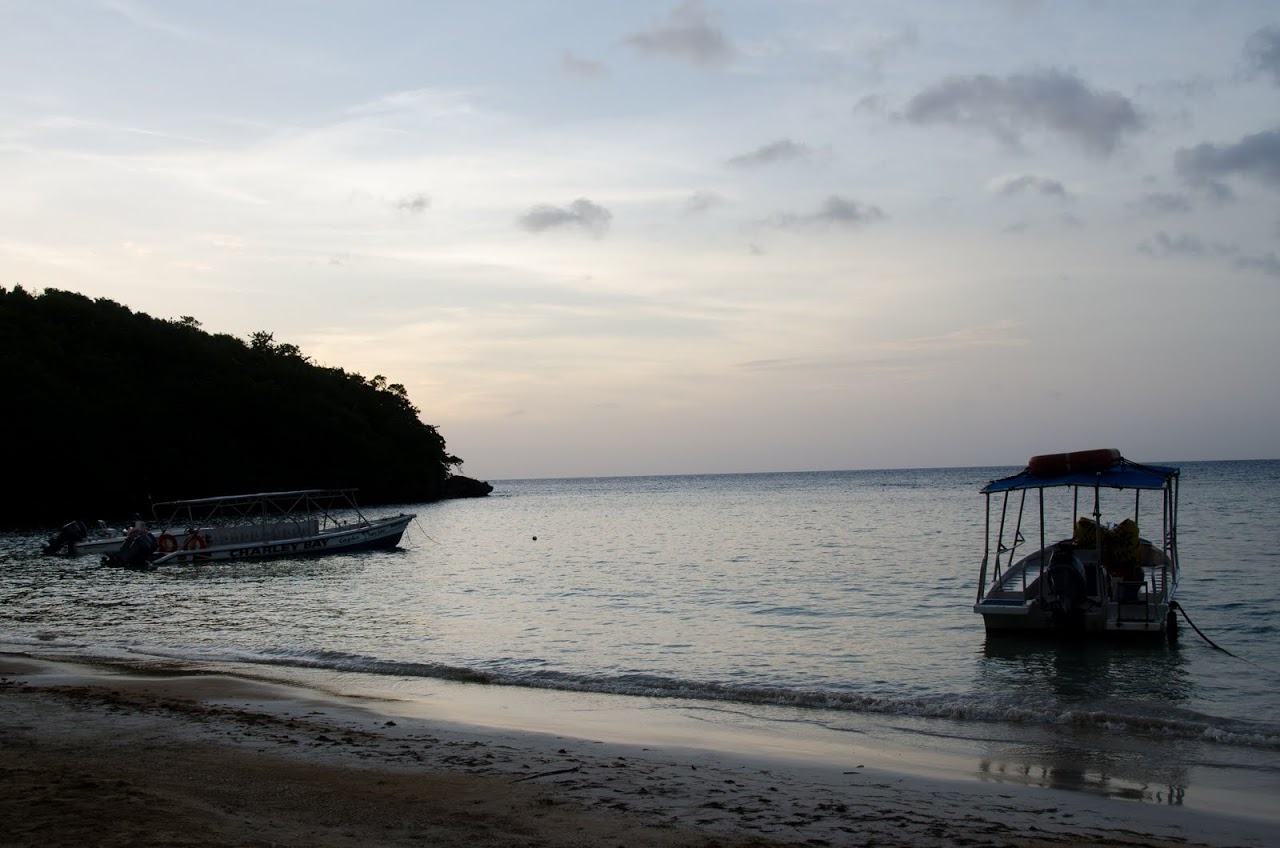 Dive boats and glass bottom boat
The beach, as it turns out, is the perfect place to work because after a couple of hours in the sun, we get tired and want to head back to the room where the computers come out and work begins.  So, for our anniversary trip, we put a wholesale ban on laptops, bringing only our iPad out to play games and occasionally check e-mail.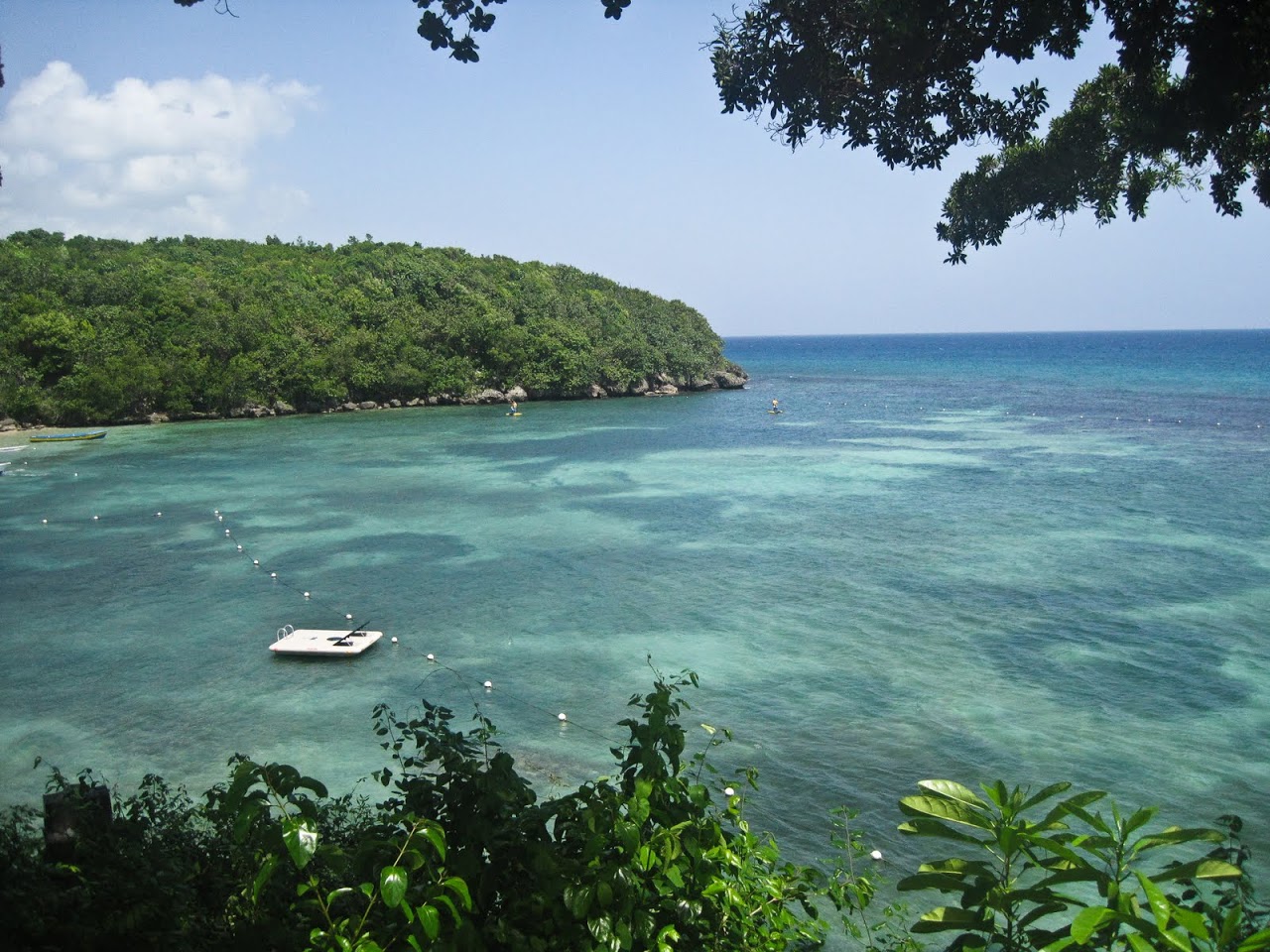 Ocean at Couples San Souci
We chose Couples San Souci for our splurge luxury vacation, in part because of the outstanding reviews on Tripadvisor, and in part because we spent our honeymoon at Couples Negril and Couples Ocho Rios (now Couples Tower Isle).  Couples San Souci is an all-inclusive resort in Ocho Rios, Jamaica, and one of the older all-inclusive resorts on the island.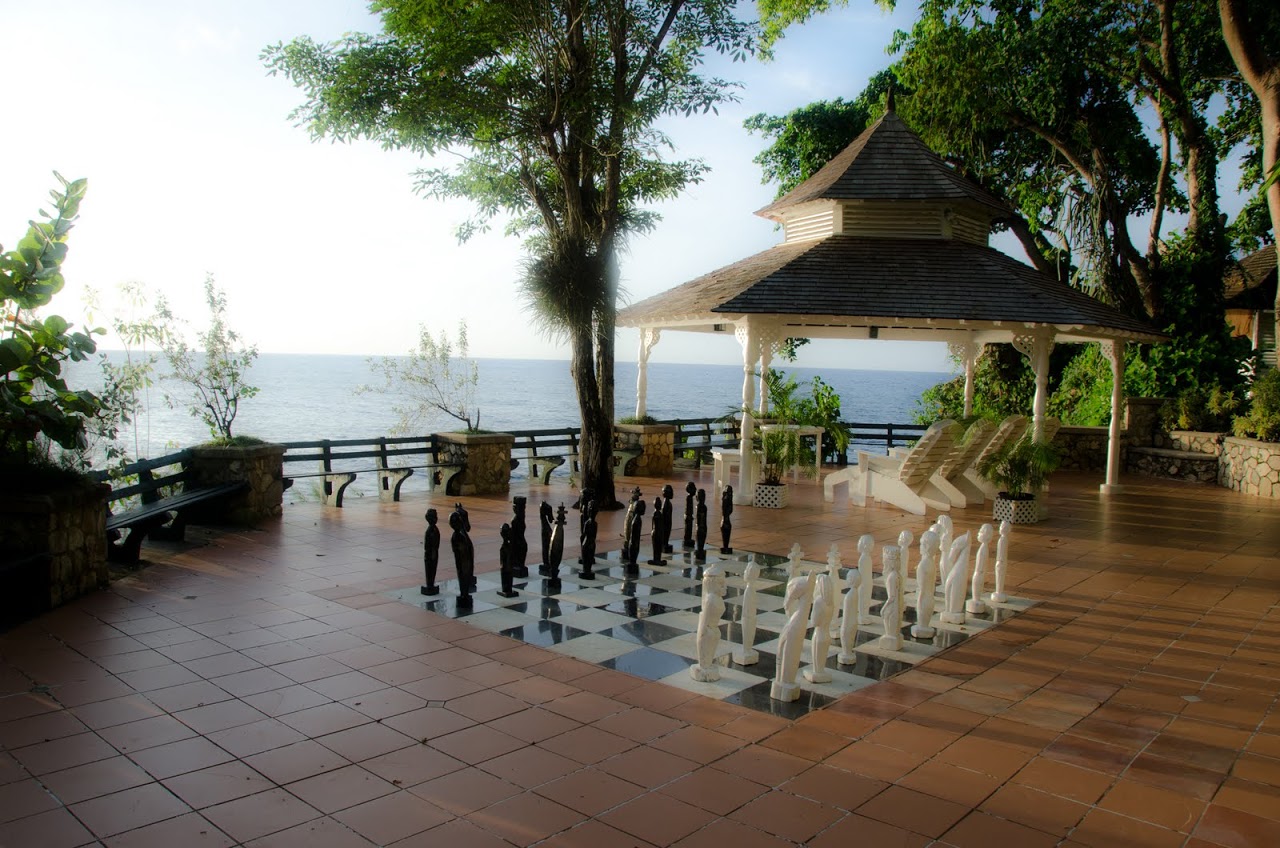 Giant chess set at Couples San Souci
We landed in Jamaica, made our way through Customs and Immigration, retrieved our luggage, and walked into tropical-painted Couples waiting lounge at Montego Bay airport.  We sat for about fifteen minutes, sipping bottled water and relaxing on the purple couches, until our shuttle to San Souci was ready.  Then, porters carried our luggage to the van.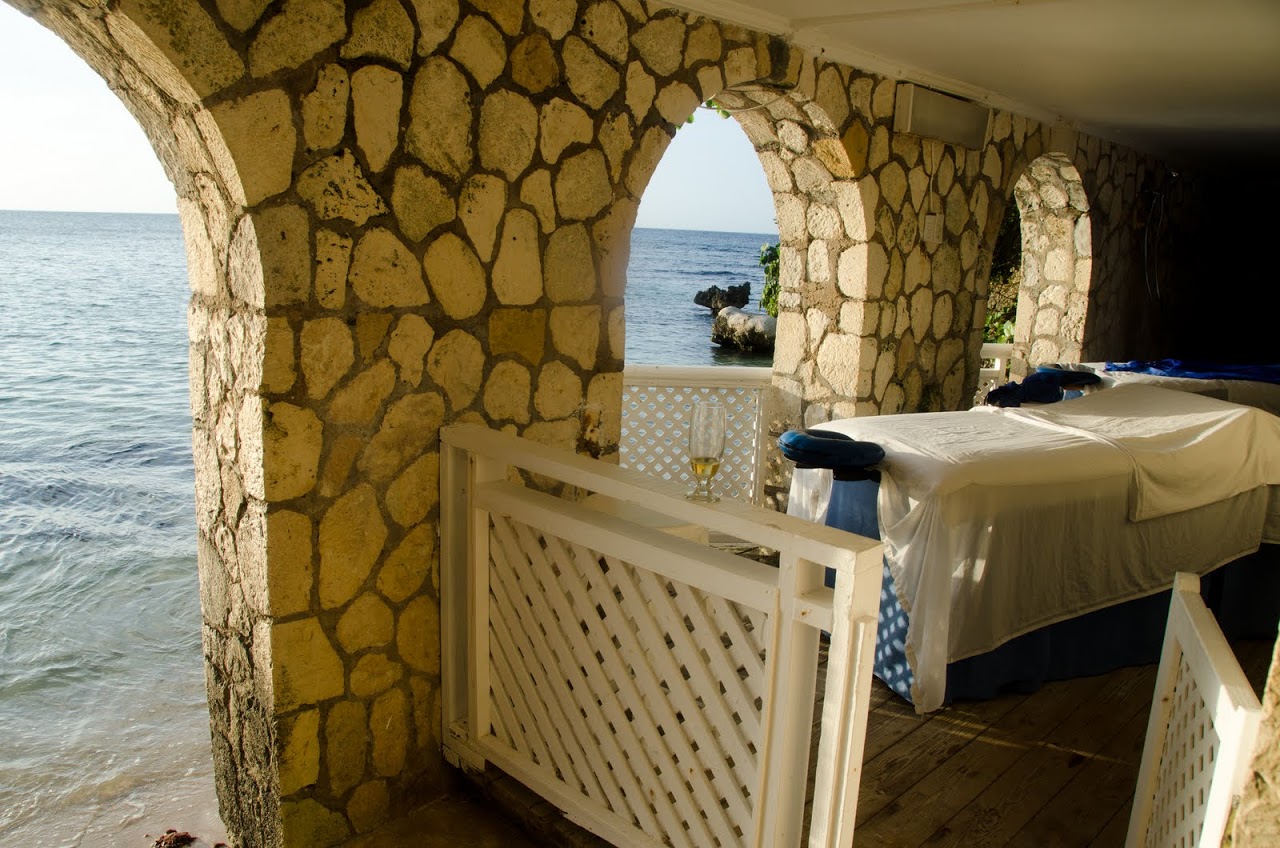 View from one of the massage pavillions at Couples San Souci
This, in and of itself, is not a strange thing.  Porters are paid to carry luggage and, in a resort like Couples, it is not surprising that they would have porters carry our luggage.  No, the surprising thing is that when Patrick and I said that we would gladly carry our own bags --- consisting of my own carry-on backpack, Patrick's slightly larger bag, and one electronics backpack --- the Couples staff stared at us as if we had suggested carrying the moon on our own backs.  It was merely another reminder that we know not how to relax and have someone else wait on us.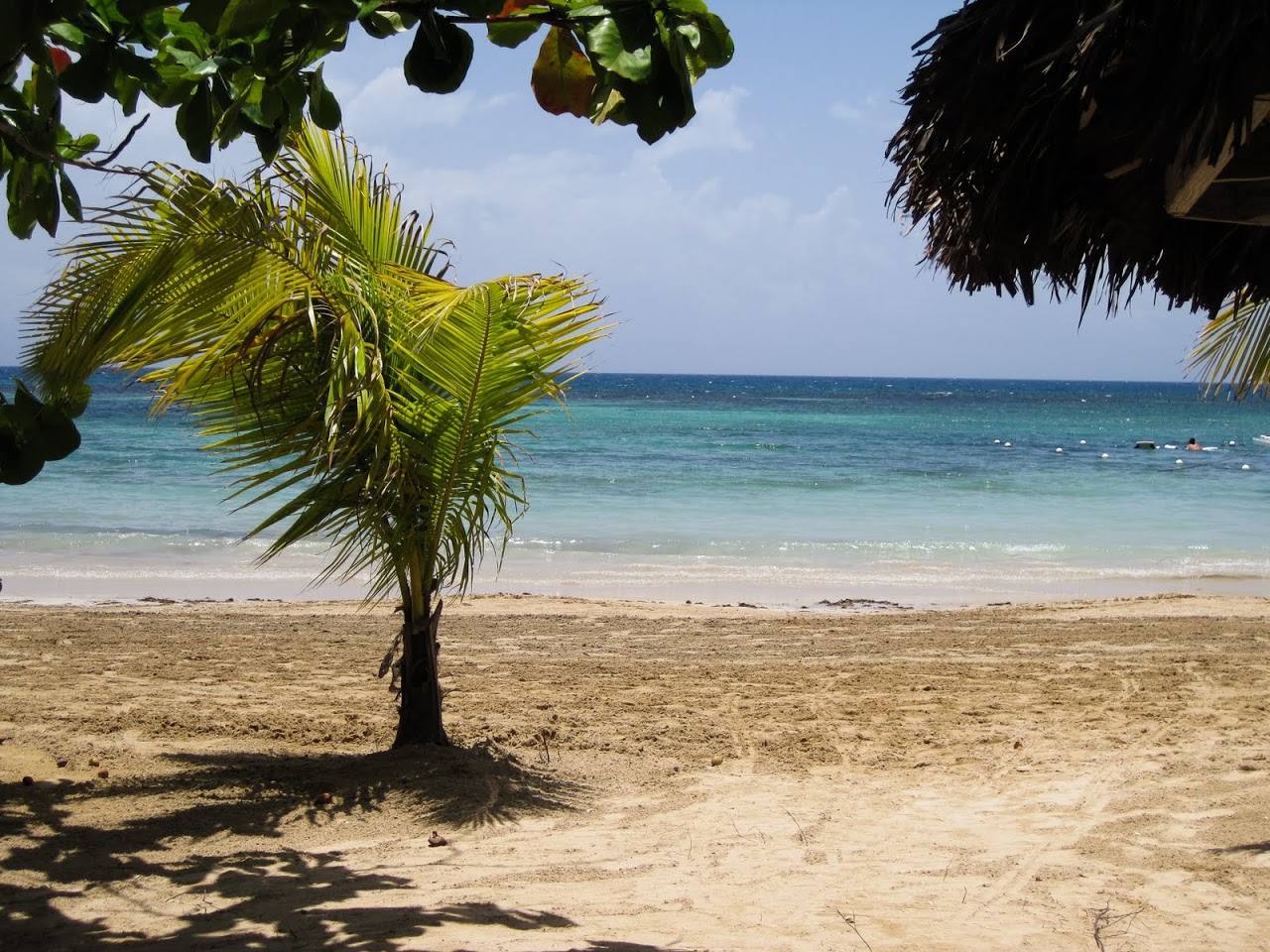 Small beach at Couples San Souci
A short drive later brought us to the resort where a lovely woman brought us warm towels and bottled water while we checked in.  We followed a porter to our room, expecting unbridled luxury, especially after seeing the views from the reception area.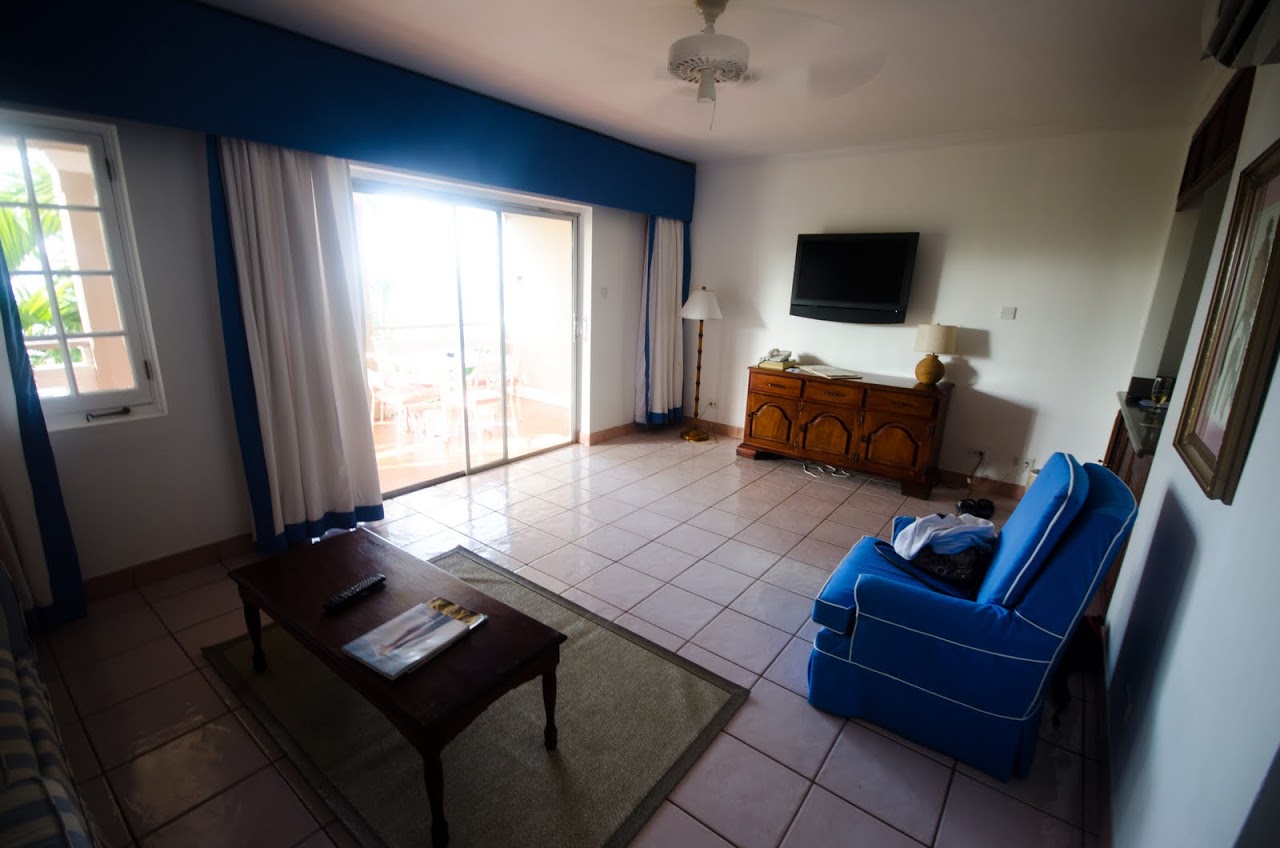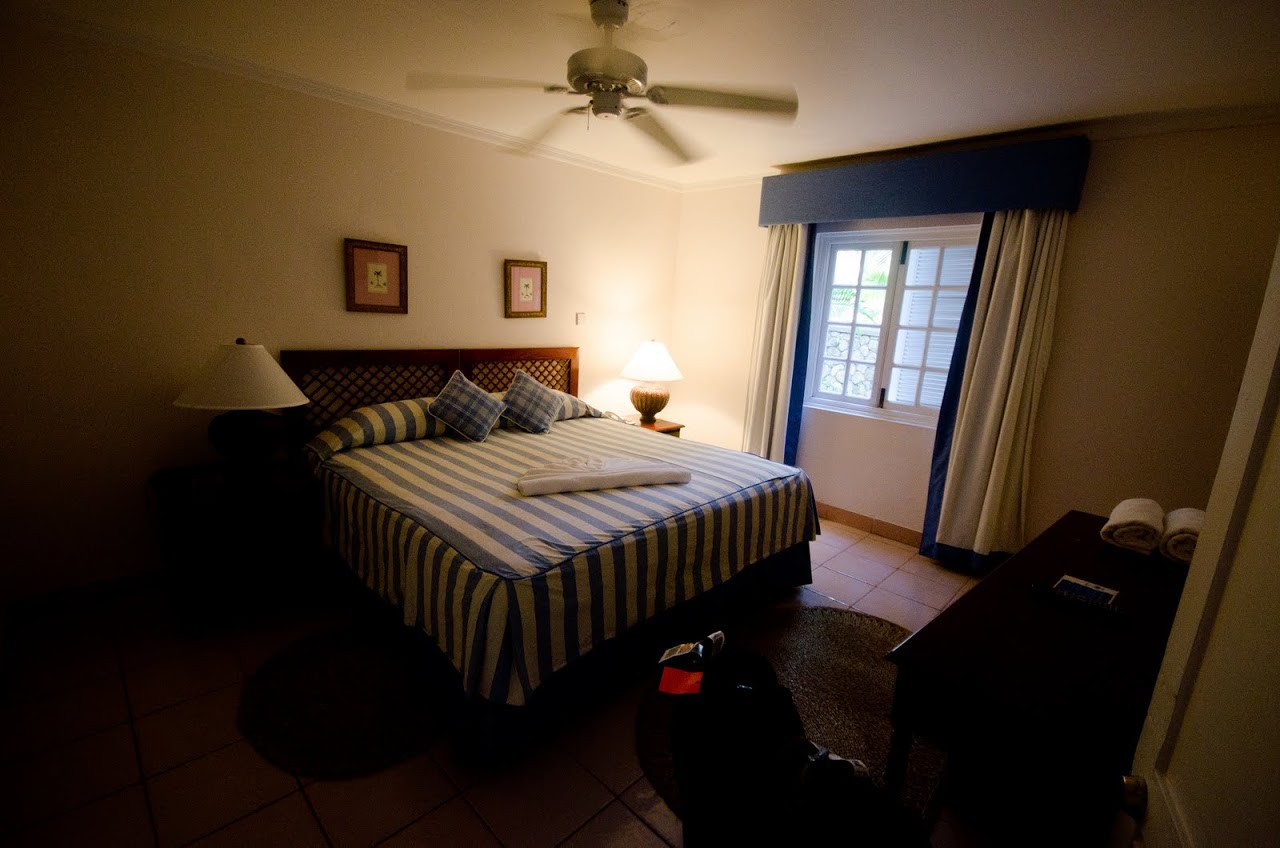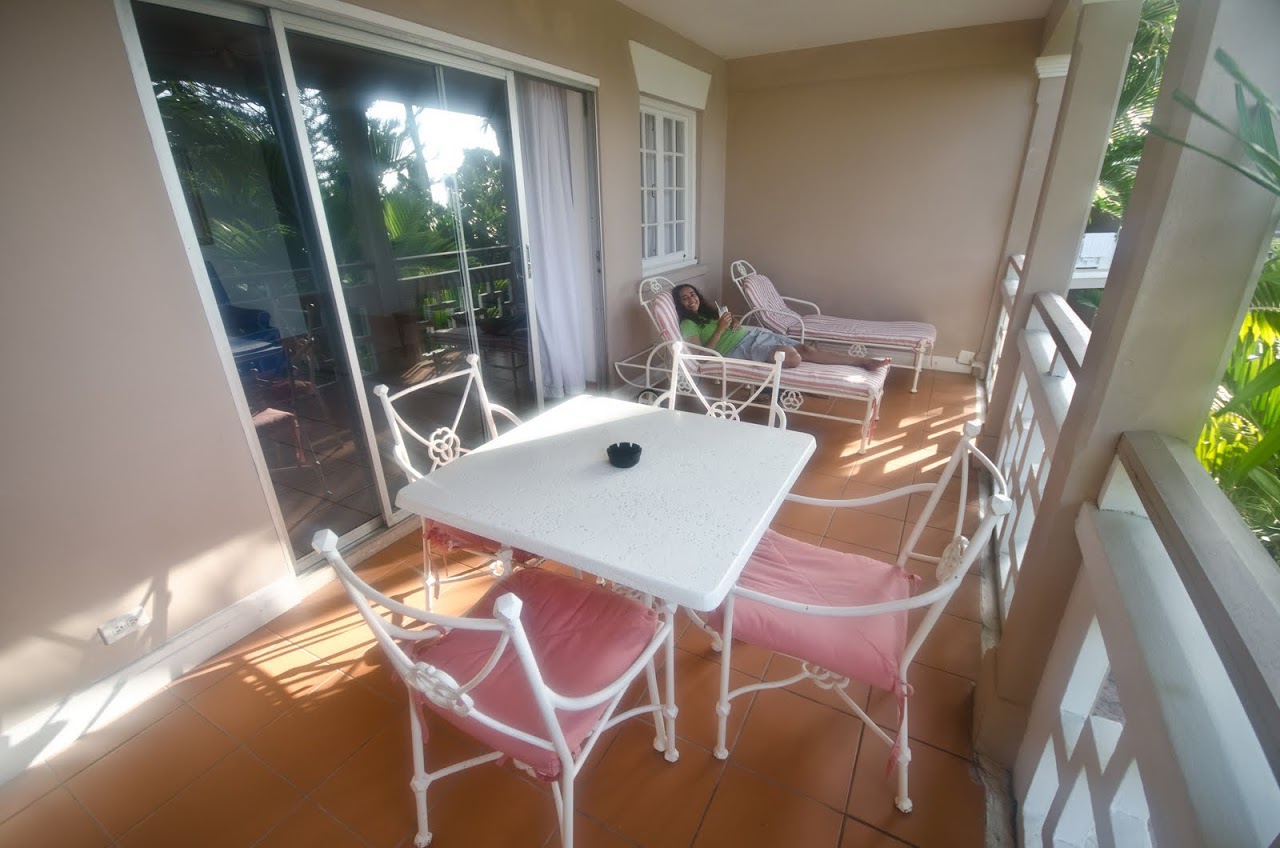 One Bedroom Ocean Suite at Couples San Souci
We were disappointed.  Our room was almost too large, because the furniture took up only a quarter of the space, and the whole suite needed a good coat of paint.  For some strange reason, we had two small bathrooms that looked as if they had not been remodeled since the 1970s, instead of one large bathroom.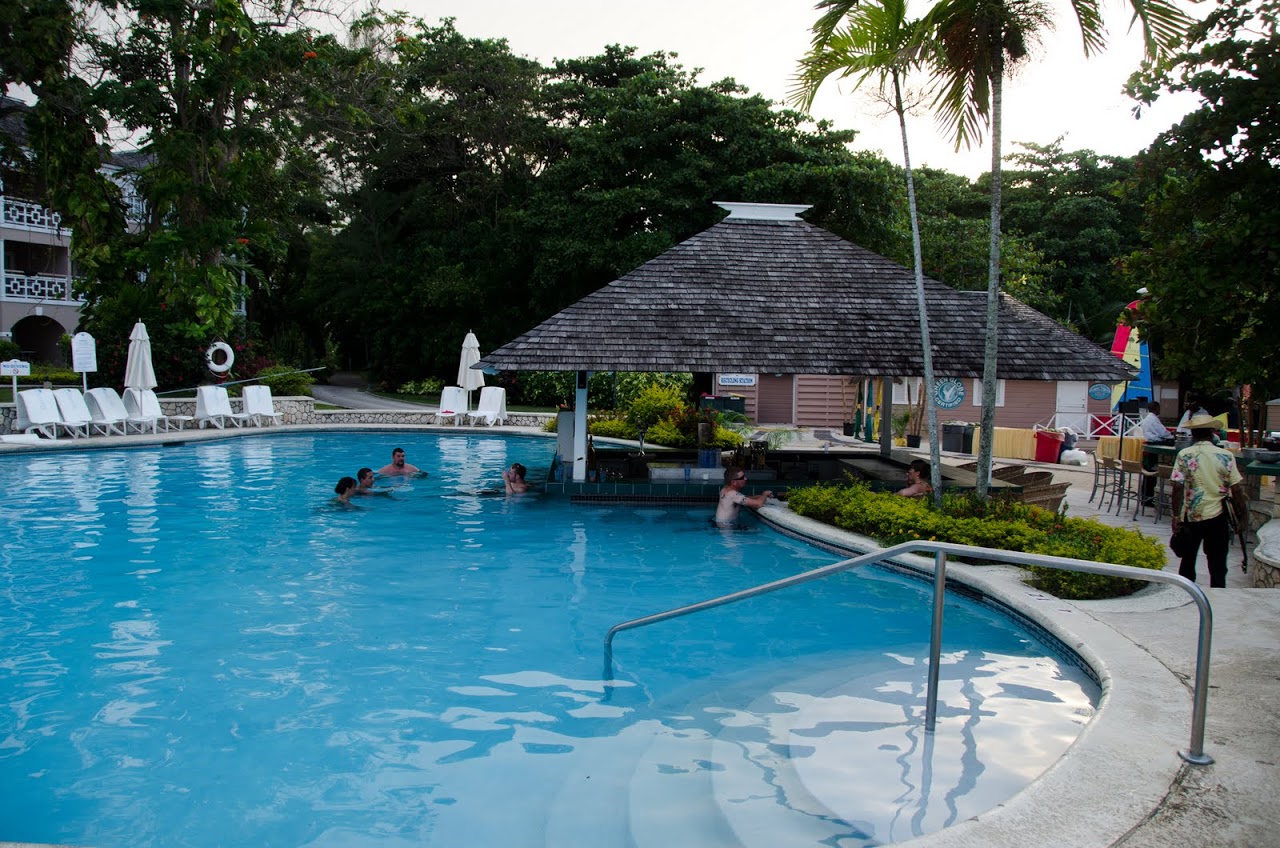 Main pool
But, a few hours after the initial disappointment, we realized why everyone raves about this resort.  Every single staff member seemed genuinely nice, happy, and interested in making sure that we had the best time possible.  These people cared about doing an exceptional job --- from the janitors and maids who kept the place sparkling clean to the cooks and bartenders who ensured that we never hungered or thirsted.  I had a long conversation with one of the bartenders about the types of boardgames traditionally played by Jamaicans (yes, this really is the sort of thing I find fascinating), and she remembered my drink every single day.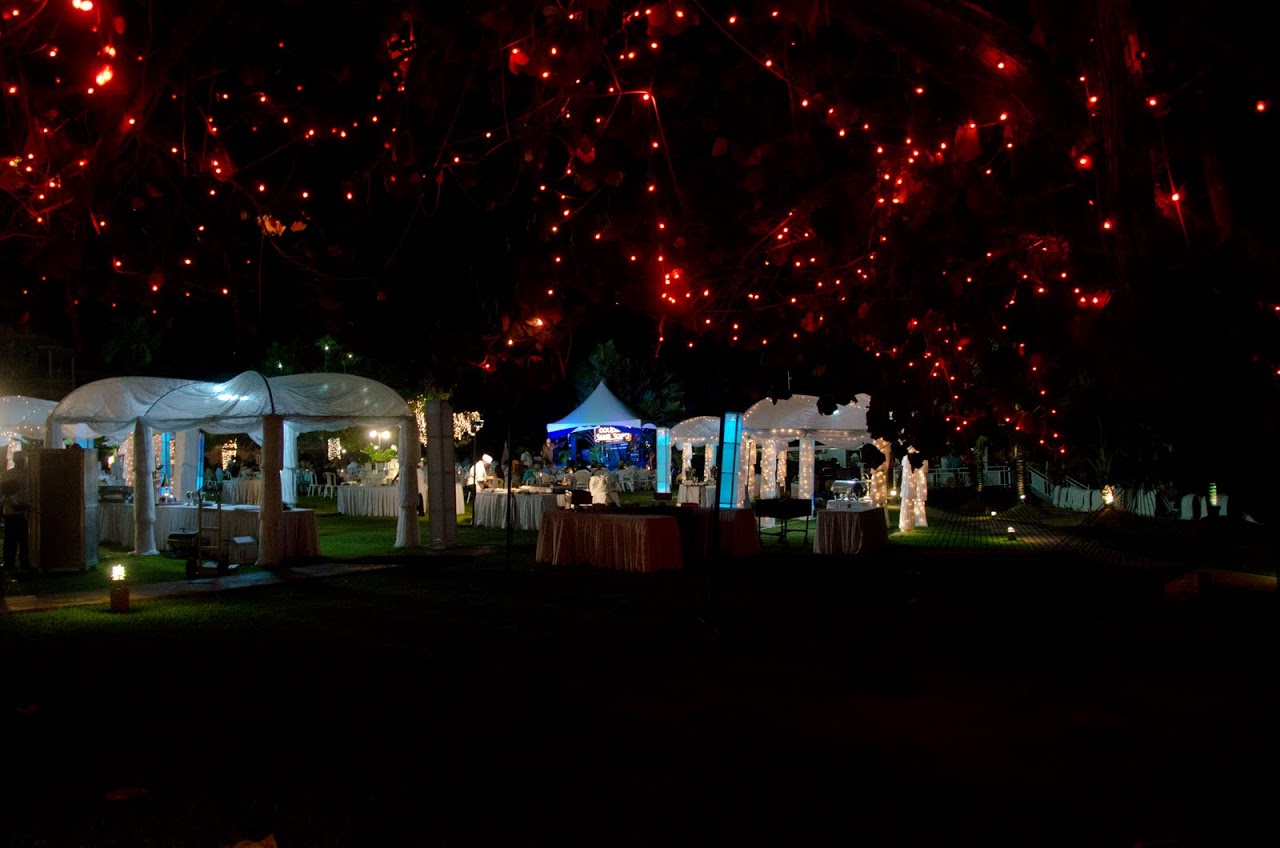 | | |
| --- | --- |
| | |
| | |
Starlight gala
For each of the special themed nights, such as the Starlight Gala and the Tuesday Beach Grill, the staff began setting up early in the morning to create a sparkling wonderland, but by the next morning, all vestiges of the setup was gone.  We always had a wide variety of food available and, though I won't say that it is five star quality as advertised, the food was very good with a wide variety of choices, well-presented, and tasty.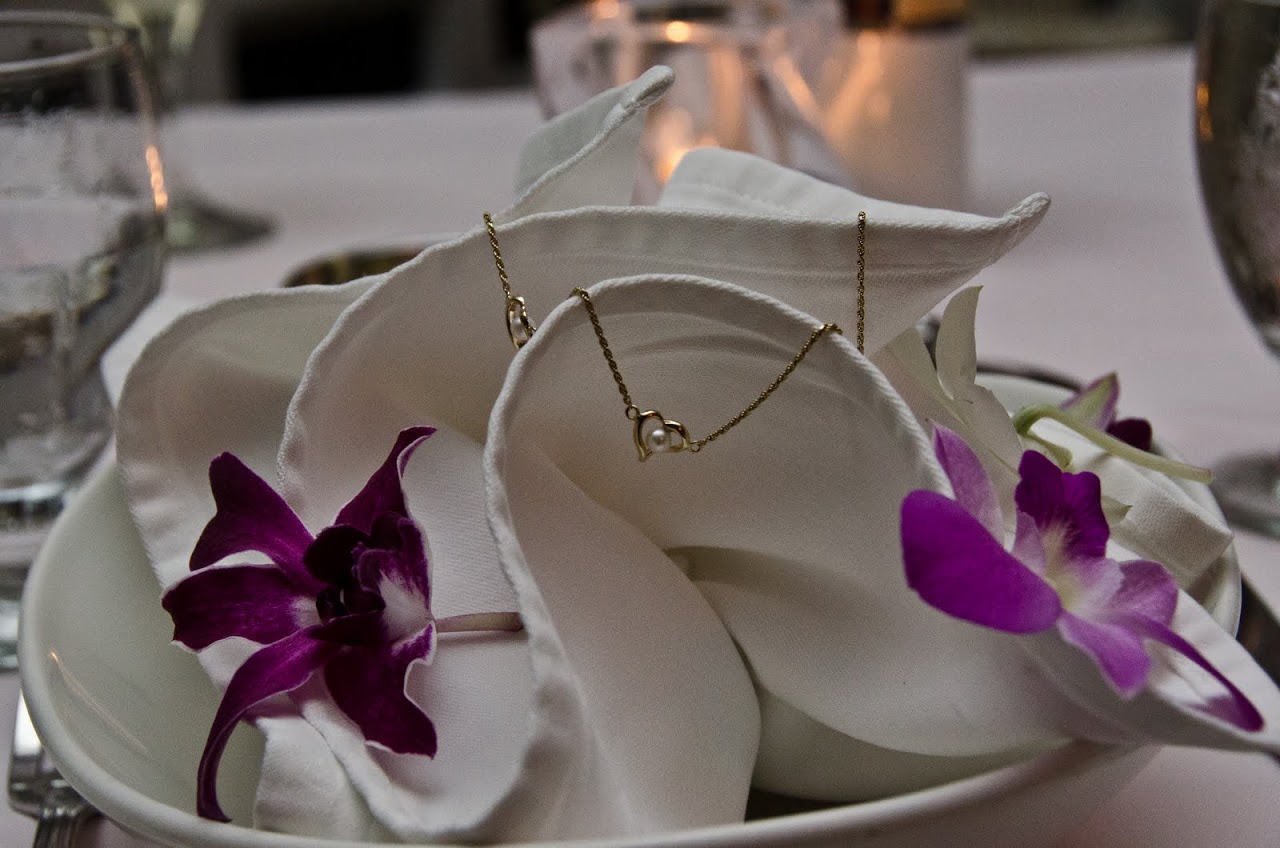 Dinner and my surprise at Casanova restaurant
And, on our anniversary, the team at Couples went above and beyond.  Patrick had bought me a beautiful anklet and went downstairs during our delicious dinner at the Casanova restaurant to get some champagne delivered up.  One of the waiters stopped him and asked him what he needed and Patrick explained.  The waiter said, "No problem, mon.  You hand it to me and I'll take care of it."  Fifteen minutes later, as I was blissfully chatting away about something entirely inconsequential, a waiter came out with a bottle of champagne, two glasses, and a beautiful anklet draped around an artfully placed napkin with orchids around it.  Tears may or may not have welled up in eyes . . . but that surprise would have never happened if not for the wonderful staff at the Casanova restaurant.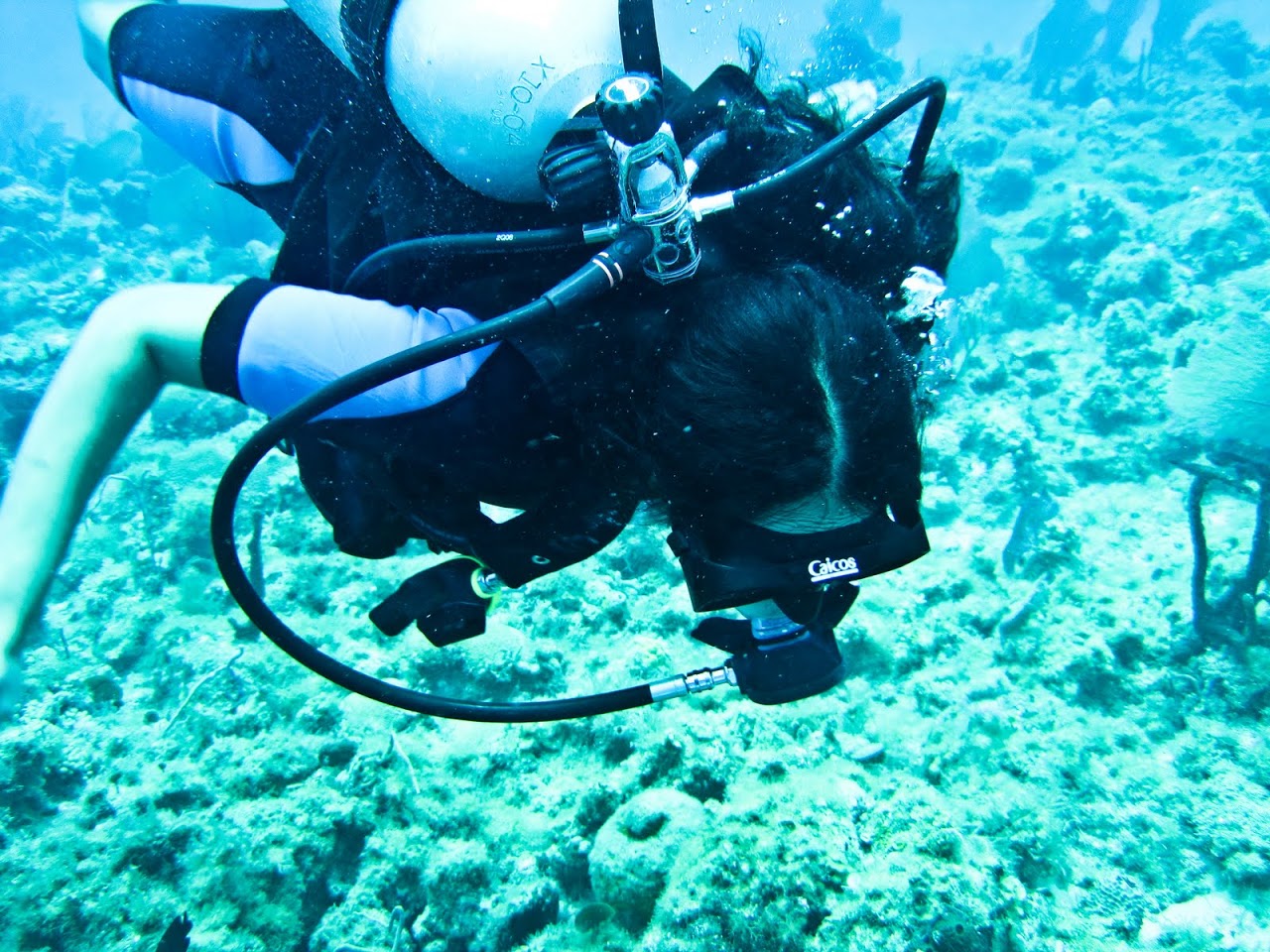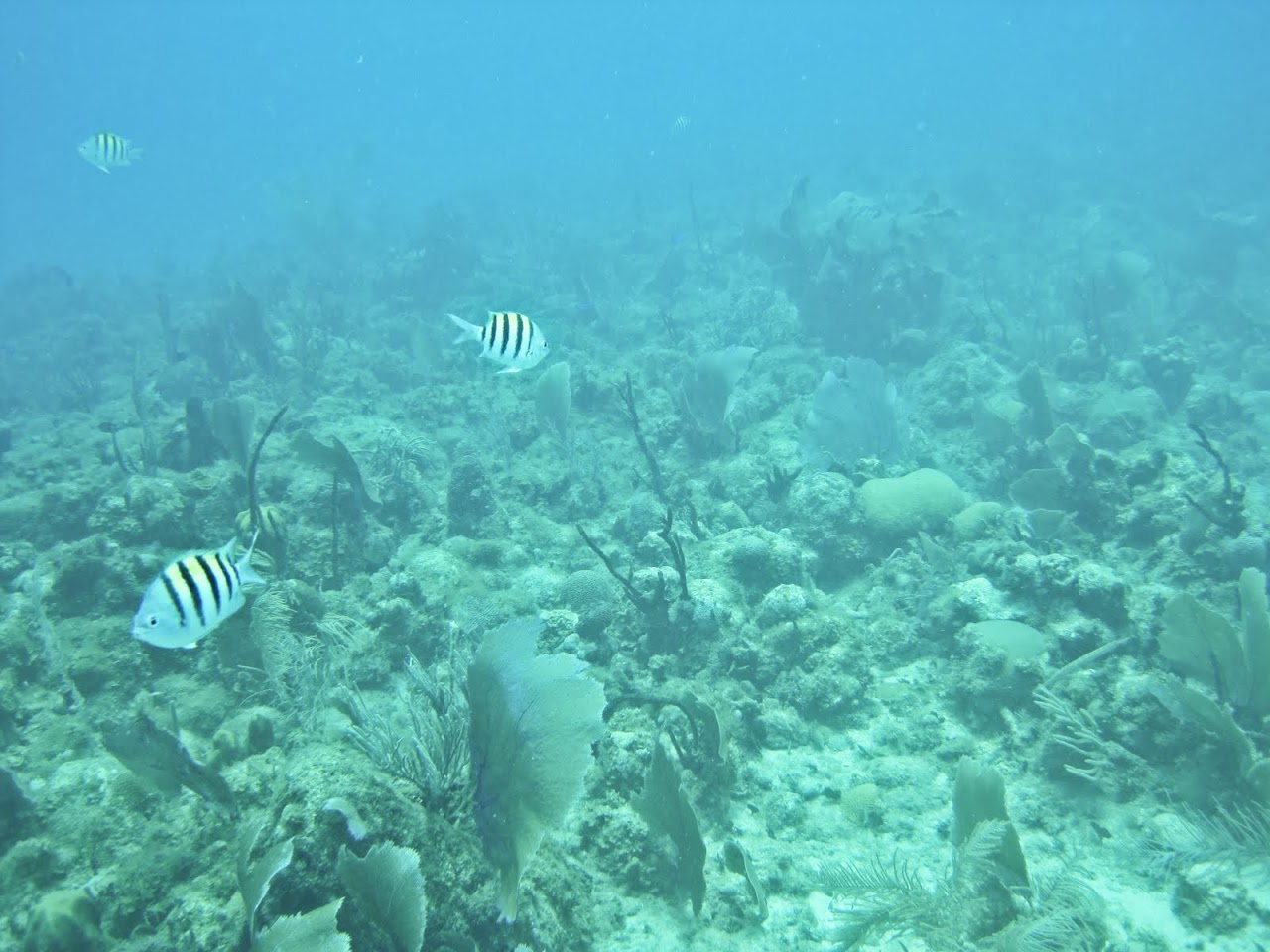 Diving
The only part of our trip that we would fault is the dive center.  On the one dive we took, all of the open water divers were grouped in with the introductory divers, meaning that there were 16 people in the group, 8 of whom had never dove before.  We went down slowly, saw very little, and went up while both of us still had plenty of air in our tanks to accommodate the intro divers.  None of the open water divers were particularly happy about that dive, though the other divers mentioned that the other dives that week had been much better.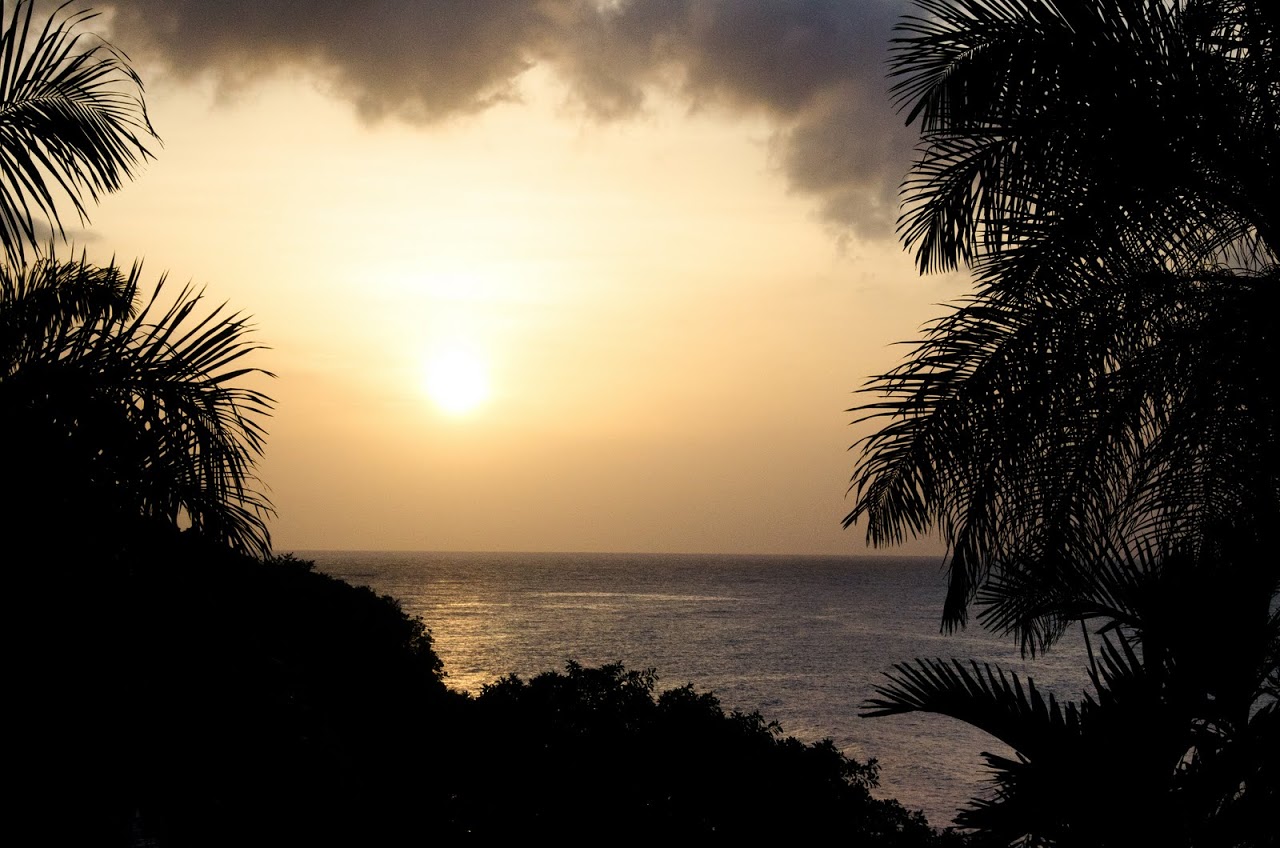 Sunset at Couples San Souci from our balcony
But, that was a small irritation in a generally wonderful five days.  I can't imagine that there are many resorts where every moment we are cared for, where the staff go out of their way to get to know and help us, where every need is anticipated and met, and where every employee cares deeply about the impression that their resort makes on the vacationer.  From the moment we set foot at Couples San Souci and the bellhop said, "Welcome home," we actually felt that we were at home ---- though a far, far more luxurious home than we have ever lived in.  Ultimately, the reason we chose an all-inclusive resort was the same reason we were happy we stayed at Couples San Souci; we simply wanted to relax and we did.
Details
We can without hesitation recommend Couples San Souci to vacationers looking for a luxurious, stress-free vacation.  Don't go in expecting the high-tech glamor of a W hotel or even a Hilton, because you will be sorely disappointed.  Couples has an island vibe, with beautiful patios, verandahs, and walkways that jump through forest, garden, pools, and beach.  There are MANY stairs and the property is quite large so it is absolutely not suitable for a person with limited mobility or anyone who may have difficulty walking a lot.
There are three restaurants with one serving a buffet breakfast and lunch, the other serving a bar lunch, and all three serving dinner.  Reservations are necessary at two of the restaurants but we never had too much difficulty getting a spot.  The food is, for the most part, quite good and sometimes verging on great.  There are limited vegetarian options though I was guaranteed at least one vegetarian entree and appetizer at each main meal.  If you go to the same restaurant twice in one week, you will be ordering off a repeated menu.
Couples offers no shortage of activities --- from free scuba diving (including free introductory dives for those who are not certified), snorkeling, Hobie Cat sailing, glass bottom boating, shorebound activities, and tours to Dunn's River Falls and the shopping areas.
We took advantage of very little, opting instead to plop ourselves into one of the many beach chairs with our little flag in our hand to wave the beachside bartender when we needed anything and a good book on our laps.  I ended up reading five novels during our four day stay, ate a whole heap of food, and spent some time in the sun and water, which is pretty much my idea of the perfect vacation.