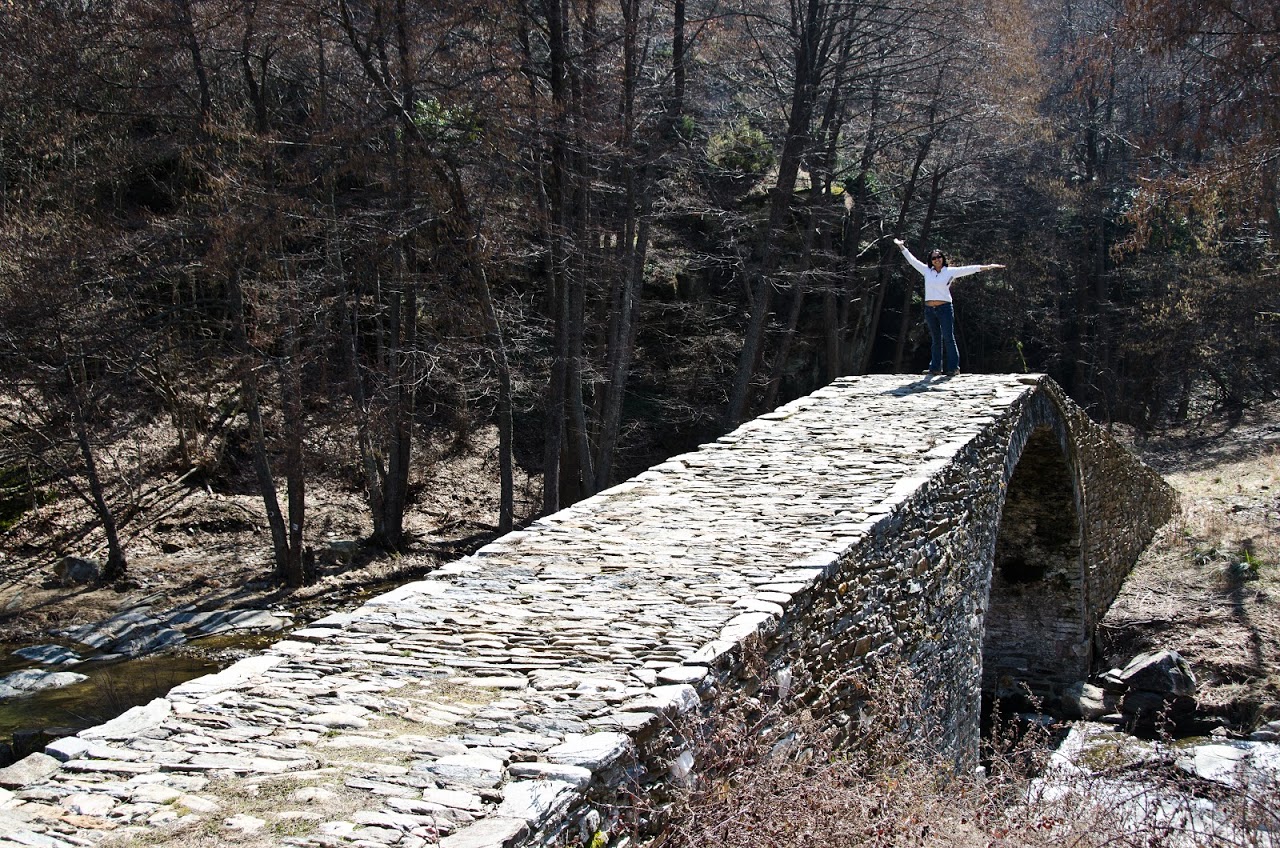 Roman bridge near Lyutitsa in Bulgaria
If you want off-the-beaten path, southeastern Bulgaria is it.  In our month there, we never met another tourist and we had to drive a solid hour to get to a respectable sized grocery store.  Our Rough Guide spared about three pages for this region, assuming that most travelers would only pass through it on the way to Greece or Turkey.  Yes, Ivailovgrad is only one hour away from the Turkish border and only ten minutes away from the Greek border but there are some things to do in this area.  So, if you happen to find yourself in southeastern Bulgaria, here's your guide on what to see and do.

Villa Armira
Villa Armira: If you're only going to see one thing in southeastern Bulgaria, Villa Armira should be it.  We've seen ancient ruins in all of the famous spots --- Rome, Pompeii, Ephesus, and Athens --- but Ivailovgrad, Bulgaria beats them all hollow in terms of stunning original mosaic flooring.  Villa Armira isn't a huge site but it is a surprisingly intact villa of a Roman Thrace who governed the nearby area during the 1st century AD.  The images of the man and woman in the second picture are images of the villa's owner and his wife.  The villa is decorated almost entirely in white marble, mined from the region, and the garden area sounds a deep pool.
Perperikon
Perperikon: Perperikon is one of the largest Thracian cities and believed to be the location of the Temple of Dionysius, as important in ancient Greece as the Temple of Apollo at Delphi. As with everything else we saw in this region, we pulled into a huge parking lot with lots of signs and a few Bulgarians willing to show us around.  We hiked up the original, very steep stairs up the hill and then wound up at the ruins of what was once an amazing city.  Our guide mimed that the pots underneath the ledge were for collecting water and the strange holes in the rock (second picture from the bottom on the right) was a cooking stove.  If you're not much into ancient ruins, the views from the top of the surrounding countryside are worth the arduous trek.

Lyutitsa
Lyutitsa: The 14th century "White Fortress" had twelve white marble towers, of which eight are still standing.  It's not a particularly interesting site since most of it is rubble or overgrown and it is a pretty difficult hike to get up there since the roads are truly abominable (see lower right picture for a view of the road), but there are some nice views and it seems to be a reasonably popular place for the locals to picnic.
Admire the rural architecture at Gorno Lekuvo: The Communist government consolidated a number of villages in rural Bulgaria and Gorno Lekuvo was abandoned, as a result.  Today, the houses crumble into the stunning landscape.  There are very few people still living in this town, especially since the village has no electricity or running water.  However, there is abundant (though often leaky) housing and we even found one full house owned entirely by a family of goats.  It's a pretty strange and interesting place to visit.
Sheep near Ivailovgrad
Enjoy the pastoral scenery: Mountains, sheep, and shepherds seem to dominate much of southeastern Bulgaria so, no matter where you go, you are guaranteed pastoral scenery and good (though sometime difficult) hiking.  It's, without a doubt, the most popular activity for the few intrepid tourists who visit southern Bulgaria!