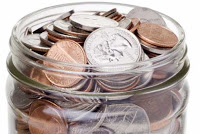 I've been thinking about budgets a lot lately because Patrick and I are in the midst of creating our budget for our 15-month European leg.  You would think that we would be pretty good at this budgeting stuff, considering that we budgeted for our 13-month Australia, Asia, and Africa legs and came home with way more money than we expected, but we're still nervous.  Budgeting is the point where we lay down the line in the sand and tell ourselves, "This is it.  If we don't save this much, then something has to get cut."  And, we don't want to cut anything, of course.  So, I'm going to talk you through how we created our round-the-world budget, the mistakes we made, the lessons that we learned, and show you how we're creating our European budget.
Our Round-the-World Goal Budget
You're going to laugh when you read how we created our budget for our round-the-world trip, especially when I compare our method with the folks who are going to be chiming in on Tuesday's Travelers Talk Back.  Our very impressive budgeting methodology:

Seriously.  We didn't know how much to budget and we were both making good incomes, so we picked $6,000 a month or $72,000 for the year (for both of us).  Why $6,000?  Well, we had a couple of reasons:
We had recently gone on a one week trip to Puerto Rico which, cost-wise, fell somewhere in between the countries we wanted to visit, and had spent $1,500 there for the week.  Multiply $1,500 by 4 and you get $6,000 for the month or $72,000 for the year.
Most other travelers spent around $50,000 to $60,000 for a couple to travel 1 year on a trip fairly similar to ours, or somewhere around $2,000 - $2,500 per person per month.  We knew that we were going to spend a bit more because we were coming home in between legs to be with the puppies which would result in higher transportation costs.
We thought it would be good to budget higher than average to have a nice cushion in case we wanted to splurge on nicer hotels or activities.
6 is double my lucky number and half of Patrick's lucky number.
Looking back, I continue to think that this is the most ridiculous budgeting method EVER created.  But, it worked.
Why Our Ridiculous Budgeting Method Worked

In total, we spent a little less than $66,000 for the two of us over 13 months (rather than 12 months), including four round trip flights back to the United States, which means that we spent about $5,080 per month, or $2,540 per person per month.  [Note: This figure includes vaccinations, airplane flights, daily travel expenses, and clothing/gear purchased for our trip EXCEPT for our electronics.  We replaced a computer, purchased a new camera, and several lenses in the last year.]
I think this is fairly in line with most other couples because we went to 12 countries over the 13 months.  Obviously, you could travel for less; because we had the money, we opted to get private rooms in hostels rather than staying in dorms, returned home every two to three months to be with our dogs, took one emergency flight from Thailand back to the United States, ate out at decent restaurants instead of the cheapest places, and participated in expensive activities like scuba diving .
Mistakes Made, Lessons Learned About Budgeting
So, here's what we learned about budgeting:
1. It is a good idea to budget more than the average person actually spends. Because we had money left in our budget at the end of our trip, we were able to afford splurges like shark diving in Gansbaii and a ridiculously awesome lunch at Le Colombe in Cape Town.
2. It is possible to make money while you are traveling which will throw your whole budgeting process out of whack. The reason we ended up coming back to the United States with way more money than we expected, resulting in us prolonging our trip to include the 15-month stint in Europe, is because Patrick and I both got consulting jobs while we traveled.  We didn't expect to get those jobs . . . it kind of happened (and I'll tell you how in my next post) . . . but it meant that, when we came back in October, we hadn't dipped into our savings all that much.
3. Don't get too hung up on your budget. At the end of our first month in Australia , we freaked out when we realized we had spent $9,000.  But, when we got to New Zealand , we spent a lot less and even less when we went to Thailand .  We've found that the best way to save money is to cut back on accomodation expenses wherever possible because we don't need all that much: WiFi, air conditioning, and a clean room are more than sufficient for us.  If we go to an expensive country one month, we go to a cheaper country in the next month, which is why we traveled to China after Japan .
4. At the same time, keep a very close eye on your budget. I track all of our outflows and inflows in Quicken and then Patrick does a second run at tracking travel-related outflows and inflows in Excel for tax purposes.  (I personally prefer Quicken to an online management system because I like being able to check and work on my financial transactions offline, while we are on trains and buses, but I know that some people prefer online solutions.)  Because we know exactly how much we have in the bank and how much we have left in our budget, we can make snap decisions about whether a particular activity, accomodation, or transportation is too expensive.  For example, at the end of our stay in China, we considered going to Borneo to scuba dive but decided against it because we were a bit over budget after our Japan and South Korea segments.
What We're Budgeting For Europe
$7,000 per month. In the most expensive countries we traveled in this last year---New Zealand, Japan, Australia, and South Africa---we spent about $7,000 - $9,000 per month.  Western Europe is expensive but we'll be keeping costs down by renting apartments, driving throughout the entire continent with our own car (I'll tell you how another time), and cooking quite a bit since we will have apartments and access to those awesome European markets.  We'll be gone for 15 months which means that we want to have $105,000 in the bank when we leave the United States.
Here's the kicker: we know that we will both be working part time while we are in Europe and expect that our salaries should fund *most* of our trip, which means that we shouldn't have to dig into our savings too much.  But, we still plan to get the $105,000 in the bank before then.  Why?  It's pretty obvious, really: the more money we have saved, the longer we get to keep traveling.
What About A Re-entry Fund/Emergency Fund/Back-Up Plan?
Absolutely.  A reentry fund is a very good thing to have because you want to have money when you get home.  It may take some time to find a job after your travels and having a back-up fund is important for your own peace of mind.  We took almost all the money we made from the sale of our home and locked it away in a CD so we aren't tempted to use it.  If we buy a house, it will be a perfect down payment, or if we ever have difficulty finding jobs, than it will sustain us for quite some time.
Read More From Other Travel Bloggers:
*How We Budgeted For Our RTW Travels is a post in the RTW Travel Planning in Retrospect Project, a weekly community project that seeks to gather insights and advice on round-the-world travel planning from those who have been in the metaphorical trenches. Stay tuned because, on Tuesday, some very fabulous travel bloggers will join in the discussion and reveal how they budgeted for their trips (and there may even be nifty spreadsheets.)  And, if you are a current or recently returned RTW traveler, we would love to hear your thoughts so get in touch with me if you would like to be featured via the comments or at theroadforks [at] gmail [dot] com.