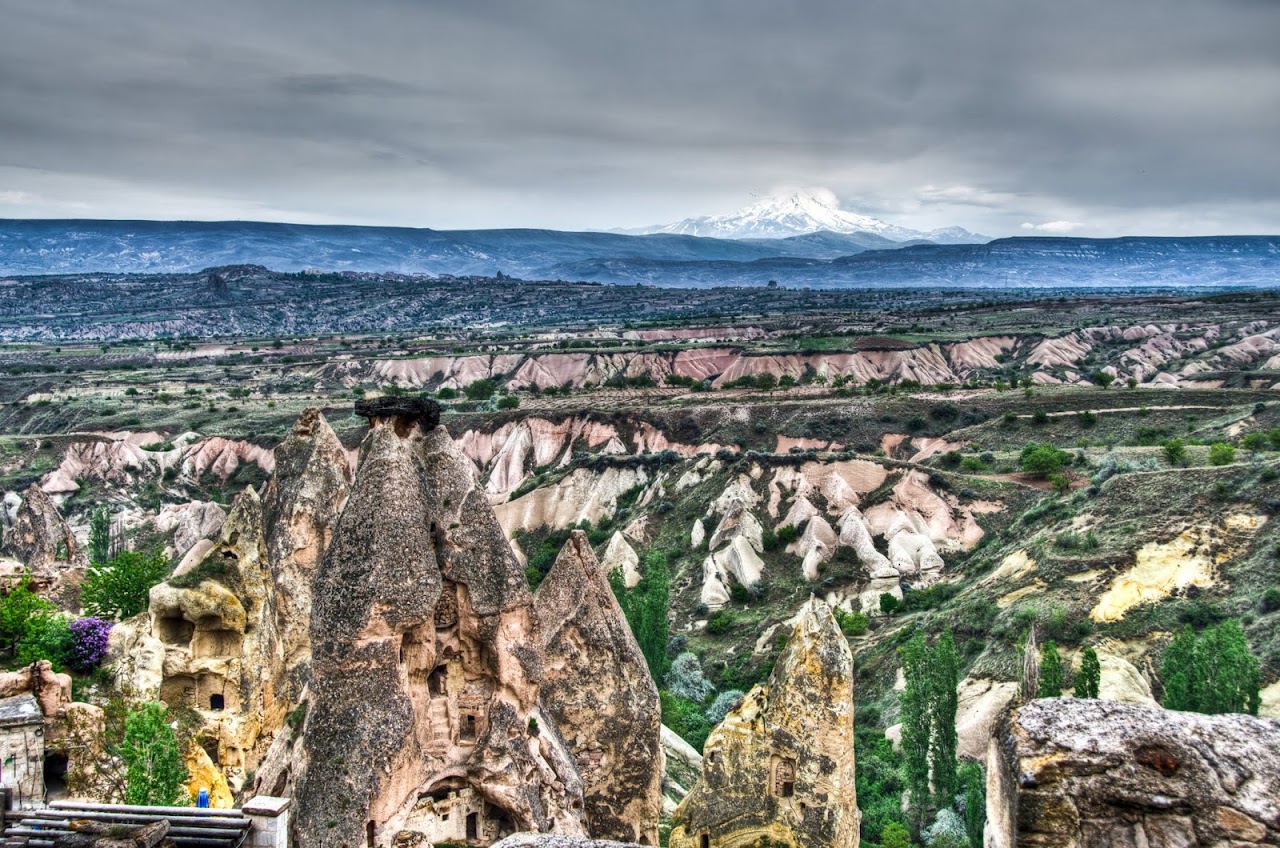 View of Pigeon Valley and the usually cloud-covered Mount Erciyes
We loved Istanbul but, after a month in a city with the city noise, the city air, the city smells , and the city chaos (multiplied by ten for Istanbul), Cappadocia was sweet, sweet relief.  This is why we've decided we'll never be city people: after about a week or two without constant greenery, we start to get grumpy.  Or claustrophobic --- which makes no sense at all because I know that there's lots of space in a city --- but the claustrophobia starts to eat at the back of my shoulders and neck and I find myself wondering how all these people live without oxygen.
(This, by the way, is why I find all these studies about how the average American isn't getting sufficient vitamin D to be a true testament to the sadness of our times.  Walk outside, people.  Breathe the air.  See the sun --- unless you live in Vancouver, Seattle, or London, in which case I can only wish you good luck.)
Anyhow, Cappadocia: wow.    This is one of those places on earth that doesn't seem possible.  I was looking at the Mars Rover pictures this week and, excepting the green, the colors are so similar to the rusty reds, burnt ochres, and virulent yellows found in Cappadocia.  But, despite the desert/canyon conditions, it's also a fertile and lush place, known particularly for its wine region, which in my limited geological knowledge, doesn't seem feasible.  Maybe that should be Cappadocia's slogan: where the impossible meets Earth.
Views from Goreme Open Air Museum, randomly hiking in the Pigeon Valley and other valleys, of Uchisar, and sunset at the Rose Valley
Detail s on Les Maisons de Cappadoce


Studio Ferme at Les Maisons de Cappadoce
Everyone and their brother runs a cave hotel in Cappadocia, not without reason because the limestone is easily carveable and, traditionally, the locals lived in cave and chimney houses.  Plus, it's simply cool to wander into your Flinstones-esque house after a day spent soaring the Cappadocian skies.
We splurged and stayed at the uber-luxurious Les Maisons de Cappadoce , which are small cave houses, each with a kitchen, small lawn, fireplaces, and living space, facing the beautiful Pigeon Valley.  (The picture taken at the top was on the road down to our house and the views from our house were fairly similar to the one pictured at the top.)  We walked in and were immediately in love --- we visited two different houses to decide which one we wanted to stay in and they were both unique and beautiful.
What we loved about Studio Ferme and Les Maisons de Cappadoce:
we received supplies for an amazing breakfast every single morning, with homemade jam, fresh bread, fruits, eggs, and homemade pickled olives;
the cave decor made us feel like we were in a place that was truly unique and special
the views of Pigeon Valley took our breath away every morning, as we sat and ate breakfast on our porch
the owners, Jacques and Seta, are truly lovely people, as are the people who came to clean the house every day, and we felt like honored and treasured guests in this space
it was dog-friendly (and very dog-friendly at that) because Jacques also has two dogs, himself
we had a HUGE, almost 4,000 square foot yard, for the dogs to wander in;
and, we loved Uchisar --- it's much less touristy and quieter than Goreme and the views from Uchisar are better than those in Goreme or any of the other towns --- but it's also only a ten minute drive to Goreme
What we didn't love:
Studio Ferme is the only house that doesn't have WiFi access but all of the other houses have WiFi (I believe that they are working on installing WiFi now at Studio Ferme)
the price - we paid 130 Euros per night, which is quite steep considering that in the rest of Turkey, you can get good lodging for 30 Euros/night.  That being said, Cappadocia is more expensive than anywhere else we visited in Turkey, largely because it's prime source of revenue is tourism, and the cave lodgings are way more expensive than the ordinary pensions you'll find in the other towns.
the road down to the houses is a bit steep so careful driving is essential, especially late at night
Studio Ferme doesn't have a proper lounge area, but rather two dining areas, which is fine but, at night, we really wanted a place to relax rather than in bed
Despite the cost, we HIGHLY recommend Les Maisons de Cappadoce as a perfect splurge (and, if you're honeymooning in Turkey, I can't think of a nicer place to stay).  You can't go wrong with this property.
A bit about dining in Cappadocia

Cappadocia's dining scene disappointments. Tom Brosnahan at Turkey Travel Planner describes Cappadocia's food scene as "international" and, it's international in the sense that there's a melange of French, Italian, British, and Turkish food on every menu.  I personally find it very odd to have Turkish manti and fettucini alfredo on the same menu, but that's the norm in Cappadocia.  Here's our thoughts on a few restaurants we tried:
Vine-wrapped hellim cheese, mushroom pasta, manti, and stuffed figs at Sira Restaurant
The best restaurant we tried in Cappadocia was Sira restaurant, attached to the Sira hotel in Uchisar.  The vine-wrapped hellim cheese was particularly unique and tasty, though the mushroom pasta had an odd sweet flavor and the manti wasn't quite spicy enough.  But, all in all, it was a good meal at a reasonable price.
Dinner at Elai restaurant
Elai Restaurant in Uchisar receives all sorts of accolades and we found it to be okay, though a bit pricey.  Again, we had an odd menu, with a Turkish meze platter to start, truffled raviolis for me, stuffed chicken for Patrick, and a citrus panna cotta for dessert.  It's not bad but neither is it an exceptional restaurant, but it's better than most of the other dining options in Cappadocia.