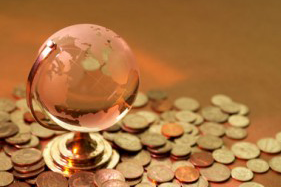 I've been writing about money a lot lately . . . about funding , budgeting , working , and saving . . . because without money, you can't travel long-term.  It's as simple as that.  So, once you accumulate all your money, what do you do with said cash?  Personally, I'm all for the Scrooge McDuck gold vault because ---- come on ---- how awesome would it be to swim through gold coins, but I don't see it as a viable option in this cash and credit card driven society.  No gold vaults for us.
Instead, we have discovered that the answer to "What's in Your (Travel) Wallet?" is Capital One.
Foreign Transaction Fees Are Bad
Before we get into the nitty gritty, let's talk foreign transaction fees.  Foreign transaction fees are nasty little buggers biting at your otherwise-healthy bank account, so insidious that you don't even notice they're hanging around, until you get back home from your Caribbean vacation and are walloped with $70 of extra charges titled "foreign transaction fees."  So, say that you have a Bank of America credit card and use it to purchase a $100 item in England, in addition to the $100, you will be charged:
Bank of America's 3% foreign transaction fee:  $3.00 USD
Visa/Mastercard's 3% foreign transaction fee: $3.00 USD

Six dollars to spend $100 of your own money = ridiculousness.  And, our Bank of America card gives us a lousy exchange rate, too, meaning that we're much better off getting cash out of the ATM and using the local currency.
Unfortunately, Bank of America's ATM fees are equally bad because to take $100 out of a foreign ATM, BoA charges:
The typical external BoA ATM fee: $1.50
Local ATM's fee:  $1.50 - $3.00
Foreign ATM transaction fee:  $5.00
Foreign exchange fee:  1% of the total amount = $1.00 USD
Do you see why I say that foreign transaction fees are bad?  Unfortunately, BoA isn't alone in these ridiculous upcharges.  Check out FlyerGuide's exhaustive analysis and see where your credit card or ATM card stands.  If they are charging you anything to use your money abroad, don't use that card abroad.
Wait a second.  Let me say that again.
If your credit card or bank charges you any foreign transaction fees abroad, they are bad.  Bad.  Bad.   Bad.  Let's talk about my friend, Capital One, instead.
My Go-To Travel Credit Card:  Capital One No Hassle Miles Card
Unfortunately, Capital One doesn't know me and is not sponsoring this post, because I would totally do commercials for them.  I am much less annoying than David Spade, I promise you.  I heart Capital One.  Really.  I heart Capital One and you should, too, if you travel outside the United States.
Capital One Awesomeness:
No foreign transaction fees . Not one pesky little percentage point and they even reimburse us for the Visa/Mastercard fees.
No annual fee .
Visa/Mastercard are accepted almost everywhere in the world.
Platinum Mastercard Car Rental Protection. When we rent a car anywhere in the world excepting Ireland, Jamaica, and a few other countries, our card automatically grants us CDW insurance, meaning that we don't have to pay extra insurance and we're covered if anything happens.  This coverage turned out to be very handy when Europcar claimed that we had to pay an extra $400 for some ridiculous claimed damage that happened after we left the car rental.  Capital One and Mastercard completely handled the issue once I mailed in all of the paperwork we received and reimbursed us for the entire fee.
Fraud Protection. Anytime a strange fee appears on our statement (which is relatively often since we use our card in many different countries), Capital One sends us an email.  We've had our card numbers stolen  and Capital One promptly remedied the problems and sent us new cards in two days because we were leaving to go to a different country.
Points I Can Use on Any Airline and Many Hotel Stays: Every dollar I spend on my card earns me 10 points and I can use those points on airplane tickets, hotel stays, and a variety of other options.  100 points equals $1, meaning that if I have 60,000 Capital One points, I can purchase a $600 plane ticket.  When we use random airlines that do not give us frequent flier miles, we often pay for those tickets using our Capital One points.  We are paying for at least part of our anniversary trip using Capital One points.
Capital One Suckiness:
Clunky Website: Considering it is such a huge credit card company, their website feels and acts incredibly clunky.  They constantly schedule "maintenance time-outs" at 2:00 a.m. EST, which is around the same time that I'm trying to check my account when I'm abroad.  Their site looks like it was designed in 2002 and never given an upgrade and I often have problems downloading transactions into my Quicken account.
Card Freezes When Traveling: For the first six months, Capital One kept freezing our card because we had "strange" overseas transactions.  I called them every time and told them that I was traveling but the maximum vacation they can put in their system is for 90 days, which isn't all too helpful if you're traveling for over a year.  It's not a huge deal but can be annoying.
My Go-To Travel Checking Account:  Capital One No Hassle Miles Direct Banking
Ultimately, the vast majority of our purchases abroad are made using cash.  In most of the world, cash is king and we are always looking for ATM machines that will let us take out money.  Our preference, again, is Capital One Direct Banking.  (Hey, Capital One, are you out there?  You want to hire me?  I love you.)
Capital One Awesomeness:
No minimum amounts required in your account.
No foreign transaction fees when you take money out of the ATM.
Capital One never charges a fee when you take money out of any ATM.
Refund you $10 per month on charges of foreign ATM.
Great competitive exchange rates --- much better than what you see at the currency exchange places at the airport and often better than what I find on XE.com.
Decent website to manage and move around money.
Easy to schedule monthly or bi-monthly transfers of money. We never keep more than $500 to a $1000 in our Capital One account in case our ATM card is stolen and recommend that if you are traveling, that you do the same.  Every two weeks, we transfer a small amount of money into our account using automatic transfers just in case we don't have access to Internet.
Reward Points Tie In With Our Capital One No Hassle Miles: We get reward points on every dollar we keep in our Direct Banking account and those points tie into the same points we gt from our credit card.
Capital One Suckiness:
Immediate transfers of money take at least 7 days. If you don't have enough money in your account and need to transfer money quickly, you can't.  For that reason alone, we keep our Bank of America ATM card (which is where we keep more money) stashed in a very safe and secure place in our suitcases.
Lengthy Process to Start Up Account. It took us over 40 days to get our Capital One Direct Banking account set up.  I am not entirely sure why it took so long but it did.  If you are planning a vacation, plan well ahead to get your bank account set up.
So, tell me, what's in your (travel) wallet?
* Travel Credit Cards and Bank Accounts is a post in the RTW Travel Planning in Retrospect Project, a weekly community project that seeks to gather insights and advice on round-the-world travel planning from those who have been in the metaphorical trenches. Stay tuned because, on Tuesday, some very fabulous travel bloggers will join in the discussion and reveal what they do to save.  And, if you are a current or recently returned RTW traveler, we would love to hear your thoughts so get in touch with me if you would like to be featured via the comments or at theroadforks [at] gmail [dot] com.