Last week, I wrote about how we (don't) fund our travels : basically, we budget, work, and save.  In today's Travelers Talk Back, four fellow travel bloggers chime in on how they funded their trips and, interestingly, all of us used different methods:
My RTW trip was a rapid decision and within five months of deciding to travel around the world I was on airplane to Australia. That's a fairly quick turnaround time and made saving more difficult. I'm fortunate to work remotely doing internet-based SEO and web work that supported every step of my year-long trip - it was a trade-off: leave in 5 months and work about 30 hours/week the whole way or save for a year or two and take an actual break - I'm not overly patient so I left :)

Like you though, working on the road was just one piece of the picture; I wanted more freedom and only part-time work so I saved up massively in those five months. I moved in with my parents, sold my car and every single item in my apartment and cut out all restaurants and my daily Starbucks habit. That formed my base of savings; I was able to work and earn 75 percent of my travel funds monthly, tapping into savings for the other 25 percent. I also never use a credit card for travel funding, but have a small student loan debt that I continue to pay off monthly throughout my travels.

When I left I told myself that if my travel expenses went above what I could earn and pull from my savings I would return home to save some more (which thankfully hasn't happened yet and I'm still on the road and working remotely!).
Shannon traveled around the world from 2008-2009, documenting her entire journey on her blog, A Little Adrift , came home, and then hit the road again, working as she travels.  She is currently hanging out in Chiang Mai.  Her site is a wealth of information for female solo travelers, vegetarians, and anyone wanting a dose of cheerful honesty about out-of-the-way destinations like Cuba and Bosnia.
Keith and I came about funding our travels a little bit differently.  Yes, the basics were there: work hard, earn money,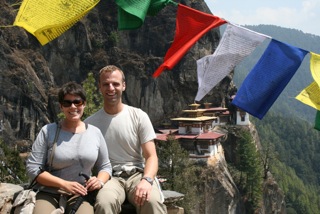 save money.  We'd been following that basic pattern for a few years, with a vague notion of saving for that someday when we'd buy a house or something like that.  Then, seemingly out of nowhere, we realized that we didn't need or want a house; we wanted to travel. So when the epiphany hit us that we could actually quit our jobs and spend a year traveling around the world, we had a pretty good nest egg already set up.
Our main goal became maximizing that nest egg so that we'd have something to fall back on when we came back to the States.  The cable got cut.  Books came from that magical place down the street – the library – rather than the bookstore. Many ramen noodles were eaten. OK, I'll admit, that one was more about cleaning out the pantry than saving money, but it did help accomplish both.  We also sold our car and rented out our condo for the year we were gone, which helped cover a lot of our fixed costs back home.
And while we didn't work while traveling (and earned just enough from our blog to cover our hosting costs), we did make a little extra pocket money on an accidental incident of currency hedging in Australia – our campervan security deposit was charged right after a plummet in the Aussie dollar's value and was returned 3 weeks later when the currency returned to a more typical exchange rate.  Nothing but luck, but it defrayed the costs of surfing lessons, scuba diving and a few nice meals down under.

Keith and Amy documented environmental sustainability and green issues on their 10-month round-the-world trip on their site Green Around the Globe .  We were lucky enough to meet the two of them in Cambodia and are so thrilled to hear that, after returning home in August 2010, Keith has leveraged his passions for sustainability and travel into his new job at Johnson & Johnson as Senior Product Director - Global Sustainability Marketing.
I think Akila hit it right on the money as far as making a travel blog fund the travel.  We dreamed for it to happen but planned for it not to.  I'd even go so far to point out that the blogging rockstars she highlighted - who are living our dream - don't necessarily make enough to live where they call home.  It took us a long time to come to that realization, and once we did we logged off a lot more often.

So how did we fund our trip....nothing more than saving for a goal.  As we graduated from university we made it our goal to be back from our travels abroad before either of us turned 30.  That meant hoarding our money and paying off our student loans so that we'd be free of debt and free to travel.  Over five years post-college we lived in a small apartment, cooked for ourselves, biked instead of using the car, and saved one entire salary while living on the other.  Our cheap housing was a big key in enabling our travels but had we had a pricier place the trip would have merely been delayed a bit, not cancelled.  We tracked our spending on spreadsheets daily and now have developed a budgeting website to help others do the same.  We thought we might work a bit on the road but quickly realized that working on the road was not much different than working at home....so we gave that up and thanked our graces that we'd saved up all we needed in advance.

Danny and Jillian just returned home from their 18 month journey across the world and blogged about their trip at I Should Log Off .  As experts in traveling on a budget (they only paid for lodging for 53% of the nights they traveled), they are sharing their tricks via their new free budgeting website called DoughHound , which has already been featured in the New York Times .

We knew right from the start that the majority of our funding would come from the equity in our condo but we also paid down all our debt and saved our asses off!  We sold our condo when we saw the market going down, put all our stuff into storage and lived in a teeny, tiny, furnished basement suite until our departure. We also sold our car - although not to make money, but because we owed money on it. During the trip we didn't work at all; although we had thought we would if we burned through the money faster than expected. We didn't use credit or loan money; it was all saved and portioned out for the trip, including a 'nest egg' for when we returned.
Gillian and Jason traveled around the world in 2009, returning in May 2010, and recently decided to be " responsibly irresponsible " and start saving for their next big adventure.  Gillian writes at One-Giant-Step.com about her recent RTW trip; the planning, the traveling, the coming home and her future challenges. She believes that we are all only OneGiantStep away from realizing our dreams...it's not that far!

*Travelers Talk Back is a part of the RTW in Retrospect Community Project , a series that intends to bring together the opinions of travelers on how they planned for their trip and how that planning panned out.  And, we want to hear from you! If you are a recently returned RTWer or current RTWer and would be interested in contributing, please let me know via comments or e-mail at theroadforks [at] gmail [dot] com.