This is a lengthy list of all the online resources I have used to plan our trip to Australia.  You should know one thing, though: I have an illness that involves keeping my fingers and eyes glued to my computer screen while planning a trip.  In the advanced stages of this disease, I write 15 page long lists of every restaurant I want to try in a particular city.  For those of you who suffer as I do, I look forward to reading your comments on sites that I have missed and should visit.  For the rest of you, I hope that this list will help you plan your trip to the land down under.  But, please do not feel pity for my condition.  I actually enjoy my disease.

Online Guidebooks: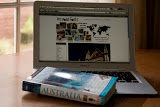 Location-Specific Guides and Blogs:
Sydney:
Cairns/Port Douglas/Great Barrier Reef:
Alice Springs/Uluru:
Adelaide/Great Ocean Road/Melbourne:
Why haven't I included more regions in Australia? These are the places we are planning on traveling.  I know that there are amazing resources for other spots in Oz; for example, there is a wonderful blog about the Australian Outback that nearly convinced us that we should head up there despite the November heat.  If you know about other online resources for Western Australia, the Outback, etc., we would appreciate it if you would drop a note in the comments.
Hotels
Tripadvisor : Unlike some countries, Australia reviews tend to be recent and fairly up to date for hotels, hostels, and apartments.
Hostelworld : Hostelworld reviews tend to be hit or miss.  In the larger cities, like Sydney, I've seen recent reviews.  Travelers tend not to post for smaller towns.
Restaurants/Food:
Because I rely on Google searches to make my resources list, I know that there are many sites (especially blogs) that I have missed; please leave a comment if you know about a great site or blog that provides information about traveling in Australia.  Thanks!