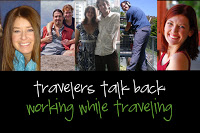 Last week, I described how Patrick and I work as digital nomads while we travel .  Today, five other sets of travelers are talking about the various ways in which they make a living while traveling: technology consulting, SEO writing, software development, tutoring, WWOOFing, and more.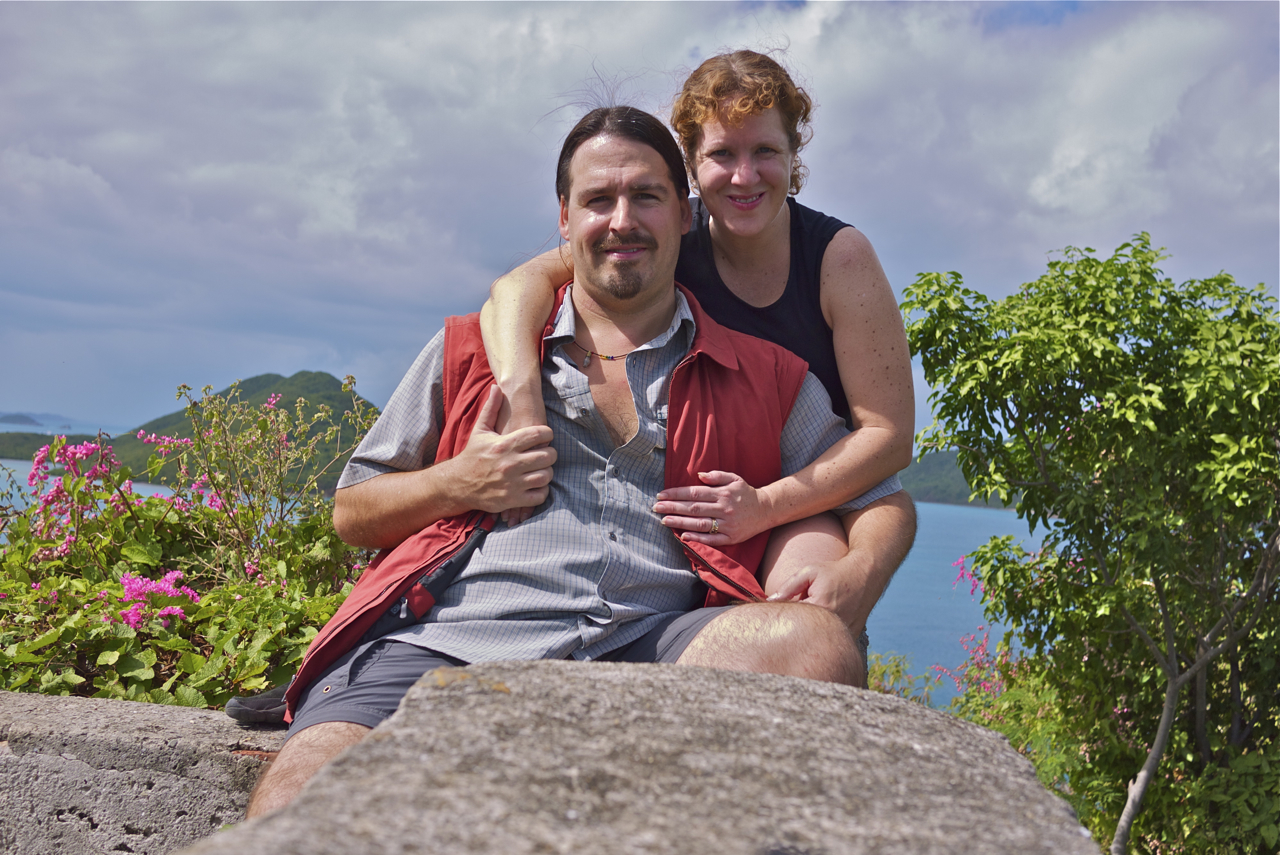 Cherie and Chris from Technomadia :
Software and Mobile App Developers
My partner, Chris, and I, have been traveling full time without a fixed home base since 2006. However, ever since 1994, I've been running a small family software development business that was designed from the ground up to be what is now referred to as 'location independent'.  We ran it out of our homes for many years, communicating with our clients via phone, e-mail and instant messaging with occasional on site visits.  So when I decided to sell my beachside home in Florida to join Chris in his tiny little solar powered travel trailer, it wasn't that much of a shift at all to take my existing business on the road with me.  All I needed was a fairly reliable way to get online (cellular data) and a way to power my laptop (solar panels) and I can be anywhere.  Today I still run that same business with many of the same clients, plus we produce a line of incredibly useful travel mobile apps.  And we're exploring other modalities of nomadism aside from domestic US-based RVing.

My advice to anyone exploring working while traveling full time is to definitely not look at the travel as a vacation. You will need to find balance between getting your work done and exploration, and I generally find a slower pace of travel works best.  For me, I look at it as having ever changing amazing office views and a new things to explore when taking a break.
Cherie Ve Ard and Chris Dunphy are technomads: that is, technologically enabled nomads.  Since 2006, Chris & Cherie have explored the confluence of full-time travel, wanderlust, adventure, life, career and community; all while embracing nomadic serendipity.  They are currently RVing their way around the United States, writing about their adventures on their blog Technomadia , and will be hosting a session at the South by Southwest Festival regarding Technomadism - Becoming a Technology Enabled Nomad.  Connect with them at their blog , Twitter ( @Technomadia ), or Facebook .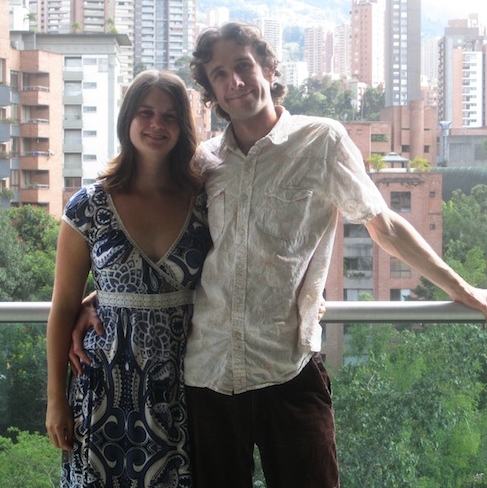 Simon and Erin from Never Ending Voyage :
Web Design and Development for Line In Web Design
When we returned from our first round the world trip two years ago Simon decided not to return to his legal career. He had been doing web design for fun for years, and although he had no formal training he decided to pursue this. He started by designing and building websites for family members and built up a portfolio that was enough to get him his first job with an internet marketing firm designing Wordpress sites. After six months we left the UK to travel indefinitely and planned to build up his freelance web design and development business Line In along the way. We had one year's savings as a cushion, but the work soon began coming in -mostly from word of mouth and from readers of our travel blog. We have done very little marketing.

My job as an arts event organiser and project manager was less suited to a location independent lifestyle, so I now take care of the business side of things, and make a little money from our travel blog.

Our biggest tip for freelancing while travelling is to take a break every now and then and rent an apartment for a month or two. It usually works out cheaper than moving around all the time, and gives you the opportunity to get some work done in a comfortable environment with reliable wifi. It's difficult to balance work and travel, and this way means that we can ease off a bit when we are travelling around again.

Simon and Erin sold everything they owned and left the UK in March 2010 to travel the world forever. For the last year they've been in South America and have just moved on to Central America.  They write about their adventures in one of their uniquely and beautifully designed site Never Ending Voyage .  Connect with them at their blog , Twitter ( @nevendingvoyage ), or Facebook .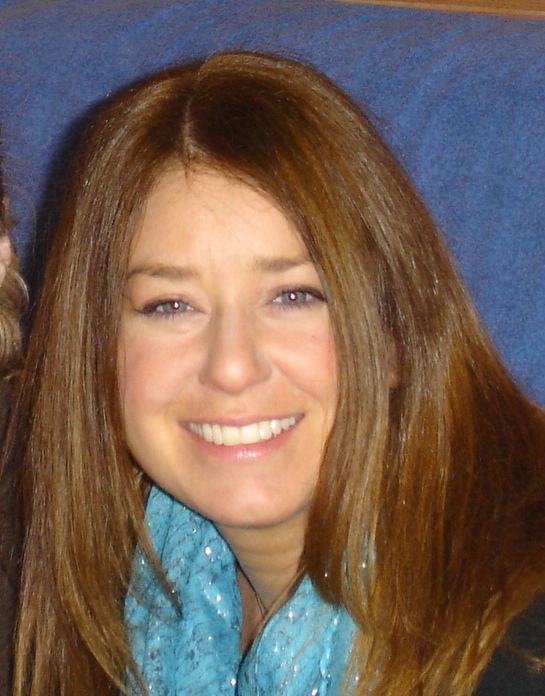 Lisa from LL World Tour :
Writer, Photographer, Barista, English Tutor, and So Much More!
I knew when traveling around the world for 2 ½ years, there was no way I could just be a tourist wandering around aimlessly for that long.  I knew I had to mix it up to prevent boredom and burnout. I craved variety in my everyday life, so why would my life on the road be any different?   I needed to immerse myself somehow in society and feel like a part of it.  Finding jobs or volunteering would give me structure I craved as well as introduce me to new friends and locals.

Now, just the sheer fact that I decided to blog about my trip and also write travel articles to be published elsewhere means that I was already working. But besides my 'day job' as travel writer and photographer, I landed a few other actual jobs around the world. I was a barista and sandwich maker at a cafï¿œ in Melbourne, a private business English tutor in Istanbul, a proofreader for one of the largest media groups in Turkey, a research Assistant in the economics department of the University of Cologne, a writer and proofreader for publishing company in Berlin, an international publicist for an English Immersion company in Madrid, an extra in Hollywood and a pet sitter in various spots around the world.   I did not plan on any of these jobs.  I simply arrived in a new place with the random idea that I could maybe find work there. In Australia, I spoke the language (sort of), so it seemed like a natural place to find a job other than teaching English. In Turkey, it's all about connections and once I met one person…the ball just started rolling.  Besides that, I used persistence, word-of-mouth, friends' connections and a lot of smiles.
Lisa Lubin is a three-time Emmy-award-winning television writer/producer/photographer/vagabond. After more than a decade in broadcast television she decided to take a sabbatical of sorts which turned into nearly 3 years traveling, eating, and working her way around the world.  She documents her (mis)adventures with photographs, articles, and tips from the road/train/rickshaw/camel at LLworldtour.com .  Connect with her at her blog , Twitter ( @llworldtour ), and Facebook .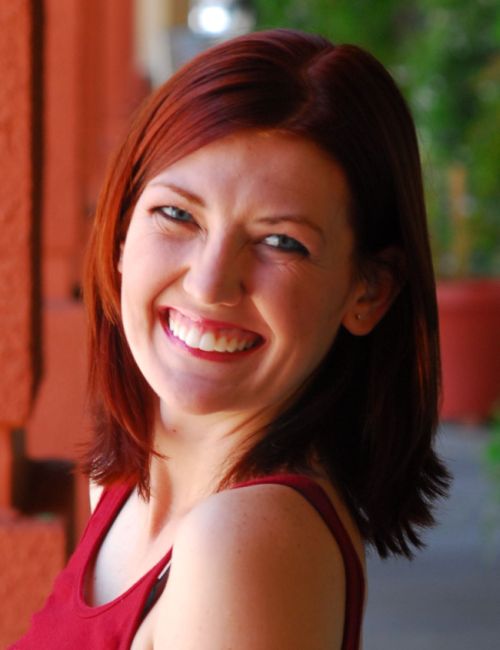 Shannon from A Little Adrift :
Freelance SEO Consulting
I currently work as a freelance SEO consultant and content writer from the road. I landed my job through a friend when I was fresh out of college; he supplied the training and since I already had a background in writing it was a good fit.  From day one the job was locationless, but it took me two years of living in LA to realize that I could instead use my job to enable RTW travels. Once I was trained through, it comes down to making the right connections and maintaining relationships - those relationships are what I have called on over the last two years to keep my travel funds topped up!

Once I was on the road I essentially the toughest part was, and has been, to ensure internet access every three days (a requirement for my work). There were times in India when computer cafes refused to allow me to plug in my own laptop (with website software) to their internet connections - that meant racing through some towns so I could update sites and meet deadlines! Working from the road is a lot easier now that I slowed down; that's my best advice to soon-to-be-nomads: go slowly and remember to live out of a place of gratitude. It's so easy to get frustrated when you're couped up in an internet cafe with dial up connections and deadlines and you forget that within a few hours you'll be enjoying a beer overlooking some amazing temples.

There are challenges to working as a nomad, to paint it any other way would be a lie, but I've always found the benefits outweigh those questionable moments!
Shannon traveled around the world from 2008-2009, documenting her entire journey on her blog, A Little Adrift , came home, and then hit the road again, working as she travels.  Her site is a wealth of information for female solo travelers, vegetarians, and anyone wanting a dose of cheerful honesty about out-of-the-way destinations like Cuba and Bosnia.  Connect with her at her blog , Twitter ( @ShannonRTW ), or Facebook .
Jaimee and Asa from Chasing Summer :
WWOOFing through some of the world
When Jaimee and I decided to take our around-the-world trip we purposely decided not to work while traveling. We wanted and looked forward to a break from our jobs. However, given that we had limited money we looked for ways to stretch our travel dollars while on the road. One way that saved us money was WWOOFing. WWOOF stands for World Wide Opportunities on Organic Farms. A WWOOFer buys a membership to each country where he'd like to "wwoof" and the membership gives access to the list of farms that are looking for workers in that country. The standard agreement is that the hosts will provide room and board in exchange for an average of four hours of work per day. We chose New Zealand because we planned from the beginning to stay in New Zealand for at least two months during the Southern Hemisphere Summer.
We did five stints, and we had two great experiences, two good ones and one bad one, so overall a better than average experience.  The conditions varied a lot, depending on the hosts.  On the South Island, we WWOOFed on a stud sheep farm where we mostly did weeding and yard work. The hosts were a charming older couple who treated us like family, even taking us one day to the County fair where we watched a sheep shearing competition (can you say New Zealand stereo-type?). On the bad side, we worked at a German-run pizza place that was listed in the WWOOFing guide as an organic pizza restaurant using farm fresh ingredients, but was actually a road-side dive-bar with a garden overrun with chest-high weeds. The five days we spent there were not the finest moments of our trip, and if there was a way to give hosts ratings (a la couchsurfing reviews) we would have definitely given them a negative reference.

The work was as varied as our hosts, mostly simple garden tasks like weeding or tending to plants. None of the work was too strenuous, and mostly the hosts respected the four hours a day "rule" leaving us plenty of time to explore the area on our own. The only exception being the pizza place where we our hosts treated us like slave labor with the expectation that we work outside during the day and inside the bar or pizza place at night.

Overall, we enjoyed WWOOFing and it was a success in that it did save us money, and we saw many parts of the country that we probably would not have otherwise seen. It also gave us some unique experiences and insight into the culture of New Zealand. On the negative side, we found it hard to know in advance what the situation would be like from the host listings and without a rating system it's hard to leverage the feedback of other WWOOFers. We also had to be very flexible in our available dates and sometimes it was a struggle to find hosts for the dates and places we wanted to go. But if you're up for an adventure, and can tolerate the unexpected, I'd definitely say give WWOOFing a try. You can read more details (and see pictures) on the wwoof tag on our blog .
Jaimee and Asa traveled around the world from 2009 to 2010, traveling through Australasia, Asia, and Europe.  They are currently back in New England, enjoying the wintry weather, and offering their couch up to fellow Couchsurfers.  Connect with them at Chasing Summer , their blog.
*Travelers Talk Back is a part of the RTW in Retrospect Community Project , a series that intends to bring together the opinions of travelers on how they planned for their trip and how that planning panned out.  And, we want to hear from you! If you are a recently returned RTWer or current RTWer and would be interested in contributing, please let me know via comments or e-mail at theroadforks [at] gmail [dot] com.